There's no denying the death of a loved one is hard. Even Jesus wept when he lost his friend Lazarus (John 11:35). For healing and hope in the Lord's resurrection for our eternal life, we can turn to scripture to help us process these emotions.
While we pray that these Bible verses about death comfort you, Pure Flix is also proud to stream an exclusive new series about hope and healing through loss. "Going Home," a show that follows an inspiring team of nurses who help guide patients and loved ones on the ultimate journey to their forever home, is now available.
DOWNLOAD NOW: PURE FLIX POPULAR CHRISTIAN MOVIES GUIDE
Here are some bible verses about death, loss and comfort we can meditate on:
Where is Death in the Bible?
John 3:16 (NIV)
For God so loved the world that he gave his one and only Son, that whoever believes in him shall not perish but have eternal life.
Through Jesus' resurrection, this Bible verse demonstrates that He gave us eternal life. Our souls will live on after our earthly being has departed from this world. Let us remember to pray for the souls of our loved ones so that they may be reunited with our Lord in heaven.
1 Thessalonians 4:14 (NIV)
For we believe that Jesus died and rose again, and so we believe that God will bring with Jesus those who have fallen asleep in him.
In this Bible verse about death, we can take comfort knowing that Jesus' death also allowed all those who have died before Him to have access to heaven. We can be encouraged that our loved ones are with our Lord and watching us from above.
READ MORE: 11 BIBLE VERSES ABOUT SADNESS, GRIEF AND OVERCOMING THE ODDS
1 Corinthians 15:55-57 (NIV)
"Where, O death, is your victory? Where, O death, is your sting?" The sting of death is sin, and the power of sin is the law. But thanks be to God! He gives us the victory through our Lord Jesus Christ.
Death has no sting because Jesus' sacrifice on the cross unlocked the gates of heaven for us. Knowing that death is not the end-all means our souls have the chance to be reunited with Him in heaven for eternity. We can be reassured that our loved ones suffer no more and are no longer in pain as they've passed on from this life.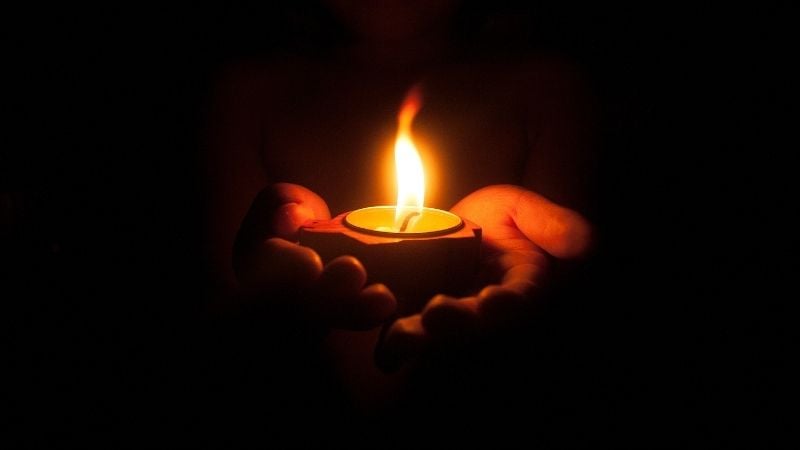 John 5:24 (NIV)
Very truly I tell you, whoever hears my word and believes him who sent me has eternal life and will not be judged but has crossed over from death to life.
In this Bible verse about death, the apostle John reinforces the understanding that when we believe in Jesus and the resurrection, we believe in the eternal life He has granted us. We understand that this is also true for our loved ones - and we can be comforted knowing we'll see them again in heaven.
John 11:25 (NIV)
Jesus said to her, "I am the resurrection and the life. The one who believes in me will live, even though they die."
In the Gospel John, Jesus Himself reveals in this Bible verse about death that our souls will live on, even though we leave our earthly bodies behind. Though our loved ones may no longer be with us here on earth, we know their spirit lives on.
What Are Some Bible Verses for Comfort?
Psalm 23:4 (NIV)
Even though I walk through the darkest valley, I will fear no evil, for you are with me; your rod and your staff, they comfort me.
Jesus is the ultimate comforter. In this Bible verse, the Psalmist is encouraged, knowing that Jesus is with us at all times, including when we are mourning a loved one's death. We can call upon our Lord to be our shelter and our stronghold when we feel we cannot stand on our own while grieving a loved one.
Revelation 21:3-4 (NIV)
And I heard a loud voice from the throne saying, "Look! God's dwelling place is now among the people, and he will dwell with them. They will be his people, and God himself will be with them and be their God. 'He will wipe every tear from their eyes. There will be no more death' or mourning or crying or pain, for the old order of things has passed away."
This Bible verse gives us a great description of what heaven will ultimately be like: a place where there will be no more pain and no more death. May we be comforted by knowing that our loved ones who have passed will ultimately, reach heaven and be reunited with our Lord in His kingdom.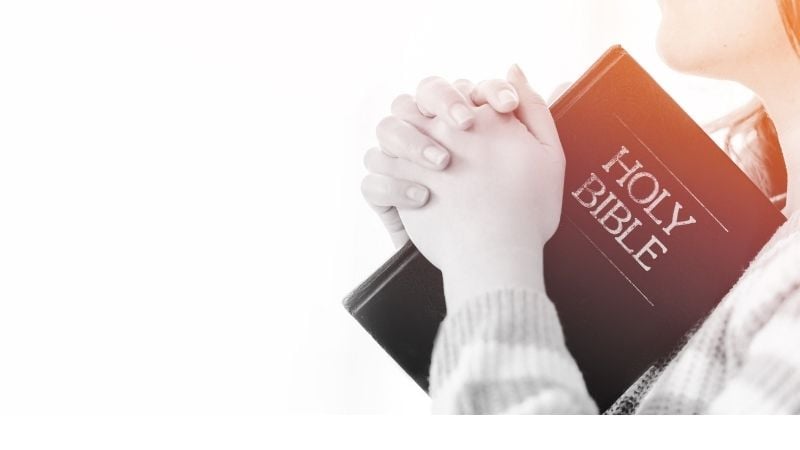 READ MORE: 5 COMFORTING BIBLE VERSES FOR WHEN TRAGEDY STRIKES
Lamentations 3:31-33 (NIV)
For no one is cast off by the Lord forever. Though he brings grief, he will show compassion, so great is his unfailing love. For he does not willingly bring affliction or grief to anyone.
When we experience loss, including death of a loved one, this Bible verse reminds us to bring our grief and sorrow to the Lord, for He will be there for us, show us His unending love and mercy and compassion. God's heart also hurts when we, His people, are grieving.
Romans 8:38-39 (NIV)
For I am convinced that neither death nor life, neither angels nor demons, neither the present nor the future, nor any powers, neither height nor depth, nor anything else in all creation, will be able to separate us from the love of God that is in Christ Jesus our Lord.
In this Bible verse about death, we can be assured that not even death can separate us from our Lord. Our souls will meet God face to face when we arrive at the pearly gates of heaven. When thinking about our loved ones we've lost, we can imagine them being reunited with God in spirit.
John 14:1-2 (NIV)
Do not let your hearts be troubled. You believe in God; believe also in me. My Father's house has many rooms; if that were not so, would I have told you that I am going there to prepare a place for you?
Jesus has prepared a place for each and every one of us in his kingdom. When we think about our loved ones who have passed on, we can take comfort in knowing that Jesus has made a home for them in heaven. In fact, St. John Vianney said:
"See, my children, we must reflect that we have a soul to save, and an eternity that awaits us. The world, its riches, pleasures, and honors will pass away; heaven and hell will never pass away. Let us take care, then. The saints did not all begin well; but they all ended well. We have begun badly; let us end well, and we shall go one day and meet them in heaven."
To learn more about how we can take comfort as our loved ones journey to a better place, and see hope and healing in grief during the death of a loved one, stream "Going Home" exclusively on Pure Flix.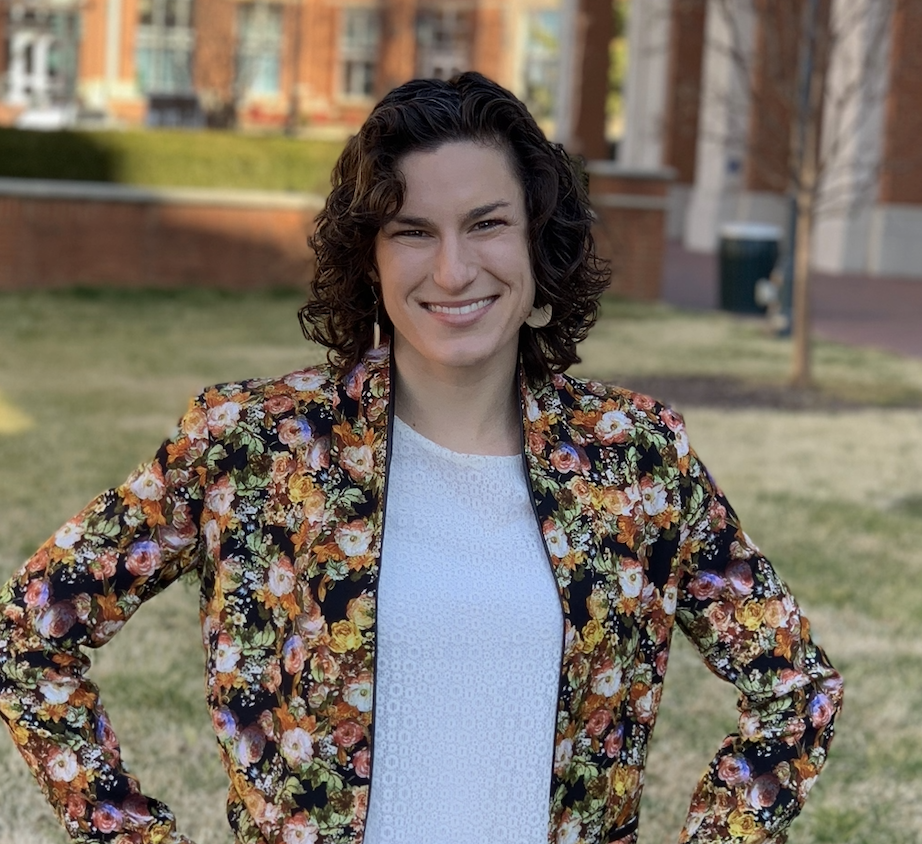 Marissa Zimmet
I was born and raised just across the bay from Tampa, Florida (Go, Lightning!) and attended college at ECU in Greenville, North Carolina. I am a devout Catholic and am active in my parish in Charlotte, North Carolina. Outside of work, I love to run, hike, watch movies and hockey, and spend time with my dog, Rose, and my cat, Toasty, who are both rescues.