The newest AFFIRM Original and Pure Flix exclusive movie, "Sun Moon," holds a special place in lead actress Mackenzie Mauzy's heart. Not only did she get to travel to Taiwan for the first time and experience a new culture, she was also reminded of the incredible things that God can do when we step out in faith and trust His plan for our lives.
Want to dive deeper into Pure Flix Originals? Subscribe to the Pure Flix Insider email newsletter
"There were many things in my life where I thought, 'I'm just going to stay here and do this simple thing and try to make this work,' and God had, like, such a bigger plan for me," Mauzy said in a recent interview. "I wouldn't have been able to see that if I didn't just keep moving forward. Even when I didn't feel like it, I knew in my heart that God had a plan for me."
Mauzy used her own experience in meeting her now-husband as an example. The two met on a dating app after both were pressured by their friends to join. It was never how the "Into the Woods" actress expected to meet someone or how she envisioned her life playing out, but it ended up being even better than she could have imagined. Mauzy said it was stepping outside of her comfort zone and letting go of her expectations that paid off in ways that she never thought possible — just as it does for her character in "Sun Moon."
Read Also: The Transformation of This 'Sun Moon' Character Will Inspire You to Trust God
The film tells the story of Kelsey, played by Mauzy, who after being left at the altar, finds herself running from failure, heartbreak and humiliation. In an attempt to understand God's purpose for her life, she goes to Taiwan to teach English. By setting aside her disappointment and opening herself up to something new, Kelsey begins to see how God is working through all the circumstances in her life.
"There are just all these little reminders to Kelsey throughout the film that like there's still a purpose on her life, and there's still a plan," Mauzy explained. "And it's one of those things that I think you might not understand is happening at the moment if you're going through it personally, but looking back, it's like you can see God's hand through all of these different circumstances."
The Bible says, "There is a time for everything, and a season for every activity under the heavens." That includes everything from weeping and mourning, to laughing and dancing. Kelsey experiences all of those moments in "Sun Moon," and it turns out to be exactly what she needs in order to draw closer to God and reignite her faith.
"God works in ways that are completely beyond your imagination," Mauzy noted. "I think it's a really relatable story where we feel like we're at the bottom but those moments shape our perspective as we move forward and discover opportunities that might have never existed before."
She concluded, "I think [this film] will be inspiring and hopefully uplifting to people who see it."
Stream "Sun Moon" exclusively on Pure Flix starting this Friday, May 5!
Photo taken on the set of "Sun Moon" in Taiwan.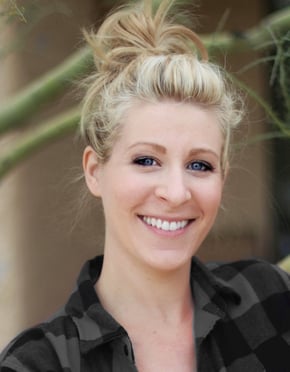 Marissa Mayer
Marissa Mayer is a writer and editor with more than 10 years of professional experience. Her work has been featured in Christian Post, The Daily Signal, and Intellectual Takeout. Mayer has a B.A. in English with an emphasis in Creative Writing from Arizona State University.