When you make every day an intention to glorify God, you fulfill the purpose for which you were created. Glorifying God leads us to a live filled with joy. It helps us live in a growing relationship with the One who created you. Worshipping the Lord, spending time with the Lord and sharing the gospel are just a few ways we can glorify God daily. God, our Creator, deserves all glory and honor. Consider these simple ways to glorify God every day.
WANT MORE INSPIRATION? SIGN UP FOR THE PURE FLIX INSIDER EMAIL NEWSLETTER TODAY!
What Does It Mean To Glorify God?
In the same way, let your light shine before others, that they may see your good deeds and glorify your Father in heaven. – Matthew 5:16 (NIV)
The Merriam-Webster Dictionary defines "glorify" as the act of "bestowing honor, praise, or admiration." But how we each individual goes about that can look very different.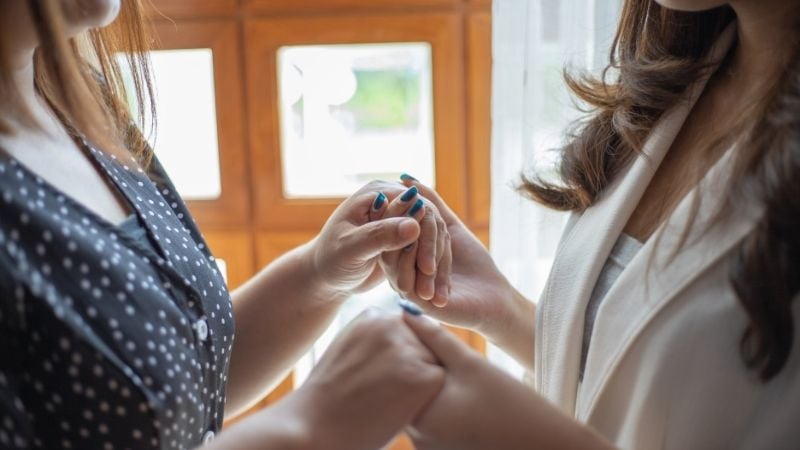 No matter how that practically plays out, be sure to let God's light shine through you and the interactions you have daily. Ultimately, the best way to do this is to share His love with others. GotQuestions.com has this advice to offer:
To glorify God is to extol His attributes—His holiness, faithfulness, mercy, grace, love, majesty, sovereignty, power, and omniscience, to name a few—rehearsing them over and over in our minds and telling others about the singular nature of the salvation only He offers.
READ ALSO: 'FOR GOD SO LOVED THE WORLD': WHAT JESUS TELLS US ABOUT SALVATION
How To Glorify God In Everyday Life
We love because he first loved us. – 1 John 4:19 (NIV)
This Bible verse on God's love is a reminder of why we should bring glory to God every day. Without His love, grace and mercy, we would be unable to live the life He has given us. Our ability to love others stems from His love for us.
Glorify God When You Wake Up
When you first open your eyes, make your prayer like Jesus' when He said, "Father, glorify your name!" (John 12:28 NIV). Prayer can be the best way to start every day and can set the tone for glorifying God the rest of the day. Meditate on the verse in those few seconds between turning off the alarm and getting out of bed.
How to Praise Him As You Get Ready
He must become greater; I must become less. – John 3:30 (NIV)
Begin your day by centering yourself on this Truth. Everything you're about to face, He is already aware of and knows where the Holy Spirit will guide you. As you're thinking through the day ahead, take a few seconds to pray about anything that concerns you and offer it to God. Even when you don't know the outcome, pray that your actions will bring God glory.
READ ALSO: INSPIRING PRAYERS FOR EVERY DAY & EVERY CIRCUMSTANCE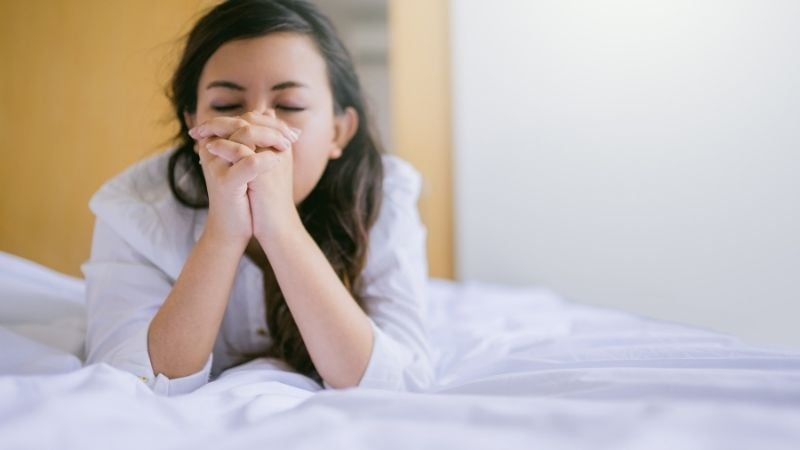 Give Thanks At Mealtime
So whether you eat or drink or whatever you do, do it all for the glory of God. – 1 Corinthians 10:31 (NIV)
One way to share God's love and to glorify God in everyday life is to praise Him before meals. A simple prayer of gratitude for God's providence and provision can be the first step to introducing your friends and family to God's love.
Here are some model prayers to say at your next gathering with friends or family.
How Can We Praise Him in All that We Do?
As obedient children, do not conform to the evil desires you had when you lived in ignorance. But just as he who called you is holy, so be holy in all you do. – 1 Peter 1:14-15 (NIV)
This Bible verse comes from the apostle Peter and offers a reminder on how we are called to live our daily lives. Our hearts should be turned to the Lord in everything we do. Examine all areas of your life to assess if everything you're doing should be done in the sight of our God. Ask yourself, what are you posting on social media? What kind of movies or shows are you and your family watching? What's on the radio as you run errands around town?
Small changes like switching the radio to a Christian podcast or streaming faith-based movies and shows can make the world of difference and impact your heart and mind.
DOWNLOAD: THE PURE FLIX CHRISTIAN MOVIES THAT TEACH THE FRUIT OF THE SPIRIT GUIDE – FOR FREE!
Glorify God Before Bed
"You are worthy, our Lord and God, to receive glory and honor and power, for you created all things, and by your will they were created and have their being." – Revelation 4:11 (NIV)
The best way to relax and unwind at the end of the day is with God by your side. Put the phone away and turn off the TV as you focus on God's love and listen for His plan for your life. Open your Bible and let His wisdom comfort and sustain you as you reflect on the day and prepare for one ahead.
If you enjoyed this article, subscribe to the Pure Flix Insider Email Newsletter for behind-the-scenes exclusives and positive faith and entertainment news sent to your inbox!