Suffering is an inescapable part of life and it can come in many forms - from physical suffering to family issues or mental struggles that limit us from reaching our full potential. God doesn't promise us a life without struggle, as we're called to "pick up our crosses and follow" Jesus (Matthew 16:24). But He does promise to be there for us during those struggles.
Subscribe to the Great American Pure Flix Insider newsletter for the latest faith & entertainment news
There are many times in our lives when we feel overwhelmed by our struggles and unsure how we can survive them. We live in a fallen world and are fallen beings — but with God's help, we can overcome even the worst of what life throws at us. These verses will encourage you when you need to overcome the trials of life.
Keeping these encouraging Bible verses about the struggles in life at the forefront of your mind is a great way to stay encouraged when going through trials and tribulations.
Best Encouraging Bible Verses About Life Struggles
These are the best encouraging Bible verses for when you're going through a difficult time in your life. We've paired them with examples from Pure Flix Original and Exclusive movies and shows that can show you just how to navigate life's unexpected ups and downs.
James 1:2-4 (NIV)
"Consider it pure joy, my brothers and sisters, whenever you face trials of many kinds, because you know that the testing of your faith produces perseverance. Let perseverance finish its work so that you may be mature and complete, not lacking anything."
In Karen Kingsbury's "A Thousand Tomorrows," Ali continues to persevere in her career as a barrel racer and be successful despite her life-threatening illness. She doesn't ruminate on the severity of her illness too much, because she has faith, trust and peace in knowing that God has a plan and a purpose for her life.
Read Also: 10 Comforting Bible Verses for Illness
Romans 12:1-2 (NIV)
"Therefore, I urge you, brothers and sisters, in view of God's mercy, to offer your bodies as a living sacrifice, holy and pleasing to God—this is your true and proper worship. Do not conform to the pattern of this world, but be transformed by the renewing of your mind. Then you will be able to test and approve what God's will is—his good, pleasing and perfect will."
In the Great American Pure Flix exclusive movie, "Miracle at Manchester," Brycen doesn't doubt that God will carry him through his aggressive brain cancer diagnosis. From day one, Brycen believes that God is there and will heal him and be there with him through the journey. As his cancer continues to batter his body, Brycen's spirit is unchanged - his faith and love for Jesus remain steadfast.
Romans 5:3-5 (NIV)
"Not only so, but we also glory in our sufferings, because we know that suffering produces perseverance; perseverance, character; and character, hope. And hope does not put us to shame, because God's love has been poured out into our hearts through the Holy Spirit, who has been given to us."
In the Great American Pure Flix exclusive movie "Sun Moon," Kelsey experiences a series of trials after the future she envisioned for herself is suddenly shattered. As she takes a job teaching English in Taiwan and promises to herself that she will make it work, her perseverance pays off. In the end, Kelsey learns more about who she is and her character outside of the future she previously envisioned and why God brought her to Taiwan. Her leap of faith showed her God's love for her.
Free Resource: Movies that Teach the Fruit of the Spirit
Romans 8:17-18 (NIV)
"Now if we are children, then we are heirs—heirs of God and co-heirs with Christ, if indeed we share in his sufferings in order that we may also share in his glory. I consider that our present sufferings are not worth comparing with the glory that will be revealed in us."
In "No Vacancy," Cecil is a vagrant who is struggling with addiction and homelessness. Through the kind charity of a local church, Cecil is able to get the help he needs in order to right his path. When he, in turn, starts helping others in the same community struggling with homelessness, he gives thanks and praise to God who brought him to the church that turned his life around.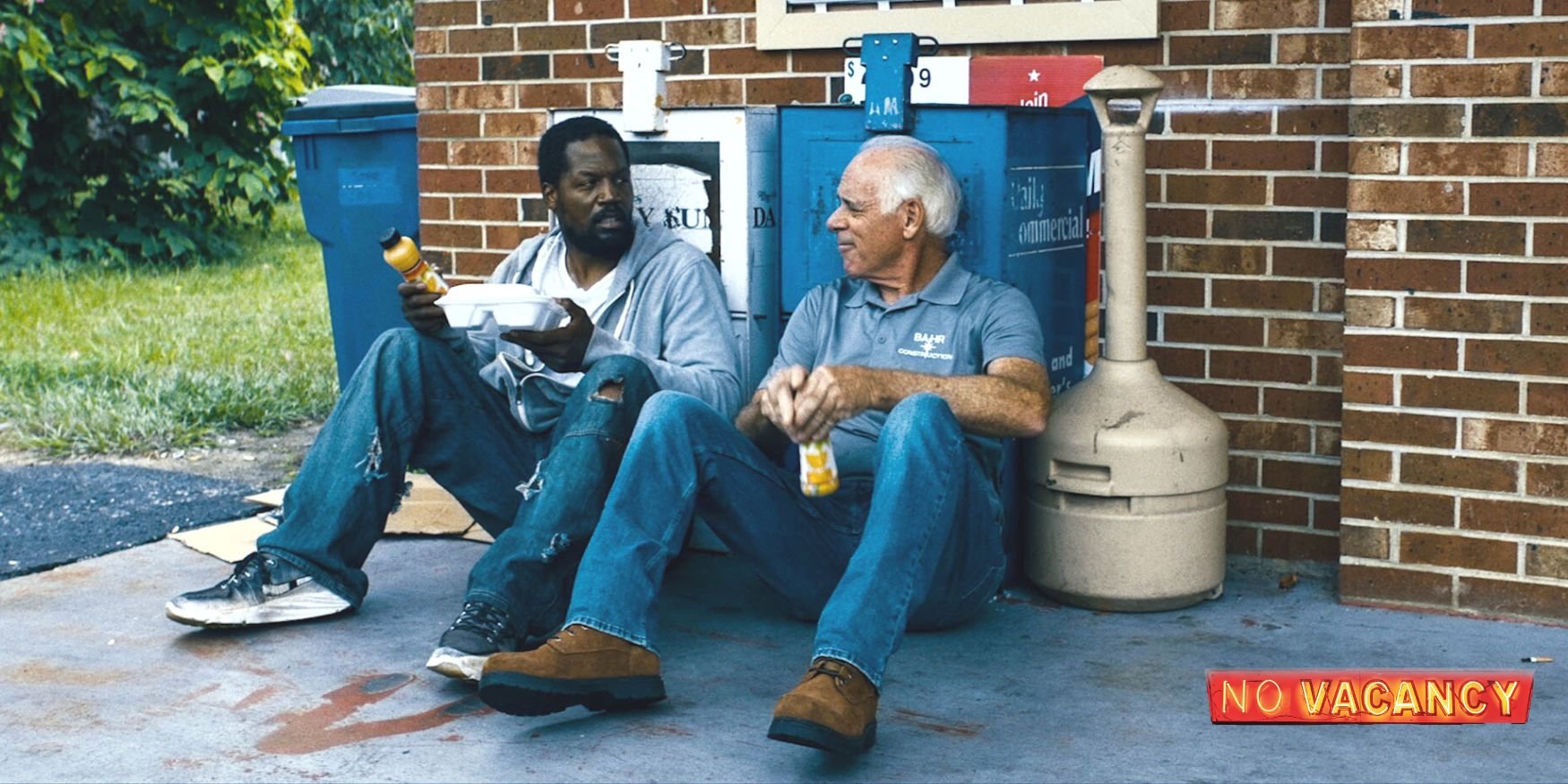 Philippians 4:12-13 (NIV)
"I know what it is to be in need, and I know what it is to have plenty. I have learned the secret of being content in any and every situation, whether well fed or hungry, whether living in plenty or in want. I can do all this through him who gives me strength."
Scott Beck in "Nothing Is Impossible" used to have everything handed to him as a NBA basketball hopeful. When that door suddenly closed, Scott didn't have a backup plan, resulting in him living a life that was a far cry from what he had once hoped and dreamed for. But when he gets a second chance at pursuing his dreams and love, his journey brings him to back understanding that without God, he wouldn't be able to do any of it.
Romans 8:28 (NIV)
"And we know that in all things God works for the good of those who love him, who have been called according to his purpose."
In "Miracle at Manchester," Brycen's cancer diagnosis is unexpected and shakes the entire family, including his father's faith and belief. But through his journey, we see God working for good in giving Brycen a supportive community that lifts him up in prayer, in charity by a local mechanic who builds a car specifically for Brycen and by renewing his father's faith. In the end, Brycen is miraculously healed through his community's powerful prayer. God's hand shows through Brycen's community's actions - which are proof that prayer does work.
Read Also: 10 Bible Verses About Wisdom
2 Corinthians 4:8 (NIV)
"We are hard pressed on every side, but not crushed; perplexed, but not in despair; persecuted, but not abandoned; struck down, but not destroyed."
In "Sun Moon," Kelsey feels abandoned, lonely and hard-pressed to find a "win" for herself after her fiance leaves her at the altar. While she feels down, she knows she's not out, which is why she chooses a new beginning for herself as she takes a job teaching English in an entirely foreign country. Her willingness not to give up and carry her cross through the struggle reminds us all that God is with us in our trials even when we can't always see or feel Him there.
Galatians 6:9 (NIV)
"Let us not become weary in doing good, for at the proper time we will reap a harvest if we do not give up."
Cydni Bunch and her son Phillip set out on a mission to help the homeless community in their hometown in the Great American Pure Flix exclusive movie, "5000 Blankets," by collecting blankets to keep the homeless warm at night. When they first set out to try and collect as many blankets as they can to give to the homeless, their efforts seem futile. But soon word spreads and they end up with more blankets than they ever thought possible. This Bible verse reminds us to never give up hope when at first we cannot see the fruits of our labor.
John 11:25-26 (NIV)
"… I am the one who raises the dead and gives them life again. Anyone who believes in Me, even though he dies like anyone else, shall live again. He is given eternal life for believing in Me and shall never perish."
Will Brown in "Moonrise" knows just how hard it is to overcome the life struggle of losing a spouse. Though his wife has been gone for two years, Will continues to grieve and is unable to let go of his mourning. It's only through the strength and encouragement of his daughter, a talented horse trainer and a resilient horse who are able to show Will that God is saying he can let go of the past and move forward. Will learns that his life wasn't over when his wife passed, but that he can live again in renewed spirit and happiness.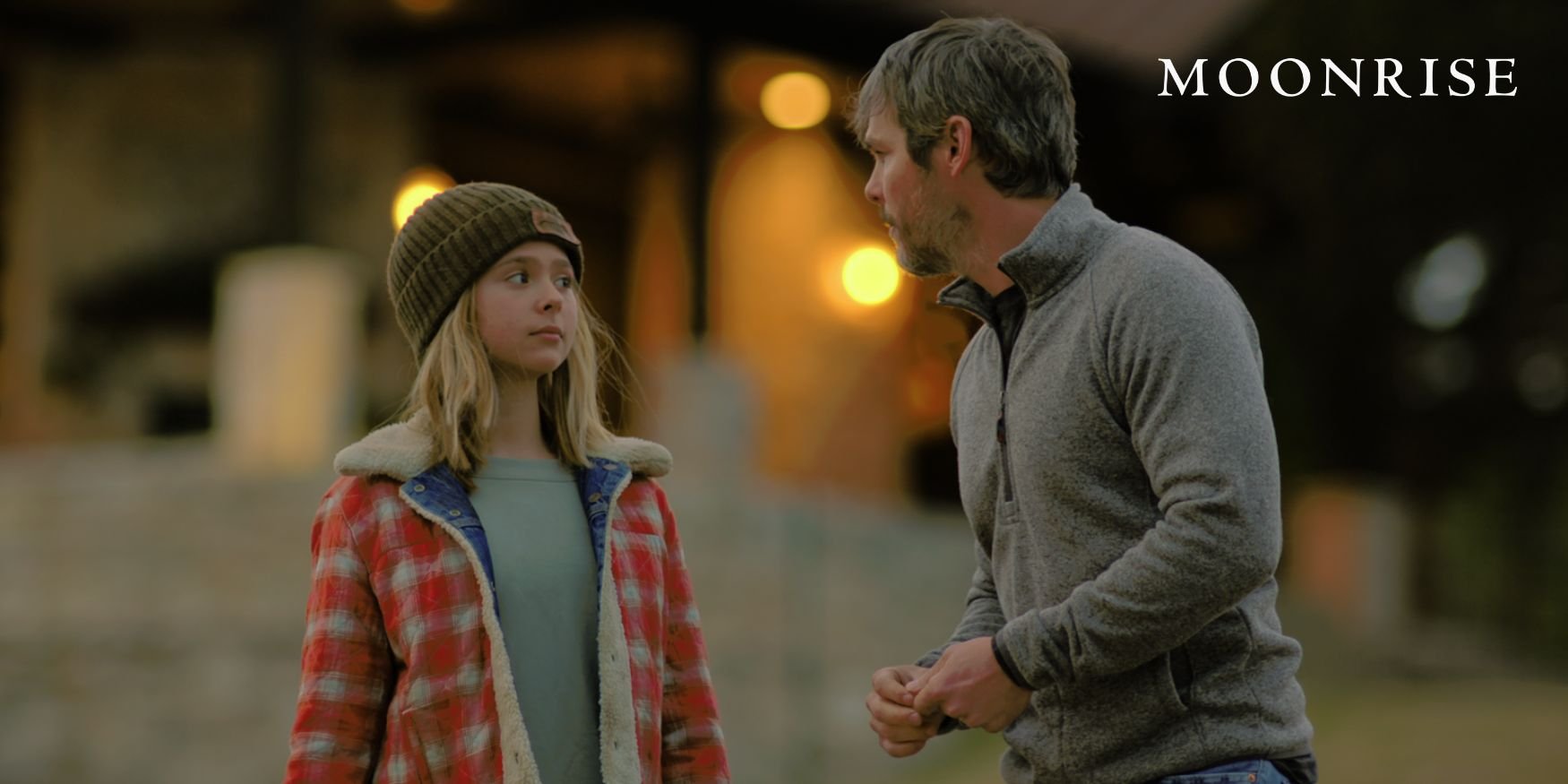 More New Testament Bible Verses about Life's Struggles
The New Testament is filled with encouraging letters meant to strengthen and embolden Christians to persevere and keep the faith despite whatever persecution comes their way. These Bible verses are still relevant to our daily life struggles in our modern world.
1 Peter 5:10 (NIV)
"And the God of all grace, who called you to his eternal glory in Christ, after you have suffered a little while, will himself restore you and make you strong, firm and steadfast."
John 14:27 (NIV)
"Peace I leave with you; my peace I give you. I do not give to you as the world gives. Do not let your hearts be troubled and do not be afraid."
1 Peter 5:8-9 (NIV)
"Be alert and of sober mind. Your enemy the devil prowls around like a roaring lion looking for someone to devour. Resist him, standing firm in the faith, because you know that the family of believers throughout the world is undergoing the same kind of sufferings."
Philippians 4:6-7 (NIV)
"Do not be anxious about anything, but in every situation, by prayer and petition, with thanksgiving, present your requests to God. And the peace of God, which transcends all understanding, will guard your hearts and your minds in Christ Jesus."
1 Corinthians 10:13 (NIV)
"…God is faithful. He won't allow you to be tempted beyond your abilities. Instead, with the temptation, God will also supply a way out so that you will be able to endure it."
Read Also: Be Strong and Courageous Every Day with these Bible Verses & Movies
Hebrews 4:14-15 (NIV)
"But Jesus the Son of God is our great High Priest who has gone to heaven itself to help us; therefore let us never stop trusting Him. This High Priest of ours understands our weaknesses since He had the same temptations we do, though He never once gave way to them and sinned."
John 16:33 (NIV)
"I have told you these things, so that in me you may have peace. In this world you will have trouble. But take heart! I have overcome the world."
Romans 12:21 (NIV)
"Do not be overcome by evil, but overcome evil with good."
1 Corinthians 15:57 (NIV)
"But thanks be to God! He gives us the victory through our Lord Jesus Christ."
1 John 5:4 (NIV)
"For everyone born of God overcomes the world. This is the victory that has overcome the world, even our faith."
Hebrews 12:1 (NIV)
"Therefore, since we are surrounded by such a great cloud of witnesses, let us throw off everything that hinders and the sin that so easily entangles. And let us run with perseverance the race marked out for us."
John 1:5 (NIV)
"The light shines in the darkness, and the darkness has not overcome it."
1 Timothy 6:12 (NIV)
"Fight the good fight of the faith. Take hold of the eternal life to which you were called when you made your good confession in the presence of many witnesses."
1 John 4:4 (NIV)
"You, dear children, are from God and have overcome them, because the one who is in you is greater than the one who is in the world."
1 John 1:9 (NIV)
"If we confess our sins, He is faithful and just to forgive us our sins, and to cleanse us from all unrighteousness."
Revelation 3:20 (NIV)
"Look! I'm standing at the door and knocking. If any hear my voice and open the door, I will come in to be with them, and will have dinner with them, and they will have dinner with me."
Ephesians 2:8-9 (NIV)
"For by grace you have been saved through faith; and this is not your own doing, it is the gift of God—not because of works, lest any man should boast."
Old Testament Bibles Verses About Overcoming Struggles
Let's not disregard the Old Testament's wisdom and encouragement when seeking answers about overcoming life's struggles. Israel in the Old Testament suffered many hardships where they turned to the great prophets to seek answers. God gave them words of great strength and courage that we know He still speaks into our hearts today, despite whatever trials and tribulations we're currently dealing with.
Psalm 23:4 (NIV)
"Even though I walk through the darkest valley, I will fear no evil, for you are with me; your rod and your staff, they comfort me."
Deuteronomy 10:12 (NIV)
"And now, Israel, what does the LORD your God ask of you but to fear the LORD your God, to walk in obedience to him, to love him, to serve the LORD your God with all your heart and with all your soul."
Isaiah 40:31 (NIV)
"But they that wait upon the Lord will renew their strength. They shall mount up with wings as eagles; they will run and not be weary,and they shall walk and not faint."
Proverbs 24:10 (NIV)
"If you falter in a time of trouble, how small is your strength!"
Joshua 1:9 (NIV)
"Have I not commanded you? Be strong and courageous. Do not be afraid; do not be discouraged, for the LORD your God will be with you wherever you go."
Psalm 34:19 (NIV)
"The righteous person may have many troubles, but the LORD delivers him from them all."
Genesis 50:20 (NIV)
"As for you, you meant evil against me, but God meant it for good, to bring it about that many people should be kept alive, as they are today."
Bible Verses About Life and Faith to Pray With
"The LORD is my light and my salvation— whom shall I fear? The LORD is the stronghold of my life— of whom shall I be afraid?" - Psalm 27:1 (NIV)
"Cast all your anxiety on him because he cares for you." - 1 Peter 5:7 (NIV)
"Blessed is the one who perseveres under trial because, having stood the test, that person will receive the crown of life that the Lord has promised to those who love him." - James 1:12 (NIV)
"Trust in the LORD with all your heart and lean not on your own understanding; in all your ways submit to him, and he will make your paths straight." - Proverbs 3:5-6 (NIV)
"For I know the plans I have for you," declares the Lord, "plans to prosper you and not to harm you, plans to give you hope and a future." - Jeremiah 29:11 (NIV)
" For God so loved the world that he gave his one and only Son, that whoever believes in him shall not perish but have eternal life. 17 For God did not send his Son into the world to condemn the world, but to save the world through him.18 Whoever believes in him is not condemned, but whoever does not believe stands condemned already because they have not believed in the name of God's one and only Son." - John 3:16-19 (NIV)
"Set your minds on things above, not on earthly things." - Colossians 3:2 (NIV)
As we've mentioned above, Great American Pure Flix has many Original and Exclusive movies and series that depict characters navigating life's struggles with their faith in the forefront. You can watch thousands of inspirational films, TV series and documentaries by taking advantage of your free 7-day trial.