"The Encounter Series is definitely one to watch and to invite your friends over to watch too. With a life changing message, lives are sure to be changed and people may experience Jesus again or for the first time." -The Christian Film Review
PureFlix.com just gave the phrase "T.G.I.F." a whole new meaning. As of Oct. 21, Pure Flix began streaming their first original series, "The Encounter," and subscribers of PureFix.com can now look forward to a new episode every Friday.
Created by popular demand, the "The Encounter" series is based on the feature film, "The Encounter" which follows five strangers who find themselves marooned in a deserted roadside diner with a genial and mysterious host (Bruce Marchiano). The series is also based on its sequel, "The Encounter: Paradise Lost."
Read Also: Bruce Marchiano on What It's Like to Play Jesus
Carrying on the same themes of characters who "encounter" a mysterious man, each episode of "The Encounter" series once again features the talented Bruce Marchiano with new characters each episode in need of change.
The Christian Film Review recently commented on "Heist," the first episode of the series.
"Heist is a fantastic start to 'The Encounter' series, fans of the original films will love it, and with this action packed, adrenaline filled episode, the viewers will grow. This episode is extremely well produced and feels right at home on the TV screen."
"Heist" follows a desperate pair of brothers who attempt a convenience store heist that turns potentially lethal. Though time is running out, there is something about the man who appears to be the store's cashier that gives the situation some much needed hope.
You can watch Episode 1, "Heist," and Episode 2, "U-Turn," now on PureFlix.com. Also, look for a new episode every Friday. For "The Encounter" fans who are not yet subscribed to Pure Flix, watch "The Encounter" series and films, plus thousands of other family movies for free, when you sign-up for a free month trial.
Watch "The Encounter" series trailer here: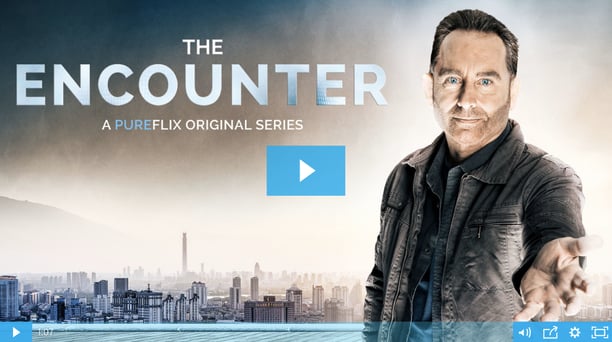 Justina Miller
Justina Miller grew up as a full time musician in a band with her sister. At eighteen she took her creativity to a University setting where she studied poetry at George Mason University and Oxford University in England. After college, Justina worked in campus ministry leadership with FOCUS at Vanderbilt University. There, she mentored students while fundraising her entire salary.
Justina went on to volunteer at an orphanage in India, and came back to the states to run conferences for FOCUS. In 2012, she returned to her musical roots to perform in DC as a jazz singer and maintained freelance writing gigs for columns, copywriting, screenplays, and ghostwriting for a major publication.
Recently, Justina has settled in New York City where she performs in local venues, continues to freelance, and runs crowdfunding, email marketing, and social media management for the Chiaroscuro Foundation.