Pure Flix Insider recently sat down with Gabriel Sabloff, the director of "Revelation Road 3: The Black Rider," (coming to PureFlix.com Nov. 4) for an exclusive behind-the-scenes look at the film. Here's what we learned about the making of this action-filled family movie:
1. Josh's post-apocalyptic car is actually blue!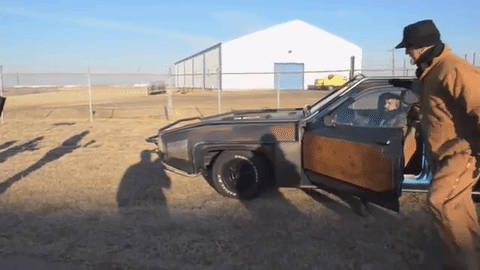 Under all that protective car armor, the car that Josh drives throughout the Revelation Road saga is actually a cool baby blue, seen in this clip from on set.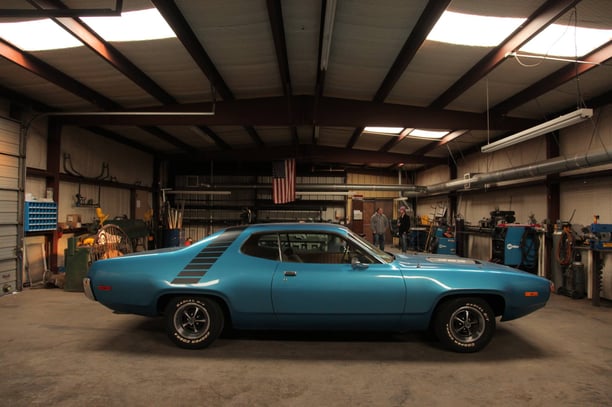 The "Revelation Road" car before its makeover.
2. Speaking of the car...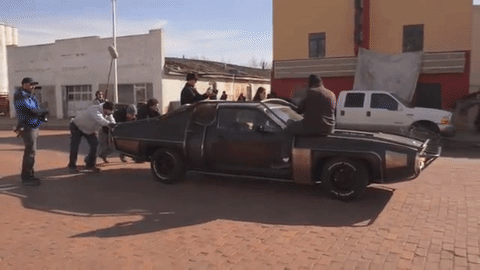 In some scenes, it is being pushed by crew members rather than driven. This was to reduce noise and allow actors and crew to walk alongside the vehicle.
3. The stunts were choreographed by famous stunt coordinator, Monte Perlin.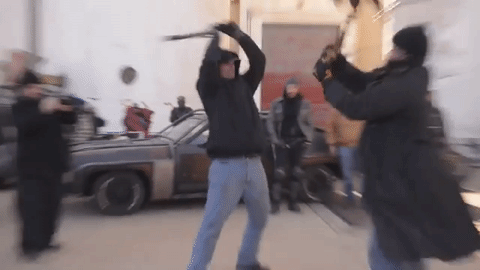 Monte has credits in over 80 movies, including titles like "Men in Black 3," "Transformers: Dark of the Moon," "Indiana Jones and the Kingdom of the Crystal Skull," and Pure Flix titles "Do You Believe?," "Mom's Night Out," and the first two "Revelation Road" films.
4. It was coooolllddd.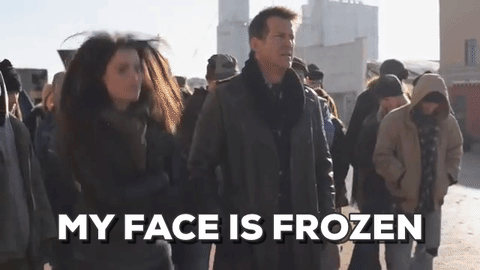 Director Gabriel Sabloff told Pure Flix Insider: "We were shooting in the middle of winter, so there was at least two hours LESS of usable daylight every day. Another challenge was that it was bitterly cold for most of the production, especially in the swap meet scenes where we had over 200 extras and we were shooting between a bunch of grain silos that acted as a wind tunnel."
5. Most of the movie was shot in Happy, Texas.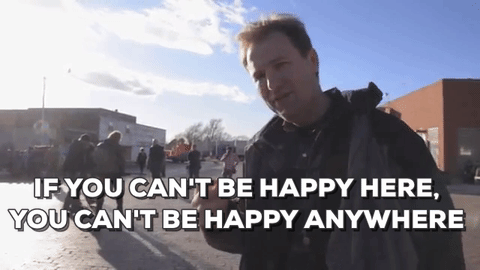 The small town of Happy is located just north of Amarillo.
6. More than 200 people showed up to be extras in the film despite the cold!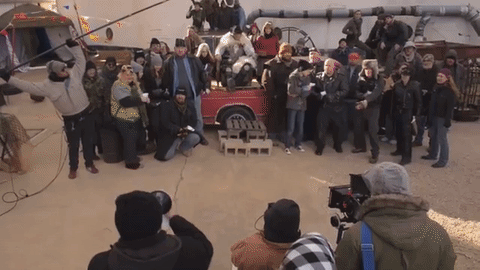 "We put out a casting call for extras for the Swap Meet scene," says Gabriel. "We asked for locals to show up and bring their own post-apocalyptic outfit. We had over 200 people show up in full costume, many of whom had skipped work or school to be there."
7. Everyone had a lot of fun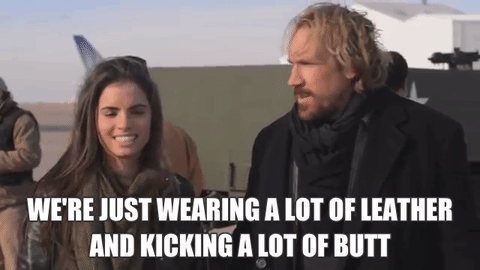 The cast and crew of "Revelation Road 3: The Black Rider," worked tirelessly to put this action-packed family movie together, but they had a lot of fun doing it and can't wait for you to see it!
"Revelation Road 3: The Black Rider," comes out on PureFlix.com Nov. 4. You can watch it and thousands of other family movies for free during your one month trial at PureFlix.com. In the meantime, be sure to watch the first two movies: "Revelation Road: The Beginning of the End" and "Revelation Road 2: The Sea of Glass and Fire."
Read Also: 11 Christian Movies About the End Times
Sarah Hartland
Sarah Hartland knew she wanted to be a writer from the time she wrote her first short story in the fourth grade. By the time she was in high school, she had written two novellas and countless short stories. It was her love of storytelling that led her into marketing and media.
Sarah freelanced throughout her time at Colorado Christian University, where she graduated with a Bachelor's degree in Business Administration. At CCU, Sarah competed in speech and debate across the country, securing multiple awards and a national debate championship. She co-lead CCU's first-ever broadcast media program, CCU.TV, and served as the program's Student Producer during her senior year.
When she's not writing blog posts or editing a video, Sarah loves to swing dance, ski, travel, or visit her seven younger siblings in Montana.