Just weeks before the Christian music festival, Creation Fest, the expert statistics site, FiveThirtyEight.com, put out a study on the lyrics of top Christian songs. According to the researchers, Christian music lyrics are overwhelmingly uplifting and cheerful, and that fact can be mathematically proven.

The study found that "Christian songwriters use far more positive words than negative ones. "'Grace' was 2.5 times more common than 'sin;' life was eight times more common than 'death;' love was seven times more common than "fear.'"

Because what you think becomes habitual and there are an overwhelming amount of studies on why positive thinking improves health, there is no better time than now to incorporate more Christian music in your life by listening to Christian artists and attending concerts and festivals like Creation Fest.
Christian Music Too Positive? Look a Little Deeper.
Christian music has been accused of being too happy or unrealistically positive to the point of being dishonest, however, this was not always so. According to the researchers, Christian lyrics have evolved over time. While old hymns of the mid 1800's were also positive, they talked a great deal about both grace and sin - the good and the bad, as opposed to only the good.
However, Christian lyrics that touch on pain or doubt have not completely disappeared in our modern age. The recent study, in looking only at top Billboard hits, didn't include the raw, "eleventh-hour" songs of Christian music in its stats. Because Christian radio, like all radio, looks for songs that are catchy and upbeat, the slower Christian songs with more complex lyrics often don't make Billboard charts. But they are out there.
If you listen to every track on a Christian album, you will find plenty of lyrics that echo Job's forlorn cry

"The Lord gave and the Lord has taken away." (Job 1:21) Take for example, Switchfoot, one of Creation Fest's headliners. Their songs "Meant to Live" or "Dark Horses" are just two of the many that touch on despair, yet still end honestly hopeful and trusting.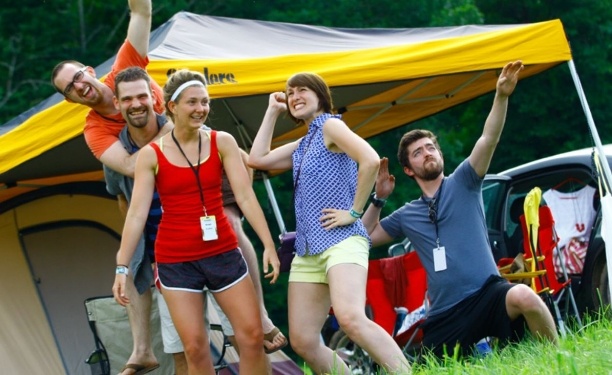 One More Reason to Listen to Christian Music: It's a Form of Prayer
Unlike pop music, which sings to a lost love or muses on a romantic relationship, Christian music defines itself by singing to or about God. Because prayer is a lifting of your heart and mind to God, we pray each time we sing along to the lyrics of Christian music. Even if we don't sing - even if we just listen to the song - we are still contemplating God and identifying with his good work in the lyricist's life.
We are what and how we think, and we are called to think about whatever is true, noble, right, pure, lovely, admirable and excellent or praiseworthy (Phil 4:8).
How often do you allow Christian music to be an avenue to think about these things?

What are some of your favorite Christian songs that help you contemplate God's goodness and think more positively? Please share in the comments.
Events like Creation Fest promote and support artists and musicians that write songs we can pray to - songs that enrich our lives by lifting us up and keep us rejoicing as Christians are called to do. This year's Creation Fest kicks off in Mt. Union, PA on June 29-July 2. The lineup includes SwitchFoot, Newsboys, and For King and Country among others. You won't want to miss this event that is not only a great way to learn more about Christian music, but also offers opportunities for prayer, family fun, creativity, and fellowship.
For the second consecutive year, Pure Flix will be the title sponsor of Creation Festival 2016, bringing together the worldwide leader in faith and family based entertainment with the nation's largest Christian music festival. To learn more or for tickets, visit CreationFest.Com.
Justina Miller
Justina Miller grew up as a full time musician in a band with her sister. At eighteen she took her creativity to a University setting where she studied poetry at George Mason University and Oxford University in England. After college, Justina worked in campus ministry leadership with FOCUS at Vanderbilt University. There, she mentored students while fundraising her entire salary.
Justina went on to volunteer at an orphanage in India, and came back to the states to run conferences for FOCUS. In 2012, she returned to her musical roots to perform in DC as a jazz singer and maintained freelance writing gigs for columns, copywriting, screenplays, and ghostwriting for a major publication.
Recently, Justina has settled in New York City where she performs in local venues, continues to freelance, and runs crowdfunding, email marketing, and social media management for the Chiaroscuro Foundation.