Have you ever experienced conflict with someone, and you both walked away with two completely different stories? It's a frustrating phenomenon when you are faced with two perceptions of the same situation. So how can you find peace? The key may lie in changing your perspective.
In PureFlix.com's latest release, "Divine Will," main character Will Blessing has a unique ability to bring peace to those he touches. Despite his personal struggles, Will is able to bring a fresh perspective to the people he meets in the quirky town of Punkyville, Kentucky.
Thankfully, you don't have to have a special ability to benefit from a perspective shift. Here are some things you can do right now to see your situation in a new light.
Seek First to Understand…
...then to be understood. Empathy can be one of the most powerful forces in resolving conflict. You'll likely feel the need to make your position heard, but before you do, listen. Proverbs 18:13 (KJV) says, "He that answereth a matter before he heareth it, it is folly and shame unto him." Understanding the other person gives you an idea of what has caused them to feel angry or hurt, and feeling understood opens their heart to hearing you out as well.
Seek first to understand, then to be understood. #perspective #DivineWill @PureFlix
Don't Assume
The Gospel of Matthew instructs us to go directly to the person who has hurt us and present our issue to them. Making assumptions about a person's actions or intent can be incredibly destructive. Jesus' advice in Matthew reminds us that we can avoid gossip and misunderstandings. Instead, we can get right to the issue by talking one-on-one.
"Moreover if thy brother shall trespass against thee, go and tell him his fault between thee and him alone: if he shall hear thee, thou hast gained thy brother." -Matthew 18:15 KJV
In conflict, avoid assumptions and seek peace. #perspective #DivineWill @PureFlix
Pray for Peace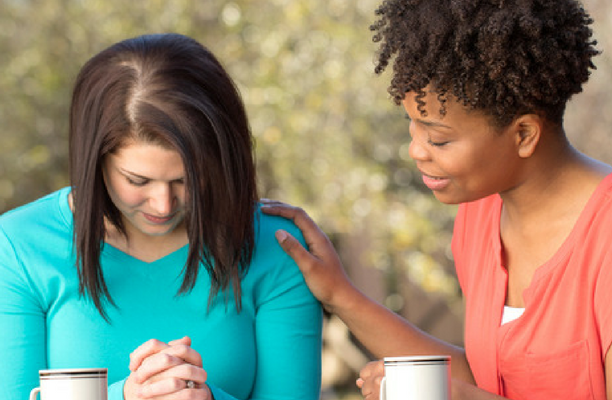 In "Divine Will," Will Blessing's gift is divine, and the peace it brings is supernatural. You can experience supernatutal peace too by communicating directly to the Prince of Peace, Jesus. Before dealing with conflict and even with the other person, ask for a supernatural shift in perspective. If you're not sure what to say, start here:
"Father, my limited perspective is making it hard to deal with this situation. I ask that you grant me a supernatural sense of peace and clarity to approach this with wisdom. Please help me to see this situation from the other person's perspective. Season my words with grace. Amen."
Find more inspiration by watching "Divine Will" plus hundreds of other family movies, documentaries, and TV shows right now on PureFlix.com. If you're not a subscriber yet, you can watch for free during your trial.
Sarah Hartland
Sarah Hartland knew she wanted to be a writer from the time she wrote her first short story in the fourth grade. By the time she was in high school, she had written two novellas and countless short stories. It was her love of storytelling that led her into marketing and media.
Sarah freelanced throughout her time at Colorado Christian University, where she graduated with a Bachelor's degree in Business Administration. At CCU, Sarah competed in speech and debate across the country, securing multiple awards and a national debate championship. She co-lead CCU's first-ever broadcast media program, CCU.TV, and served as the program's Student Producer during her senior year.
When she's not writing blog posts or editing a video, Sarah loves to swing dance, ski, travel, or visit her seven younger siblings in Montana.