Kathie Lee Gifford never fathomed she would make the movie, "The Way." The movie, which is now streaming exclusively on Pure Flix, wasn't even an idea in her head four years ago.
So you may be wondering, then, what happened four years ago that brought this project to life? Gifford met with singer Nicole C. Mullen to write a song together. This song, called "The God Who Sees," was an 11-minute oratorio and ignited a spark that spread like wildfire.
WATCH "KATHIE LEE GIFFORD PRESENTS: THE WAY" NOW STREAMING EXCLUSIVELY ON PURE FLIX! Here's the synopsis: Moving stories from the Bible brought to life as you've never seen before written by four-time Emmy award-winning TV personality, actress, and best-selling author Kathie Lee Gifford.
"That [song] ended up becoming an 11-and-a-half minute theatrical piece called, 'The God Who Sees.' It became a short film. And the reaction to that was so outrageous that it was obvious to me I needed to write more," Gifford said in an exclusive interview.
Gifford wrote three more oratorios, which became the movie, "The Way." The film highlights key Biblical stories, beginning at the dawn of creation and continuing to the New Testament, Gifford explained. Yes, even Mary, Joseph and Moses have an appearance in the movie, giving the audience a thorough dive into the Bible.
"I've discovered that people have a desire to go deeper into the faith, deeper into the Scriptures," Gifford revealed.
She also partnered with Rabbi Jason Sobel, who has co-authored books with Gifford previously, to write a companion book that goes deeper into the themes and meaning behind each oratorio in the film. They also created study guides for each oratorio that can be done individually, with a small group, Bible study group or a parish community.
"The book and movie act in tandem," Gifford said. "I hope people will start the book first and then see the movie, and then you'll have your own questions after you see it. But most of those answers will be in our book. We spent a couple of years writing it, and it's very detailed, and yet I don't think it's so academic that the layperson would get lost in the weeds."
LIKED "THE WAY"? HERE ARE 10 MORE MUST-WATCH MOVIES AND SHOWS ABOUT JESUS
The entire production of the film and the way it unfolded, Gifford credits as God's doing. Through the process, Gifford revealed she learned more about herself and discovered a new gift God has given her: directing.
"The truth [is] that we just think we know what God's doing. But hold on, and buckle up, because if we trust him, it is immeasurably more than we could ask or imagine," Gifford shared, "The impact of this whole thing has been, 'Kathy, I'm not done with you yet.'"
SIGN UP FOR THE PURE FLIX INSIDER EMAIL NEWSLETTER FOR MORE ENTERTAINMENT NEWS AND FAITH
Gifford hopes that "The Way" will teach audiences Biblical truth, as she believes God is calling her to dispel Biblical misconceptions through her work in this new era of her career. She hopes this film can bring others to Christ and allow them to have a real, personal relationship with God.
We hope you share and watch "The Way" with those who need to hear God's word and dive deeper into the Bible's teachings. Be sure to check out our other Must-Watch Jesus Movies and Shows for more Pure Flix options to deepen your faith and understanding of our God.
Photo Credit: Instagram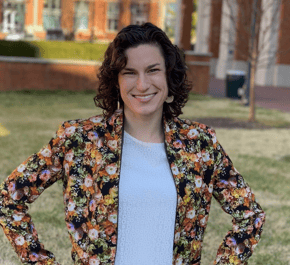 Marissa Zimmet
I was born and raised just across the bay from Tampa, Florida (Go, Lightning!) and attended college at ECU in Greenville, North Carolina. I am a devout Catholic and am active in my parish in Charlotte, North Carolina. Outside of work, I love to run, hike, watch movies and hockey, and spend time with my dog, Rose, and my cat, Toasty, who are both rescues.