"Birthright Outlaw," the newest movie from the director of "Legacy Peak," is now exclusively on Great American Pure Flix. If you've already watched it or you have it on your to-view list, we're here to take you inside the making of the movie as we take you behind the scenes!
Want to dive deeper into Great American Pure Flix Originals? Subscribe to our weekly email newsletter
Behind The Scenes of 'Birthright Outlaw'
Stunts and Horseback Riding
What's the first thing that pops into your mind when you think of a Western? Maybe the period clothing, a simpler way of life, or lots of great horseback riding. "Birthright Outlaw" showcases all of that, including the horses.
Lucas Black and Sarah Drew, who play Jeremiah and Martha Rose, both thoroughly enjoyed being on a horse while filming.
Read Also: 'NCIS' Actor Lucas Black Opens Up About Time in Hollywood & Returning to the Small Screen
"I've gotten to do quite a bit of riding, which is the joy of my life. When I'm on a horse, I feel like it's a taste of heaven. There are few places I'm happier than on the back of a horse," said Sarah from the set of "Birthright Outlaw."
"I've been on a horse periodically throughout my whole career," Lucas added. "It seems like every 2 to 4 years I find myself back on a horse, which is super fun. That's the best way of transportation."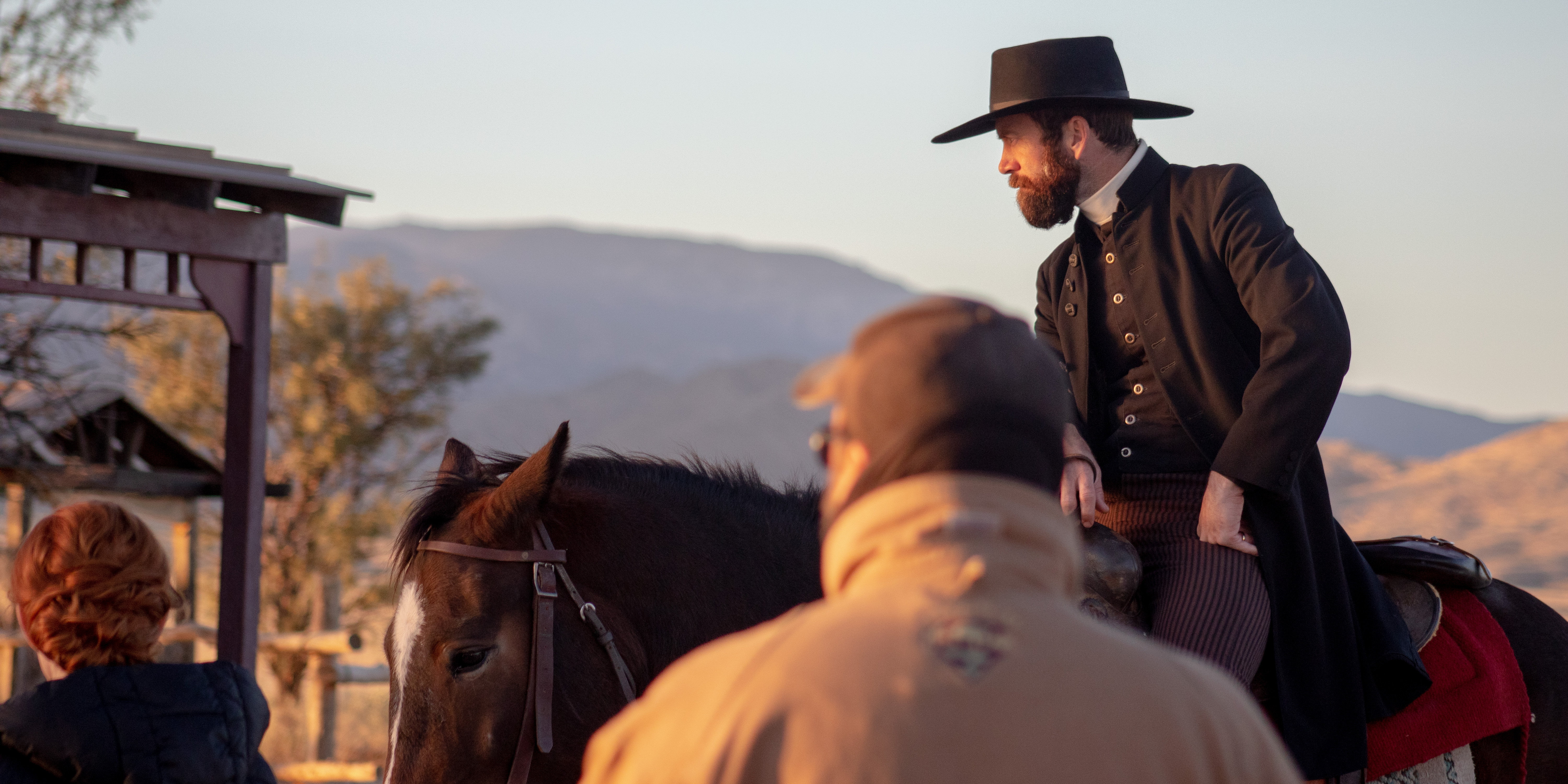 Not only did Lucas and Sarah ride in many of their horseback riding scenes, they also did some of their other stunts as well. In the pivotal moment where Jeremiah jumps to grab the hot air balloon's rope as it lifts into the air, that indeed was Lucas doing the stunt.
"I jump up and grab a hot air balloon or grab the rope. It's hanging it down and I try to pull it down to save my daughter," Lucas said. "They let me jump up there and hang on and drag my feet and twist around. That was fun."
Sarah was excited to do her own stunts as well.
"We have the most incredible stunt coordinator, Chris Wilkes, on this film, and he is so enthusiastic and encouraging and so good at his job," Sarah said. "But I got a lot of help here, too. Lucas Black has done tons of action stuff, and he absolutely knows what he's doing, and has been so encouraging too."
"Birthright Outlaw" was Sarah's first Western—a genre she says is "every actor's dream." Her favorite stunts? The fight scenes, of course.
"Day two was our big fight sequence. That was really exhilarating, I will say, just because I've never gotten to do anything like that before," she said. "So the adrenaline that was coursing through my body, doing this new thing and experiencing this new skill was really exciting. It was so fun. I was so sore the next day."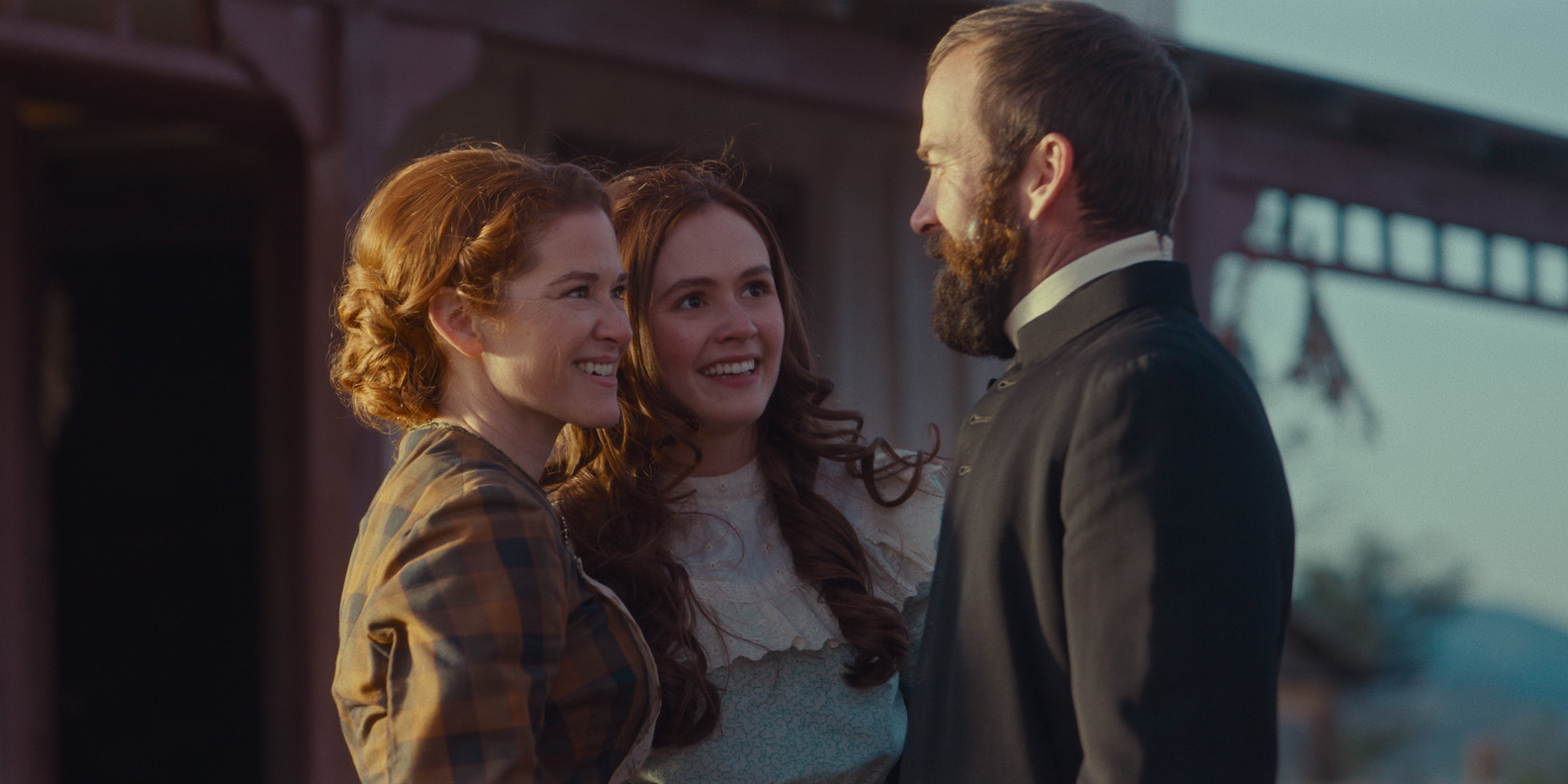 The Cast's Synergy on Set
Horseback riding and stunt scenes weren't the only thing both lead actors enjoyed together while on set. They also enjoyed being scene partners together and working with not only each other but the entire cast and crew.
"Lucas is the best," Sarah expressed. "He doesn't have a mean bone in his body. He has the best ideas and he's a tremendous acting partner. He's so talented. We've been having an absolute ball together."
"Sarah Drew, she's a spitfire. She's a go-getter," Lucas said. "I joke around, she's a 'city girl,' but she loves being out here in the desert. She's learning a lot about how to hold a weapon, how to look like an outlaw. And so that's kind of fun to watch her learn all those things and just to see her enthusiasm in her job and her passion for acting. And she loves this story. It's been fun working with her and I feel like we feed off each other well."
Director Aaron Burns worked with Lucas in his directorial debut with the Great American Pure Flix exclusive movie "Legacy Peak," and knew he wanted the actor to play the part of Reverend Jeremiah Jacobs. Lucas read the script and … well … he had other ideas of who he wanted to play.
"It was funny, too, a lot of the characters I read, I really liked better than Jeremiah," Lucas said. "When I first read it, I felt like it was going to be a challenge for me. In some of the scenes, where my character doesn't really know how to shoot a gun, I grew up outdoors and I grew up around shotguns my whole life. So that was one thing. I'm like, 'how am I going to pretend like I don't know how to shoot?'"
But Aaron knew that Lucas was the man for the job:
"Lucas in real life and on screen plays a strong, Godly father who does things with his family," Aaron said. "I love the way Lucas brings to life this character with his passion for his family, and ultimately to extend through God's love, forgiveness towards his wife, and then to strive to preserve his marriage."
Lucas and Sarah weren't the only two who had great chemistry as scene partners. When Sarah found out who was playing her daughter, the similarities between them were a little uncanny.
"We've all been kind of spooked out by how much we look alike. It's not just our look, but it's our energy." Sarah said about on-screen daughter, Olivia Sanabia. "I remember walking on set on her day one and going up to the monitor and it literally took my breath away. I thought I was looking at myself in my first movie that I did 20 years ago."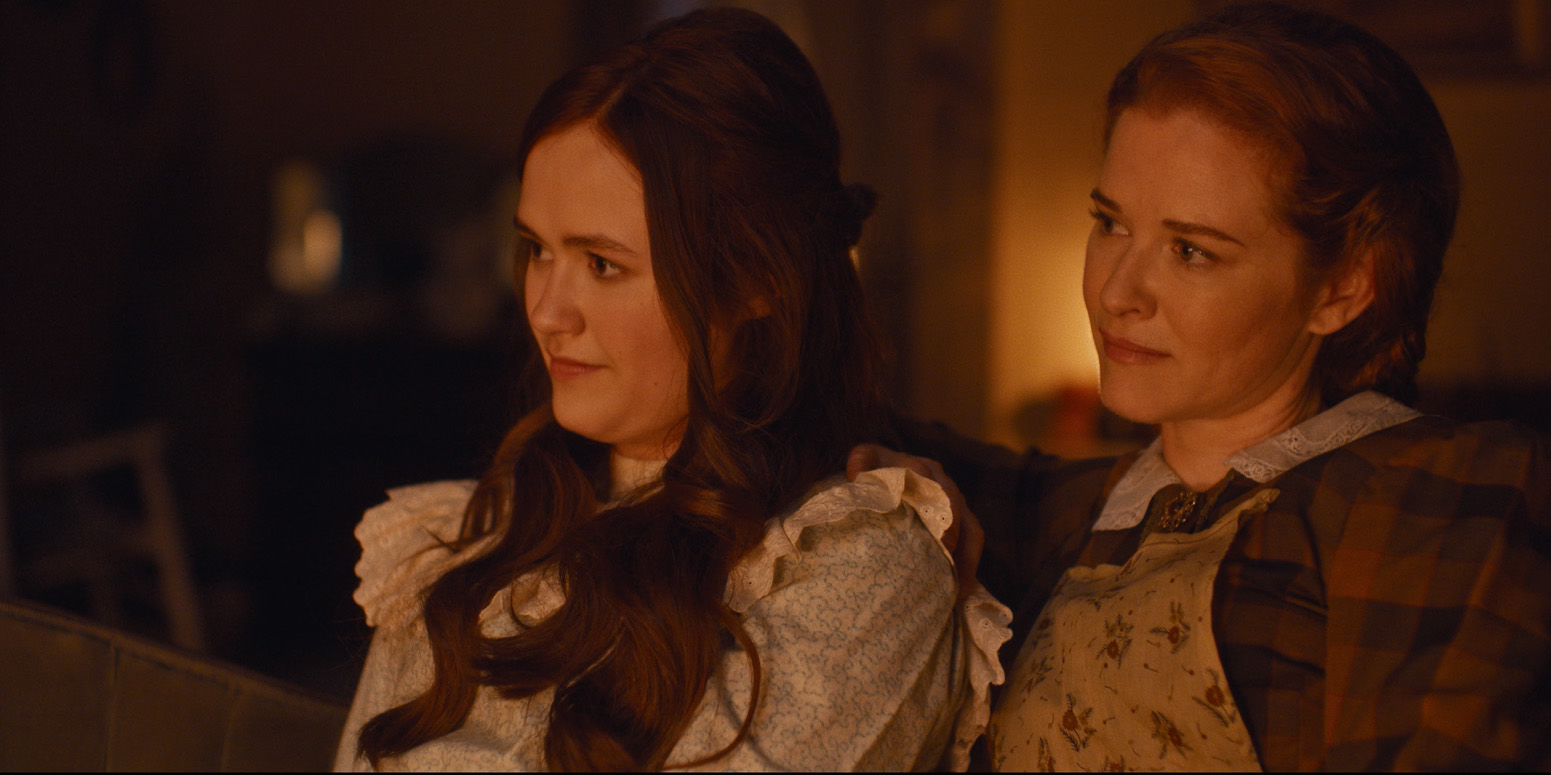 Not only did the main members of the cast get along well, the entire cast and crew made the set welcoming and also showed God's unconditional love, like the story at the heart of the film.
"It's such a great working environment. I feel like everybody's at peace and on board with what we're trying to accomplish here. And we start each day with daily devotion and prayer. To continue to put God first in this industry is very tough, very hard to do. I think the Lord blesses us throughout all of our days filming since we do that," Lucas explained.
Sarah, who is a co-producer as well as playing the role of Martha Rose, also expressed her appreciation for the cast and crew.
"I also want every single crew member here to feel that sense of I'm seen, I'm known, I'm loved, I belong. I am no less than anyone else. And that's what we're striving to do. And I think that people are feeling it."
Read Also: Actor Lucas Black Shares God's Word on Set of New Movie
The Message of 'Birthright Outlaw'
Wondering how the story of "Birthright Outlaw" came about? Director Aaron Burns talked about how he and Justin Strawhand created the story.
"We wanted to tell a Western that recalled many of the classic themes and the classic style of a Western film, but to bring a little bit of magic and flair to it," Aaron said. "We started with a daddy/daughter story and we said, 'How can we make this interesting? Maybe the dad has this bad past and it kind of comes to light.' We then said, 'Well, what if we flipped that on its head?''
"So at the heart of it, we wanted to tell a story about a daddy and daughter, a story about a husband and wife and their journey together to experience the transformative power of God's love in their lives."
Lucas added "there are many layers to this story."
So what do they hope audiences will take away from this film?
"When you watch 'Birthright,' it's our hope that you experience a timeless adventure, that you'll be taken to the Old West just like you were when you were a kid," Aaron said. "But more than just a great story and a fun time, we hope that you experience the journey of these characters as it reflects on your own heart, the power of God's transformative love."
"Birthright Outlaw" is now streaming exclusively on Great American Pure Flix. Not a member? Sign up for your free trial today.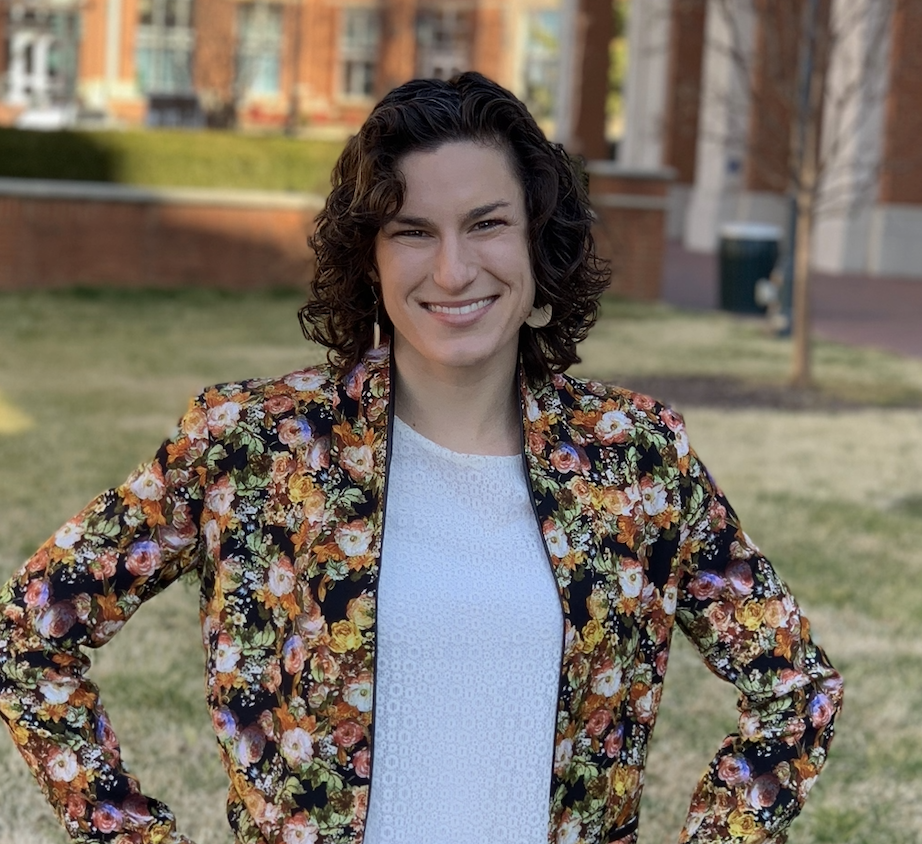 Marissa Zimmet
I was born and raised just across the bay from Tampa, Florida (Go, Lightning!) and attended college at ECU in Greenville, North Carolina. I am a devout Catholic and am active in my parish in Charlotte, North Carolina. Outside of work, I love to run, hike, watch movies and hockey, and spend time with my dog, Rose, and my cat, Toasty, who are both rescues.