Attendees of the 2016 Republican National Convention were greeted by an oversized billboard that read Reagan's quote, "We establish no religion in this country." The billboard, funded by the the Freedom From Religion Foundation, was not called "incendiary" like a "God's Not Dead 2" billboard that would have appeared one block from the RNC. However, nobody ever saw the "God's Not Dead 2" billboard, because Orange Barrel Media, the Cleveland advertising company commissioned to create the sign, insisted that the movies' distributor, Pure Flix, make the sign less controversial.
Pure Flix pushed back on Orange Barrel's stance for two-months, insisting on keeping the content that was used at box offices and advertising across the nation since its release in April. After all, the only instruction Orange Barrel gave was that the message could not be "political or scandalous." Finally, when marketing headlines hit in June and there was no yes from Orange Barrel, Pure Flix had no choice, but to give up the hope of sharing their brave and powerful message.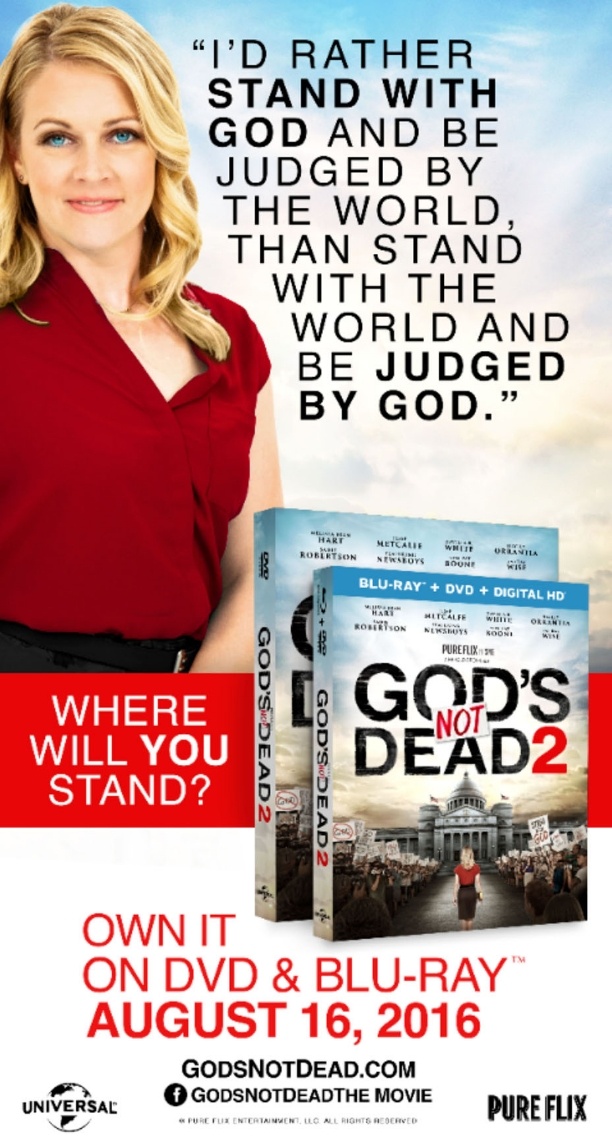 The billboard image that was supposed to appear in Cleveland
"They dragged us along for weeks," said Steve Fedyski, the COO of Pure Flix. "Now, right up against the convention date, they say we aren't approved, and they gave us no logical rationale. My speculation is that someone, somewhere didn't want our message out. It's hard to understand, considering we've used the same marketing on CNN and other national networks."
The Public's Response to the Banned Billboard
Since the rejection of the "God's Not Dead 2" billboard, the story has been covered by major media sources such as Fox News, CNN, Esquire, and US Magazine. It was a trending news story on Facebook, and tweeted about by Ted Cruz. Rep.
On the Sunday before the convention, Pure Flix and Skyline Church hosted the first ever RNC-sanctioned pre-convention Worship Service, featuring a screening of God's Not Dead 2. Among the 400 attendees were Mike Huckabee, Jonathan Cahn (author of The Harbringer), US Rep. Bob McEwen and various delegate groups. Pure Flix also commissioned a Barna Survey that found one-third of Republicans believe Hollywood is biased against Christians.
What Will Your Response Be?
The story in God's Not Dead 2 explores the right to religious freedom, and the real life story of the banned Billboard is no coincidence. Religious freedom is at risk in our country, and we must continue to advocate for this right that is truly ours. David A.R. White, co-founder of Pure Flix Entertainment said, "To be censored in this way mirrors the story of our film and only proves that in this tumultuous time in our country and our world, people choose to push God aside."
Have you ever experienced hostility toward your faith in God? What actions did you take to defend yourself and your God? What are you doing to help others freely practice their belief in God? Paul told the Romans (1:16) that he was "not ashamed of the gospel, for it is the power of God for salvation to everyone who believes." As Christians, we boldly live out our faith, knowing that God is on our side. Where will you stand? Will you stay quiet or, with Melissa Joan Hart's character on "God's Not Dead 2," will you say, "I'd rather stand with God and be judged by the world than stand with the world and be judged by God."
Watch the trailer and exclusive footage of "God's Not Dead 2" plus thousands of Christian movies and TV shows for free, when you visit PureFlix.com and sign-up for a free-week trial. You don't want to miss this movie available on DVD and BluRay beginning August 16, 2016. It will inspire you to live your faith boldly and remind you that God is faithful and will always guard you against evil (2 Thessalonians 3:3).
Read Also: Top 10 Christian Movies for Your Family