David A.R. White told Pure Flix Insider recently, "I saw one movie in the theater during the first 18 years of my life. So really, the last person that should have moved into Hollywood, got into acting and also production, should have been me." David grew up in an uber-conservative Mennonite community, one that, David jokes, "makes the Mormons seem like a pack of hell's angels."
Unlikely or not, David's career has made a lasting impact on Hollywood and the hearts of many audiences. From his first role in "Evening Shade," to producing and starring in the blockbuster "God's Not Dead," and of course co-founding Pure Flix Entertainment and PureFlix.com, David has accomplished what many called impossible. His latest venture is a book, "Between Heaven & Hollywood: Chasing Your God-Given Dream," which tells his story and how you can chase your dreams too.
David said, "It comes back to the reason I wrote the book, and that's that I believe each and every one of us has the dreams and the desires that God writes on our hearts."
In "Between Heaven and Hollywood," David not only shares his own story, but helps readers develop their own dreams. Topics include:
How to Live Your Own Dream, and Not Someone Else's
"The Someday Myth"
Why Some Never Achieve Their God-Given Dreams
God Might Allow You To Fail
Determining Which of Your Dreams is From God
You can watch the trailer for the book, which comes out October 25th, below, or read the first chapter here.
"

God has planted a dream in your heart that is both unique to you and essential to the world. White reminds us that there is no one too common, too uneducated, too poor, too inexperienced, or too broken that he or she cannot be used by God," writes David. He told Pure Flix Insider:
"A God-given dream is going to be bigger than you. A lot of times, when we're kids we have these dreams, but by the time we're adults we chop these dreams down into very manageable portions that we can accomplish. And we say, 'Well you know that makes sense. I can go off and I can be this or that." You know, I could be a farmer, because my parents are encouraging me to be that. But it's the opposite, you know, I think it's stepping out in faith and believing. A sure sign of whether or not it's from the Lord is if it's bigger than you. Pure Flix is bigger than us."
Do you have big, God-sized dreams? Are you wondering where you should focus your efforts and how you can glorify God? "Between Heaven and Hollywood" was written to encourage and inspire you on your journey. You can pre-order a copy of the book on Amazon, Barnes and Noble, or any of the other retailers listed on David's website. If you do, email your receipt to preorder@davidarwhite.com and you'll receive a free discussion guide, Dreamer's Workbook, and "The 3 Stages of Chasing Your God-Given Dream" as digital downloads.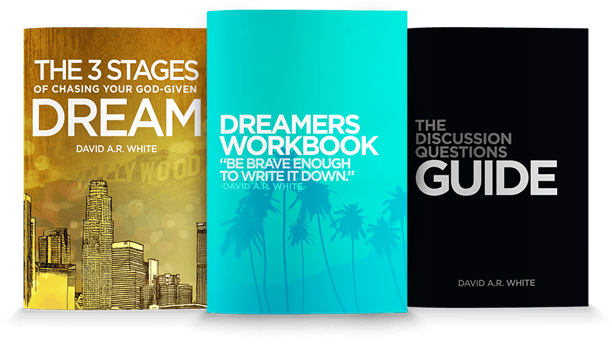 David says he hopes that the book and the ministry of Pure Flix encourages and inspires audiences:
"Behind the movies, our goal is to inspire and encourage, to bring people to a higher understanding of who God is and the purpose he has for their lives through the power of film. That's what I hope, I hope people walk out of there and realize that their dreams are from the Lord, those things inside your heart, so don't run from them. If anything, embrace them, and you'll be amazed to see what God will do with them."
If you want to see some of the hit movies David has starred in or produced, PureFlix.com is the place to find them. You can watch family movies like "Do You Believe?," "Revelation Road," and "Brother White" for free during your one month trial.
Sarah Hartland
Sarah Hartland knew she wanted to be a writer from the time she wrote her first short story in the fourth grade. By the time she was in high school, she had written two novellas and countless short stories. It was her love of storytelling that led her into marketing and media.
Sarah freelanced throughout her time at Colorado Christian University, where she graduated with a Bachelor's degree in Business Administration. At CCU, Sarah competed in speech and debate across the country, securing multiple awards and a national debate championship. She co-lead CCU's first-ever broadcast media program, CCU.TV, and served as the program's Student Producer during her senior year.
When she's not writing blog posts or editing a video, Sarah loves to swing dance, ski, travel, or visit her seven younger siblings in Montana.