There's no denying George Foreman's resume is stacked. He holds the title of former heavyweight champion, actor, pastor and mastermind behind the infamous grill bearing his name. But there's one title that isn't as well known but is showcased in the upcoming new biopic from AFFIRM Films: survivor of a near-death experience.
Subscribe to the Pure Flix Insider newsletter for the latest faith & entertainment news
"There is a living God and I'm proof of it," Foreman said in a recent interview while discussing his new movie "Big George Foreman." "I was gone out of this life … I remember thinking there was no hope for me."
In that moment, Foreman cried out "I still believe there's a God." That's when, Foreman said, God saved him and he felt himself being pulled back from the brink of death.
His near-death experience happened in 1977 after he lost a match to Jimmy Young.
"I was in the dressing room … walking back and forward and saying, 'I don't care about this boxing match I lost. I'm still George Foreman,'" Foreman described. "You know, I can win this [next match] and I got my movie career, I got my money in the bank. And I could go home and retire now and die. That sneaked into my conversation – 'die.' And I couldn't get it out. All of a sudden, I faced death, and I knew I was about to die. So, with that in mind, I heard a voice within me say, 'You believe in God, why are you scared to die?'"
Read Also: Upcoming 'Big George Foreman' Film Highlights How Heavyweight Champion Found His Faith
His biopic, "Big George Foreman," the latest from AFFIRM Films in theaters on April 28, illustrates how this near-death experience transformed Foreman's life, vowing to live for Christ from that moment on. Foreman knew that God gave him a second chance after that pivotal match, and he wasn't going to let it go to waste.
"The most important thing I'd like for the people who go to the movie to take out is that there is hope. … There's a living God," Foreman stated. "And I'm proof of it. That's all – forget about the boxing and the winning and the losing and all of that. Faith in God is what that movie is about."
"Big George Foreman" hits theaters this Friday, April 28. Get your tickets now.
Here's the full synopsis: From AFFIRM Films, based on the remarkable true story of one of the greatest comebacks of all time and the transformational power of second chances. Fueled by an impoverished childhood, Foreman channeled his anger into becoming an Olympic Gold medalist and World Heavyweight Champion, followed by a near-death experience that took him from the boxing ring to the pulpit. But when he sees his community struggling spiritually and financially, Foreman returns to the ring and makes history by reclaiming his title, becoming the oldest and most improbable World Heavyweight Boxing Champion ever.
Photo credit: YouTube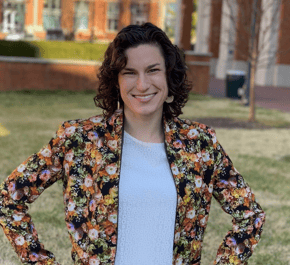 Marissa Zimmet
I was born and raised just across the bay from Tampa, Florida (Go, Lightning!) and attended college at ECU in Greenville, North Carolina. I am a devout Catholic and am active in my parish in Charlotte, North Carolina. Outside of work, I love to run, hike, watch movies and hockey, and spend time with my dog, Rose, and my cat, Toasty, who are both rescues.