Chances are you or someone you know has recently taken interest in "mindfulness" and meditation. As a Christian, you may be wondering if these practices have merit, and if so, how you can implement them in your life. Digital apps that provide guided meditation are gaining traction due to their ease of use and availability. "Abide" is one such app, providing Christian meditation guidance based on the Bible. Before you download the popular app, here's what you should know about Christian meditation and "Abide."
What is Christian Meditation?
We recently covered this question in our post, "A Practical Guide to Christian Meditation," where we covered such topics as "Isn't Meditation a Pagan Practice?" and "How to Meditate as a Christian," as well as the Biblical basis for the benefits of meditation:
Research is beginning to uncover the many physical and mental benefits of mindfulness and meditation, but to the Christian, this should come as no surprise. Meditation, especially through prayer, is an important practice referenced throughout the Bible.
The team at Abide shares this view of Christian meditation. Their website states: "Christian meditation is a practice from the Bible that has been refined for thousand of years. It connects and empowers our minds and hearts in Jesus. It helps us live with the peace and purpose of Christ."
Read Also: Christian Fasting for Beginners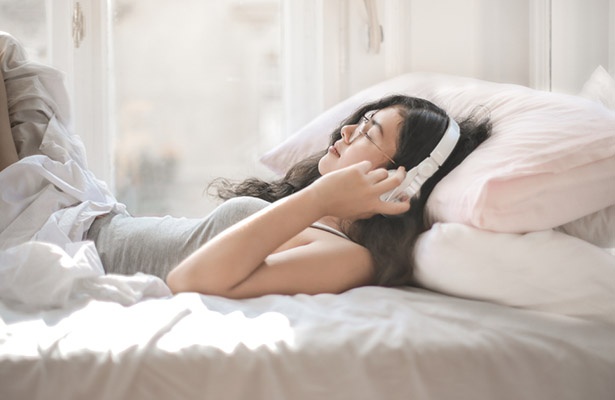 How Can the 'Abide' Help Me Mediate?
Meditation can sound like an intimidating practice to begin, especially if you don't know where to start. "Abide" takes away the guesswork by guiding you through daily meditations. A short audio devotional will begin your meditation before you are prompted to ponder and reflect on what you've learned. This method of prayer is mentioned many times throughout the Bible. Here are just a few verses:
Joshua 1:8 says, "Keep this Book of the Law always on your lips; meditate on it day and night, so that you may be careful to do everything written in it. Then you will be prosperous and successful."
Philippians 4:8 says, "Finally, brothers and sisters, whatever is true, whatever is noble, whatever is right, whatever is pure, whatever is lovely, whatever is admirable—if anything is excellent or praiseworthy—think about such things."
Psalm 1:2 says, "...but whose delight is in the law of the LORD, and who meditates on his law day and night."
Psalm 4:4 says, "Tremble and do not sin; when you are on your beds, search your hearts and be silent."
Psalm 19:14 says, "May these words of my mouth and this meditation of my heart be pleasing in your sight, LORD, my Rock and my Redeemer."
Psalm 119:15 says, "I meditate on your precepts and consider your ways."
Read Also: 10 Best Sermons Online When You Can't Get to Church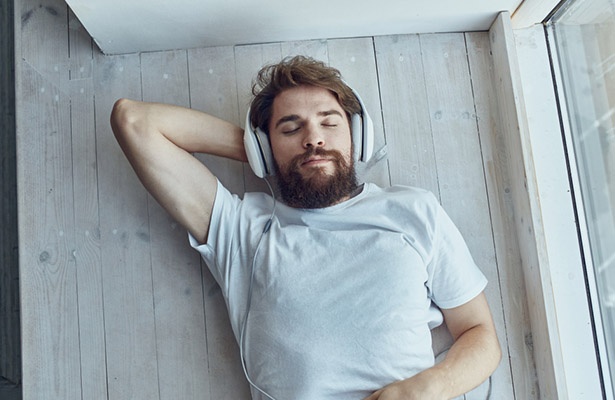 "Abide" allows you to set reminders for your quiet time and choose topics that resonate with where you're at in your walk with Christ.
How Do I Start?
The "Abide" app is free to download on iPhone and Android devices. If you're interested in Christian meditation, the app is a great place to start. But keep in mind, free features within the app are limited.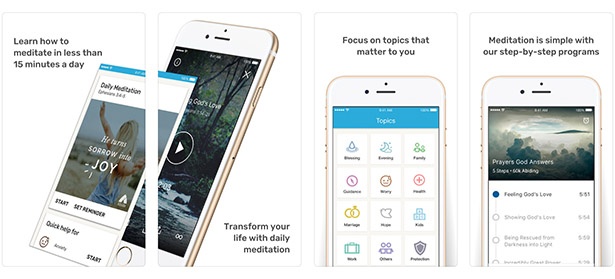 Reviews for "Abide" are largely positive, with a 4.8 rating on iTunes and 4.7 on Google Play.
Here's what users are saying about this Christian meditation app: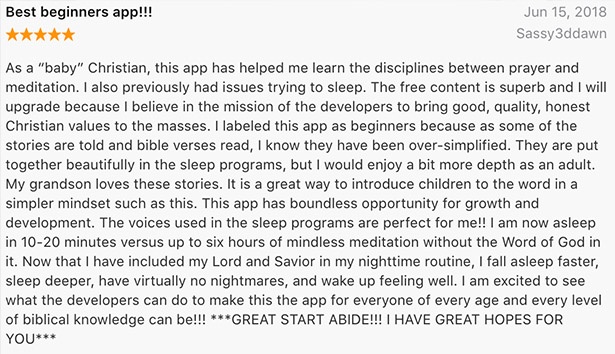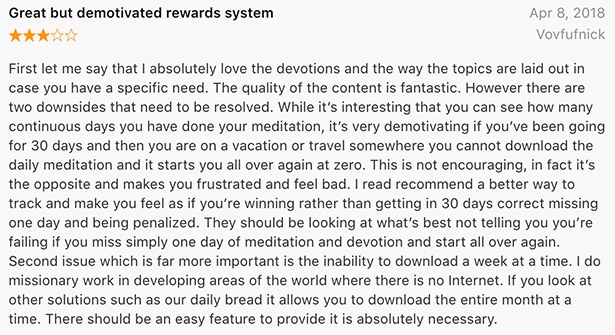 Other Resources
Though from time to time it is important to unplug, technology can also be a useful tool to help you grow spiritually. There are lots of great resources here on Pure Flix Insider designed to help you do just that, including:
More About Christian Guided Meditation
The concept of meditating on Scripture is something that is deeply rooted in the Bible. As the aforementioned information and verses prove, Christian guided meditation has nothing to do with other religions and is merely the practice of pondering and praying over God's word — and his promises over our lives.
Consider trying Christian guided meditation today to see how the biblical practice can help change your life — and your relationship with God.
How has technology impacted your walk with Christ? We'd love to hear from you in the comments section below.
Sarah Hartland
Sarah Hartland knew she wanted to be a writer from the time she wrote her first short story in the fourth grade. By the time she was in high school, she had written two novellas and countless short stories. It was her love of storytelling that led her into marketing and media.
Sarah freelanced throughout her time at Colorado Christian University, where she graduated with a Bachelor's degree in Business Administration. At CCU, Sarah competed in speech and debate across the country, securing multiple awards and a national debate championship. She co-lead CCU's first-ever broadcast media program, CCU.TV, and served as the program's Student Producer during her senior year.
When she's not writing blog posts or editing a video, Sarah loves to swing dance, ski, travel, or visit her seven younger siblings in Montana.