Tim Tebow has never let what is unpopular or countercultural stop him from proclaiming his love for Christ. His latest move: starring in a TV show where he helps people build homes for their heroes. Today PureFlix.com releases an action-packed film that also happens to be about doing the unpopular for the sake of love. The film is called "Beyond the Mask," and Tebow would resonate with the film's main characters who, like him, work for the good and the rights of the people they encounter. In Christian movies like "Beyond the Mask," we expect to see some great heroism; here are seven times Tim Tebow showed us it can still happen in real life.
1. During Tim Tebow's college career at the University of Florida he would trace Bible verses into his eye paint. At the 2009 BCS Championship, Tebow's eye black read John 3:16. Within the next 24 hours the verse generated over 90 million Google searches. Unfortunately, writing in your eye paint is no longer allowed in the NCAA, a rule that is unofficially known as the "The Tebow Rule."
2. While on the field, Tebow often kneels on one knee and prays with his head bowed. The move, coined "Tebowing," has earned a website and was in the top 5 memes of 2011. The quarterback says he "Tebows" to "take a moment to block out everything else and just get on a knee and thank the Lord. I want to humble myself before the Lord and say thank you for this opportunity. Thank you for letting me play the game I love."
3. In 2009, Tim Tebow told a reporter that he is saving his virginity until he gets married. His abstinence was brought up again in 2015 when former Miss Universe Olivia Culpo broke up with him, because of the abstinence promise. According to New York Daily News, he sent her notes, love letters, and told her how much he adored her, but doing the right thing doesn't always make you loved by everyone.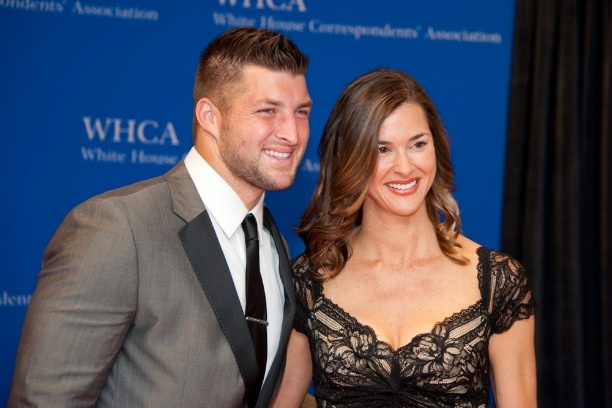 Tim Tebow and Olivia Culpo - Photo Credit, Rena Schild / Shutterstock.com
4. During the 2010 Super Bowl, Tebow appeared in a commercial that caused a stir in the media. The commercial was funded by Focus on the Family, and though it was not explicitly pro-life, it shows Tebow's mom telling the story of nearly losing him as a baby. Because she was referring to Tebow's near death and her decision to ignore doctors' request to have an abortion, abortion supporters took offense. Tebow however has always maintained a public stance on being pro-life.
5. On Easter Sunday, 2012, Tebow practically preached to a crowd of over 20K people while discussing his move to play for the Jets. He told them, "regardless of what happens, I still honor my Lord and Savior Jesus Christ, because at the end of the day, that's what's important, win or lose. ... We need to get back to one nation under God, and be role models for kids."
6. Tebow recently made headlines for praying with a man on an airplane. The passenger suffered from a heart attack and Tebow immediately got up to pray with him and his family. Once the plane landed, Tebow helped the family with their luggage and even visited the man at the hospital.
7. Tebow's philanthropic contributions teach us all that being a Christian is more than just believing. In college, Tebow and his friends started "First and 15" to raise money for an orphanage in the Philippines. Tebow also has the Tim Tebow Foundation and is in the process of creating the CURE hospital, which will be a children's hospital in the Philippines. Tebow is currently in the show "Home Free," where people build homes for their heroes.
Be sure to check out the latest addition to PureFix.com, "Beyond the Mask." This Christian movie, full of heroic action, drama, and romance, will inspire you to, like Tebow, live out your love for God when it seems unpopular. Watch "Beyond the Mask" and thousands of other Christian movies, documentaries, and TV series for free by visiting PureFlix.com and signing-up for a free week trial.
Justina Miller
Justina Miller grew up as a full time musician in a band with her sister. At eighteen she took her creativity to a University setting where she studied poetry at George Mason University and Oxford University in England. After college, Justina worked in campus ministry leadership with FOCUS at Vanderbilt University. There, she mentored students while fundraising her entire salary.
Justina went on to volunteer at an orphanage in India, and came back to the states to run conferences for FOCUS. In 2012, she returned to her musical roots to perform in DC as a jazz singer and maintained freelance writing gigs for columns, copywriting, screenplays, and ghostwriting for a major publication.
Recently, Justina has settled in New York City where she performs in local venues, continues to freelance, and runs crowdfunding, email marketing, and social media management for the Chiaroscuro Foundation.