"What if your blessings come through raindrops, what if your healing comes through tears?... What if the trials of this life are Your mercies in disguise?"
These words are from Laura Story's song "Blessings," which speaks to the healing power of hurting. No one likes pain, in fact, we instinctively try to avoid both physical and emotional hurts. And yet, the times we "walk through the valley of the shadow of death" can be some of the sweetest times of fellowship with Jesus.
Instances of this are deeply woven throughout the movie "October Baby." After the film's protagonist, Hannah, discovers she is the survivor of a failed abortion attempt, she finds herself in a dark place. She cries out in her journal with feelings of inadequacy and feeling unloved that prompt a roadtrip to find her birth mother and (she hopes) re-discover her sense of identity.
Meanwhile, Hannah's birth mother has continued to live with guilt and regret, a lingering brokenheartedness that even fantastic success hasn't been able to shake. Hannah's mother doesn't deal with her pain for many years- instead, she distracts herself with work and worldly success.It is only after meeting her long lost daughter and breaking down in tears that Hannah's mother begins to find healing. The scene is moving and powerful, and the best part is, actor Shari Rigby says, "It wasn't acting."
Shari was cast in the role of Hannah's mother because she looked like an older version of Rachel Hendrix (who plays Hannah). What the producers didn't realize, though, was that Shari had herself had an abortion many years ago.
See Also: "October Baby" Trailer
Shari says in the video linked above, "I remember the cameras rolling, and right as I walked into the room I just knew that the Lord was with me, and that it was just complete healing in the moment. That as I slide down that door, and I'm crying and feeling that - that wasn't acting. That was my moment with God and Him with me."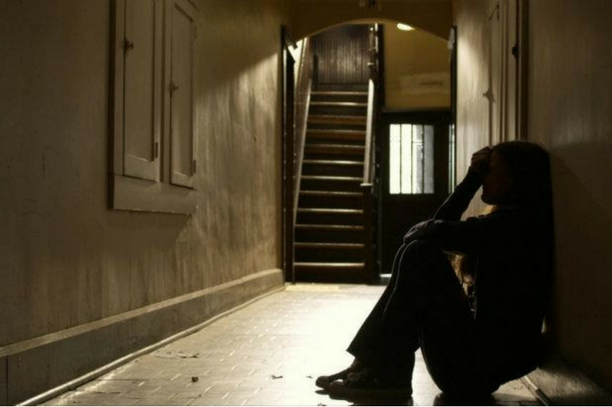 Hannah cries after learning who her birth mother is.
In her brokenness before God and man, Shari was healed, and so was the character she played on screen. Whether you've had your heart broken over a disappointment, relationship, miscarriage, a decision you regret, or anything else, everyone understands what it is to be hurt. All too often, however, we run from that pain instead of embracing the "healing through tears."
"October Baby" explores themes surrounding hurt, redemption, and forgiveness. If you or someone you know is struggling through the heartbreak of the loss of a child, an unexpected pregnancy, or the pain of an abortion in their past, the "October Baby" website has partnered with a handful of organizations that help turn heartbreak into healing.
To learn more about how to transform your heartbreaks (of any kind) into healing, be sure to catch "October Baby" on PureFlix.com. Watch it for free with a free week trial of Pure Flix. You can also check out the "October Baby" Bible study, "Every Life is Beautiful," on the movie's website.
Sarah Hartland
Sarah Hartland knew she wanted to be a writer from the time she wrote her first short story in the fourth grade. By the time she was in high school, she had written two novellas and countless short stories. It was her love of storytelling that led her into marketing and media.
Sarah freelanced throughout her time at Colorado Christian University, where she graduated with a Bachelor's degree in Business Administration. At CCU, Sarah competed in speech and debate across the country, securing multiple awards and a national debate championship. She co-lead CCU's first-ever broadcast media program, CCU.TV, and served as the program's Student Producer during her senior year.
When she's not writing blog posts or editing a video, Sarah loves to swing dance, ski, travel, or visit her seven younger siblings in Montana.