Thanks to the smartphone in your pocket, it's easier than ever to take God's Word with you wherever you go. From daily devotionals to Bible studies and verse memorization, getting closer to God and holding His Word in your heart is just a few clicks away with these iPhone and Android apps.
Top Free daily Devotional Apps
Starting your morning or ending your day with a daily devotional is a great way to read more Scripture and pray more frequently. These free Christian apps will guide you through Bible lessons on your schedule.
She Reads Truth
"She Reads Truth Bible + Devotional" app is a beautiful, functional, and accessible Bible-reading tool created to help women from around the world connect with God's Word and each other, anytime and anywhere." With 3 out of 5 stars on iTunes, this women's devotional app is a great way to learn and connect for free.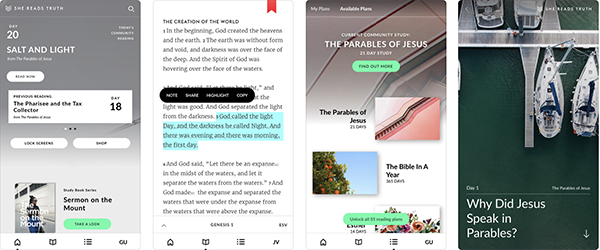 "She Reads Truth" is available on iTunes and Android.
This free app, designed by Proverbs 31 Ministries, offers 5-minute devotionals designed to be read first thing in the morning. Spending the first 5 minutes of every day with the Lord is the goal, and with this app you can do it alongside women from around the world.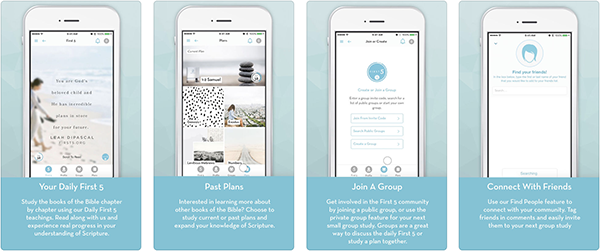 "First 5" is available on iTunes and Android.
Crosswalk Devotionals
Crosswalk Devotionals is a great place to find free quiet time materials from a variety of authors and pastors, including Max Lucado, Tony Evans, James McDonald, Bill Bright, and Jack Graham.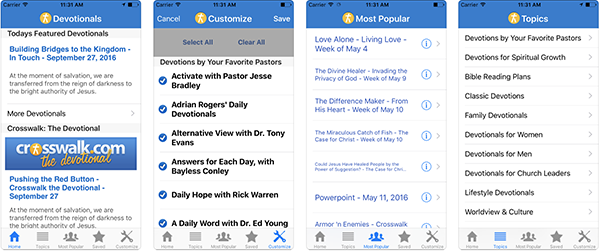 "Crosswalk Devotionals" is available on iTunes.
Free Bible Study Apps
Ready to go a little deeper? Bible study apps are even more comprehensive than daily devotionals. These Bible study apps are free, easy to use, and will help you dive even deeper as you read.
Verses - Bible Memorization
Memorizing scripture is so important (2 Timothy 3:16), but it can be hard to find the time amidst a busy schedule. That's what makes the "Verses" app so incredible — it "gamifies" Bible verse memorization, so you can compete with friends and family and keep track of your progress. Next time you're in a waiting room? Pull out "Verses" and improve your walk with Christ.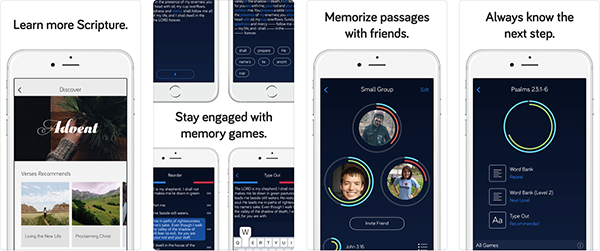 "Verses" is available on iTunes.
YouVersion
YouVersion is the highest-ranked Bible app on iTunes, with 4.9 stars out of 5. It's easy to see why — with a beautiful and intuitive layout and strong study tools, YouVersion will help you keep up in church, share what you're learning, and study on your own.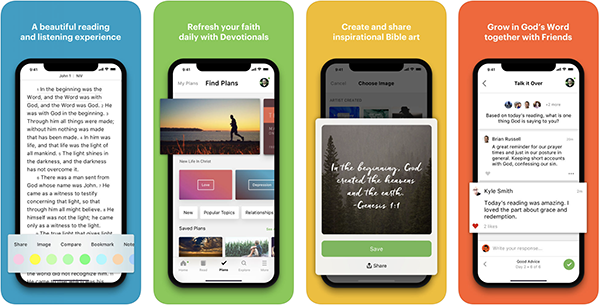 "YouVersion" is available on iTunes and Android.
READ ALSO: THIS INSPIRING SCRIPTURE WAS JUST NAMED 'VERSE OF THE YEAR' AS PEOPLE CONTINUED TO SEEK GOD IN 2021
Bible Gateway
With 90 different translations and over 20 audio versions of the Bible, the Bible Gateway app is one of the top-ranking Bible apps. Not only does the app have comprehensive commentary and study tools, but you can also find reading plans to aid you in your daily Bible devotions.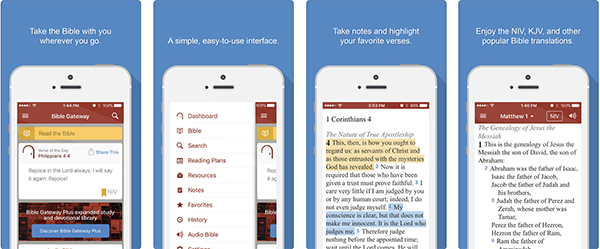 "Bible Gateway" is available on iTunes and Android.
Most Comprehensive daily Devotional Apps
Free apps are a great starting place, but if you're ready for something a little more comprehensive, these devotional apps combine some of the very best commentary, study tools, and in-depth Bible lessons out there.
Jesus Calling
Based on Sarah Young's book of the same name, the "Jesus Calling" app lays out the 365-day devotional book in a digital format that's even easier to navigate than a traditional book. At $9.99, it is a great alternative to the print edition.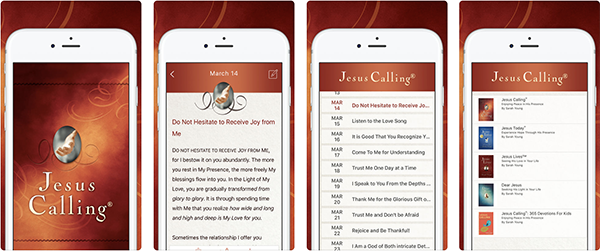 "Jesus Calling" is available on iTunes and Android.
Read Also: 10 Christian Apps Your Can't Live Without
Logos
Logos Bible Software is most often used by pastors and theology students, but if you're looking for a deep dive into the Bible, it's perfect for the layman too. Highlight words to see the Greek and Hebrew original text, read powerful commentaries and add to your library of Bible literature.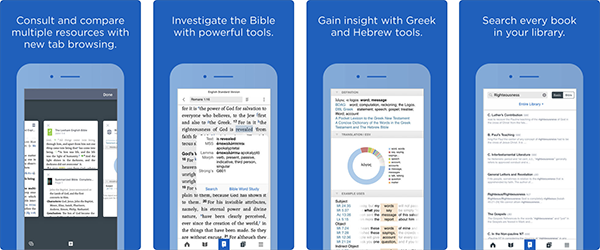 "Logos" is available on iTunes and Android.
Tony Evans
Pastor and speaker Tony Evans shares his powerful sermons, along with great sharing tools, daily devotionals, and more in this app. This app is ideal for auditory learners seeking to understand Scripture and deepen their faith.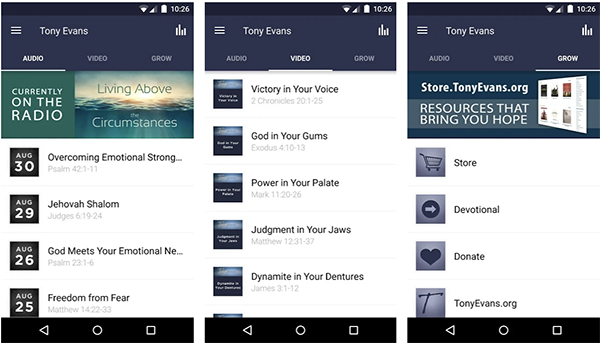 "Tony Evans" is available on Android.
READ ALSO: THE TOP 15 BEST CHRISTIAN PODCASTS OF 2022
Bible daily Devotionals for Your iPhone
Are you an iPhone user? These Bible devotional apps are designed to work specifically with your iPhone. They're well-designed and easy to use, making them great tools for your quiet time with God.
d365
The "d365" devotionals are outlined in a "Pause, Listen, Think, Pray, Go" format. If you enjoy including original worship in your time with God, the original music included with this app is ideal for you.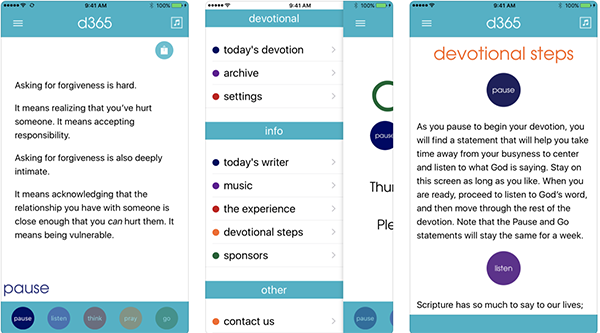 Download "d365" on iTunes.
The iDisciple app is one of the highest-rated on iTunes for good reason. Combining the most well-known voices in modern Christianity, you'll truly feel discipled. Here's more on the app:
iDisciple conveniently delivers sermons, exclusive Growth Plans, devotionals, and music from hundreds of top Christian authors, speakers, ministries, and artists to you - any time, any place, on any device.
Receive content from top Christian authors, speakers, and ministries such as Rick Warren, Andy Stanley, Lysa TerKeurst, Joyce Meyer, Ravi Zacharias, John C. Maxwell, Third Day, Anne Graham Lotz & more!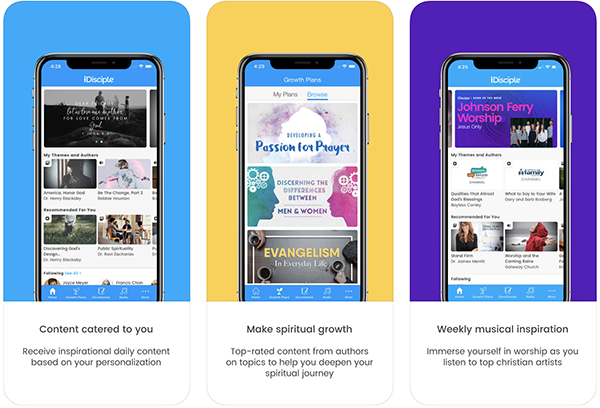 Download "iDisciple" on iTunes.
Bible daily Devotionals for Your Android Devices
If you use an Android or Google phone, there are also great apps available specifically for your device.
Our Daily Bread
This app is available in a variety of languages, making it ideal if English is your second language. With daily commentary and reading plans, "Our Daily Bread" is a great combination of Bible reading and study.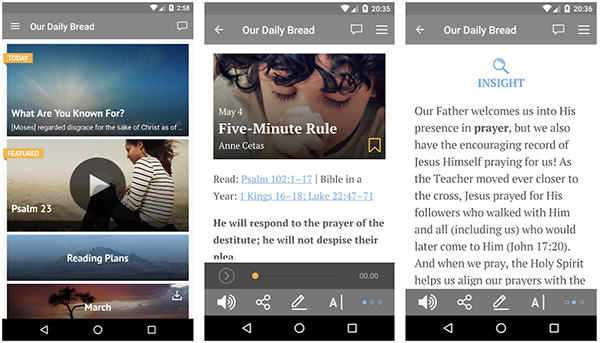 Download "Our Daily Bread" on the Google Play Store.
And be sure to check out the free Pure Flix's Fruit Of The Spirit Devotional for an in-depth study on Galatians as the apostle Paul asks us to learn how to transform our lives with nine different gifts from God.
Sarah Hartland
Sarah Hartland knew she wanted to be a writer from the time she wrote her first short story in the fourth grade. By the time she was in high school, she had written two novellas and countless short stories. It was her love of storytelling that led her into marketing and media.
Sarah freelanced throughout her time at Colorado Christian University, where she graduated with a Bachelor's degree in Business Administration. At CCU, Sarah competed in speech and debate across the country, securing multiple awards and a national debate championship. She co-lead CCU's first-ever broadcast media program, CCU.TV, and served as the program's Student Producer during her senior year.
When she's not writing blog posts or editing a video, Sarah loves to swing dance, ski, travel, or visit her seven younger siblings in Montana.