Canadian publication, North Shore News, recently interviewed Michelle Morgan, who plays Lou on the family TV series, "Heartland." Morgan expressed her gratitude for the show's multigenerational appeal. Now in its 10th season, there's no doubt the show about the horse farm named Heartland has garnered a faithful following.
Morgan told North Shore News, "I remember there was a director in the first season of the show who said to me, 'This is a great formula. This show is going to go seven seasons.' And even to say that was ludicrous. We all laughed and said, 'Well we should be so lucky.' But here we are. He was right. I think you can attribute a lot of things to that but a big part of it is that the chemistry of the actors on the show really works and I think the show is very well cast."
Proving Her Skills
When asked if she feels like her own personality is similar to Lou's, Morgan maintained that though she may have some things in common with Lou, those similarities don't inform her acting. "I think people always want actors to be just like the characters they play," she said. "But I'm an actor, I can play many characters."
Morgan has certainly proved her skills, making the character of Lou her own, and even adding a new element of humor that is not present in the book series the show is based upon. "The writers saw that I enjoyed playing comedy so that's come out with Lou now," she said. "Her neuroses bring some levity to the show, so I enjoy bringing that."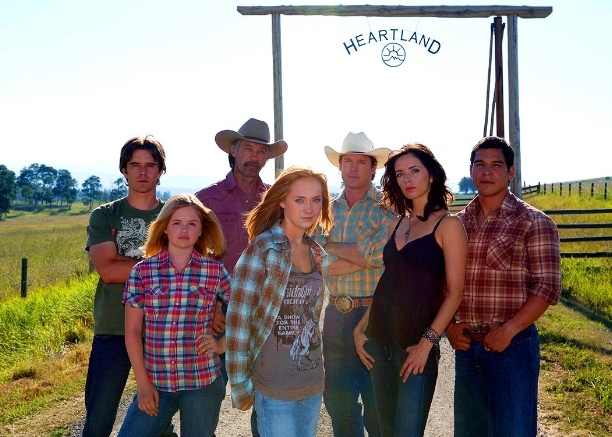 Morgan also added that she takes her job seriously, saying, "I never approached it as, 'Well, I know this character, I know this show, I can coast.' I've worked with an acting coach, I've really loved working with new directors and trying to glean ideas from them, and challenge myself, and make the writing shine or maybe change the writing so it's better.

I've always really worked hard to make the show the best it can be."
The Universal Appeal of "Heartland"
What makes "Heartland" such a popular show? Michelle Morgan says, "For the women and men my age, what they love about it is they can watch it as a family and that there's something for everyone."
For Morgan, family is personally important to her too. When the show began, she no children, but now 10 years later, she is the mother of two young kids. She says she also loves the family aspect of"Heartland."
"I really appreciate that because there are very few shows that can hold all of our attentions," she said. "I think for the younger audience they love, of course, the horses. I think they (also) love that they can relate to characters like Georgie who plays my adopted daughter on the show and she's 15."
Read Also: Your Heartland Binge Watching Guide
Justina Miller
Justina Miller grew up as a full time musician in a band with her sister. At eighteen she took her creativity to a University setting where she studied poetry at George Mason University and Oxford University in England. After college, Justina worked in campus ministry leadership with FOCUS at Vanderbilt University. There, she mentored students while fundraising her entire salary.
Justina went on to volunteer at an orphanage in India, and came back to the states to run conferences for FOCUS. In 2012, she returned to her musical roots to perform in DC as a jazz singer and maintained freelance writing gigs for columns, copywriting, screenplays, and ghostwriting for a major publication.
Recently, Justina has settled in New York City where she performs in local venues, continues to freelance, and runs crowdfunding, email marketing, and social media management for the Chiaroscuro Foundation.