The Christian football movie "Woodlawn" is packed with powerful biblical messages and lessons. "Woodlawn" the movie is a true story about a recently desegregated high school football team in Birmingham, Alabama in 1973.
Generations of racial hostility, frustration and mistrust melt away after a miracle revival when a sports minister shares the gospel with the team. In an instant, teammates go from enemies to brothers. Over the course of two seasons, the Woodlawn team shares their passion and devotion to Christ by living what they believe and inviting their long-time rival, the Banks Jets, to join them for their annual summer camp.
Here are biblical lessons that we can all learn from "Woodlawn" the movie.
Love Christ First
Loving our enemy without accepting the love of Christ into our hearts is like drawing water from an empty well. In "Woodlawn," Hank, played by Sean Astin, tells the players:
"Birmingham has seen nothing but hate for so long that it has lost its ability to believe. It's lost hope."
Hank goes on to ask the team to "Make a decision to change, to forgive, to choose Jesus." Hank recognized that the only way to change hard and hopeless hearts, is to let Jesus in first. In this same way, we must let the love of Jesus into our hearts if we want to love others as he does.
"I will give them an undivided heart and put a new spirit in them; I will remove from them their heart of stone and give them a heart of flesh." — Ezekiel 11:19 (NIV)
"A new command I give you: Love one another. As I have loved you, so you must love one another. By this everyone will know that you are my disciples, if you love one another." — John 13:34-35 (NIV)
Ask For Forgiveness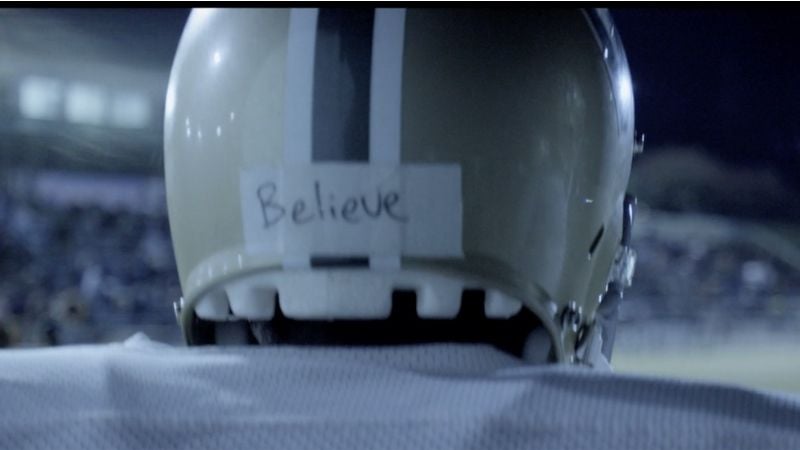 Coach Tandy Geralds is skeptical and can't understand what has happened to his team. But after an impossible win against an undefeated team, he sees what is truly behind his team's transformation. A non-practicing Christian before this, Coach Geralds unexpectedly shows up during the Sunday service at a church where several of his black players attend.
He comes before the congregation and asks for forgiveness, saying, "I have not done enough to stop [your persecution]," and continues to say he wants the kind of love they have; the kind of love that can conquer hate.
In this act, Geralds shows us that asking for forgiveness turns an enemy into a friend. Though it takes a great deal of courage and humility, asking for forgiveness can literally transform a relationship.
"Bear with each other and forgive one another if any of you has a grievance against someone. Forgive as the Lord forgave you." — Colossians 3:13 (NIV)
"Repent, then, and turn to God, so that your sins may be wiped out, that times of refreshing may come from the Lord." — Acts 3:19 (NIV)
Work Together
In "Woodlawn" the movie, the players spend time together working for a common goal. No matter how small, acts of finding common ground are a great opportunity to spend time with a person you find difficult to love. Invite them to Bible Study or a pick-up sports game — anything where you can practice loving them.
"For where two or three gather in my name, there am I with them." — Matthew 18:20 (NIV)
"Two are better than one, because they have a good return for their labor: If either of them falls down, one can help the other up. But pity anyone who falls and has no one to help them up." — Ecclesiastes 4:9-10 (NIV)
Be More Than Just Polite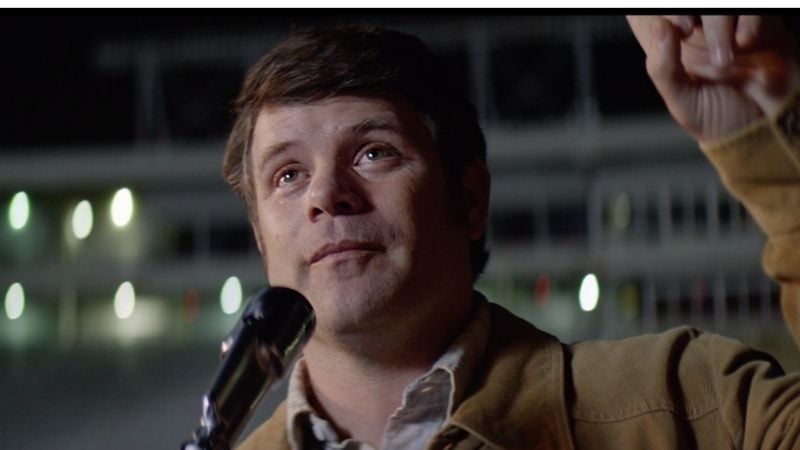 We are taught to be polite to everyone, whether we know them or not. However, when you're really invested in someone, you make sacrifices for them beyond politeness.
There is a scene in "Woodlawn" the movie where Coach Geralds defends his star player Tony Nathan because Tony refused to stand for a photo with Gov. George Wallace — a staunch defender of racist policy in Alabama.
Gerald sacrificed his reputation and livelihood to demonstrate his love, compassion and commitment to his player. This teaches us a valuable lesson: It's not enough to love our enemies passively. We must love actively.
"For even the Son of Man did not come to be served, but to serve, and to give his life as a ransom for many." — Mark 10:45 (NIV)
"To do what is right and just is more acceptable to the Lord than sacrifice." — Proverbs 21:3 (NIV)
In the beginning of "Woodlawn," Coach Geralds admits he didn't believe in miracles before 1973. Throughout the film, we see him, his players, and the town change, because they traded in their prejudice and hate for the love and forgiveness of Jesus.
When Christ gives us a commandment He doesn't just leave us alone to follow that commandment, but sends His Spirit to help us. We have to trust that God wants to give us the miracle of loving those who are hard to love. Only then can we be true to the scripture oh John 13:35: "By this everyone will know that you are my disciples, if you love one another."
For more inspiration, check out "Woodlawn" on Pure Flix. To watch "Woodlawn" and thousands of other Christian and family-friendly movies and TV shows, visit Pure Flix and sign-up for a free trial.
Justina Miller
Justina Miller grew up as a full time musician in a band with her sister. At eighteen she took her creativity to a University setting where she studied poetry at George Mason University and Oxford University in England. After college, Justina worked in campus ministry leadership with FOCUS at Vanderbilt University. There, she mentored students while fundraising her entire salary.
Justina went on to volunteer at an orphanage in India, and came back to the states to run conferences for FOCUS. In 2012, she returned to her musical roots to perform in DC as a jazz singer and maintained freelance writing gigs for columns, copywriting, screenplays, and ghostwriting for a major publication.
Recently, Justina has settled in New York City where she performs in local venues, continues to freelance, and runs crowdfunding, email marketing, and social media management for the Chiaroscuro Foundation.