We're kicking off 2016 in a big way: One of the year's most anticipated movie releases--"Do You Believe?"---is now streaming exclusively on PureFlix.com, along with a Discussion Guide.
PureFlix.com is the only place you'll be able to subscribe and stream this movie. It's exclusive to our platform and given the popularity of "Do You Believe?" in movie theaters and in packaged media (DVD, Blu-ray discs), we're convinced it will become one of our top streaming releases for the year.
It's that powerful.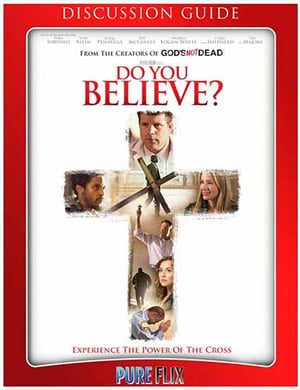 The Discussion Guide is designed to enhance your family's experience after watching the movie. With key Scripture and pertinent, thought-provoking questions included, it's been created to foster meaningful conversation among family members and help deepen everyone's understanding of this compelling movie about the power of the cross.
And while we're thrilled to be presenting the movie and accompanying Discussion Guide, we're certainly not alone. Actor Senyo Amoayu, who plays the character "Kriminal" in "Do You Believe?" recently told the Pure Flix Insider: "This film is grounded in reality…I'm blessed that it's coming out and that young people will get to see it."
As you'll read in the Discussion Guide, the movie "provides families with a powerful reminder that without action, believing is just a hollow word. The movie follows 12 people with seemingly little in common—other than significant real-world problems—whose lives intersect under a large, illuminated cross."
We sincerely hope you enjoy the movie and accompanying Discussion Guide. Please let us know by commenting on our social media channels what Discussion Guides you and your family would like to see in the future and we'll do our best to provide them.
Not a member of the Pure Flix Digital Streaming Service yet? Click Here

and start enjoying thousands of Christian and family-friendly movies, TV shows, and educational programming online anytime, from virtually anywhere, on any device, FREE for 30 Days.
Dave Migdal
Dave Migdal is the Vice President of Communications and Cause Marketing of Pure Flix Digital based in Southern California. He began working with the division shortly after its launch and is dedicated to helping Pure Flix get its message out clearly, effectively and with impact.
After graduating with BS in Journalism from the University of Colorado, Dave began his career as a newspaper reporter. He worked for such publications as the Denver Post and San Antonio Light covering pro and college sports, business and technology.
He pivoted to public relations and corporate communications after a successful run in the newspaper business, joining Sony Electronics to help the company launch ground-breaking technologies and products, including everything from DVD to Internet TV. He also played an instrumental role in creating alliances with Sony Pictures and Sony Music, bringing the three divisions together to form a powerful, unified marketing entity.
Dave started in his own PR/communications company in 2011 and helped companies—ranging in size from start-ups to multi-nationals—reach their potential with a proven mix of PR and perseverance.
A pro basketball fan for 40+ years, he spends his free time with his family at the beach (whenever a game's not being televised).