We've all heard the Bible verse: "Therefore do not worry about tomorrow, for tomorrow will worry about itself. Each day has enough trouble of its own." But we know it's harder to live out these words than it is to say and read them. So how do we live out the Bible verse, Matthew 6:34? What does the Bible say about hope for tomorrow?
We're doing a deep dive into Matthew 6:34 to see how we can better understand its meaning and look at ways we can live it out in our own day-to-day.
To help give us a solid foundation of what not worrying about tomorrow looks like, we'll be using quotes and examples from the newest Pure Flix Exclusive and AFFIRM Originals series, Karen Kingsbury's "A Thousand Tomorrows."
WATCH NOW: The trailer for "Karen Kingsbury's A Thousand Tomorrows" is now available! Here's the synopsis: From #1 New York Times best-selling author Karen Kingsbury, only God knows how many tomorrows we have left. In the dangerous and competitive rodeo world, how will Cody and Ali make the most of their time together?
Matthew 6:34: Do Not Worry About Tomorrow
We're going to break down Matthew 6:34. Let's first look at the initial sentiment:
"Therefore do not worry about tomorrow ..."
Oof. What a hard concept – especially for humans whose nature it is to worry and fret about a future we cannot see. We all wish we had a crystal ball that would show us our future. But our God doesn't work that way. He asks us to trust in Him enough that He will take care of us tomorrow. We don't need to worry ourselves about tomorrow because He has it all planned. The message of this part of Matthew 6:34 is that we need to trust in our Lord that He will take care of us in all of our days.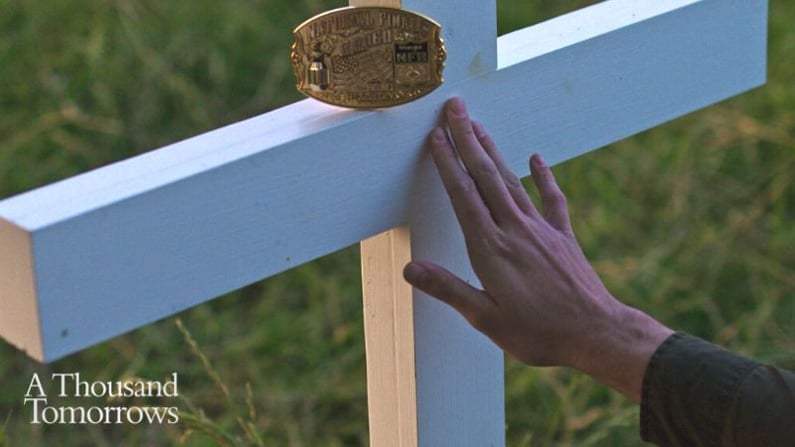 When we meet Cody and Ali in "A Thousand Tomorrows," both are only worried about their future in the rodeo circuit – competing and fighting for success in bull-riding and barrel racing, respectively. At first, Ali limits her time with Cody to just one hour a day. She tries to keep him at a distance to protect herself and her career and worries that he will distract her. This, in turn, causes Cody to worry whether he'll ever get to really know Ali like he wants to.
In juxtaposition, we learn that Ali is fighting a long battle with a chronic and very serious disease that causes her to worry about how long her career in barrel racing will last – which is why she resists the distraction of dating. As their relationship develops, Ali's worry becomes more about how long she will have with Cody. With time, they begin to prioritize living in the present moment and enjoying each other's company instead of worrying about what tomorrow holds.
READ ALSO: 'HE DESERVES THE GLORY': CHRISTIAN AUTHOR KAREN KINGSBURY ANNOUNCES NEW PURE FLIX SERIES BASED ON BESTSELLING NOVEL
Matthew 6:34: Tomorrow Will Worry About Itself
As we continue our breakdown of Matthew 6:34, let's take a look at its next part:
"... for tomorrow will worry about itself ..."
Do you ever wonder, what will tomorrow bring? Are you already worrying and fretting about your to-do list for tomorrow? Growing anxious about the future is definitely human nature. But, through Matthew 6:34, God asks us to not worry about tomorrow, to live in the present moment and only focus on what we have to do today.
This is exactly the message we learn from Cody and Ali's relationship. As they realize their time together is finite, they grow mournful and worry about what happens next.
As Cody begins to realize that his time with Ali is short, Cody asks Ali's father, Daryl, about he copes with her illness. Ali's father shows his reliance on God to provide this answer, putting all his trust and faith in our Lord with the words:
"Only God knows the length of our days."
Another example of this in "A Thousand Tomorrows" is how Cody's mother, Kate, worries about the future of Cody's relationship with his father, Mike. Cody was hurt in the past by his father, who left the family when Cody and his brother, Carl Joseph, were children. Kate and Carl Joseph forgive Mike quickly and welcome him back into their lives, but Cody resists and worries that the past will repeat itself and they will be hurt again.
Meanwhile, Kate worries that Cody will never forgive his father and pressures him with details to reconcile the relationship. She needs to trust that the timing will work out in God's plan and that they will make peace when it's supposed to happen.
Matthew 6:34 reiterates this sentiment, making it the perfect verse to pray over when we're worried about what tomorrow will bring.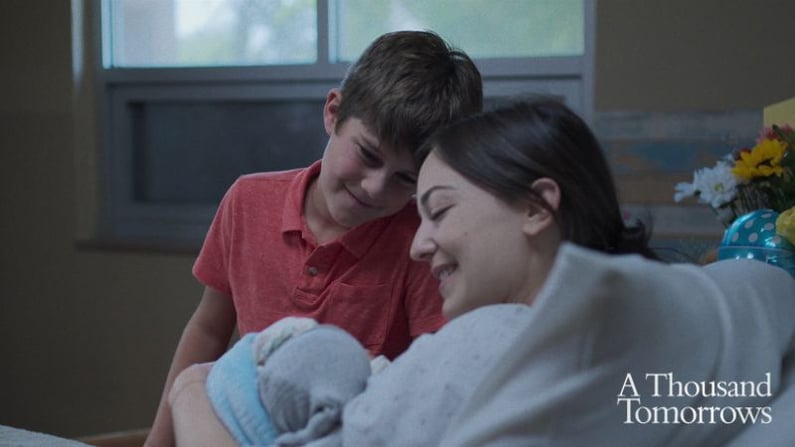 Matthew 6:34: Each Day Has Enough Trouble of Its Own
The last phrase of Matthew 6:34 can be reiterated in Ali and Cody's own words:
"We won't have forever." – Ali
"But we have tonight." – Cody
Ali worries about how much time she and Cody have together, while Cody tries to soothe her worries. As Ali gets sicker, she worries about what Cody will do with his life, his relationship with his family and his emotional state when she is gone. Ali's worries about Cody's future when she isn't even sure of what's next for her life. Ali's father, Mike, shares her worries.
This powerful quote from Mike in the show "A Thousand Tomorrows" shares a truth that we can all relate to:
"You pray to God in all His mercy that He will give you another tomorrow."
READ ALSO: 10 POWERFUL LESSONS ABOUT LOVE FROM 1 CORINTHIANS 13: LOVE IS PATIENT
Matthew 6:34 tells us that we must shift our focus to the present, not worrying about tomorrow. The end of Matthew 6:34 says:
"Each day has enough trouble of its own."
God wants us to be present in the here and now, knowing that He will take care of our future. God is working in our lives at the very present moment – He doesn't want us to miss what's right in front of us. That's why this part of Matthew 6:34 is so important. Knowing that God is working in our lives at every moment, we don't need to be anxious about tomorrow, we keep our eyes open for where God is in the present moment
In "A Thousand Tomorrows," once Ali and Cody realize their time won't last forever, they do everything they can to make the present count, living each day to the fullest. They take turns grounding each other in the present moment and focus on the normal, everyday cadence of life, like making hamburgers for dinner or fishing in the pond.
In order to show Cody how much she relishes her time with him, Ali tells him:
"Every moment with you is like a lifetime."
Cody's relationship with his brother, Carl Joesph, also keeps him in the present moment. Cody is in a constant state of worry about the chaos his absent father will have on the family, but, whenever Cody talks to Carl Joseph, he stays present in the moment. Cody never misses a video call from Carl Joseph, always makes the effort to spend time together, and savors the moments they share. Carl Joseph makes Cody remember not to take everything too seriously and have joy, hope and faith in life.

What Does the Bible Say About Tomorrow?
In addition to Matthew 6:34, there are many more Bible verses about tomorrow throughout Scripture. We wanted to share some more to pray with daily.
Proverbs 27:1 (NIV)
Do not boast about tomorrow, for you do not know what a day may bring.
Luke 12:22 (NIV)
Then Jesus said to his disciples: "Therefore I tell you, do not worry about your life, what you will eat; or about your body, what you will wear.
Philippians 4:6-7 (NIV)
Do not be anxious about anything, but in every situation, by prayer and petition, with thanksgiving, present your requests to God. And the peace of God, which transcends all understanding, will guard your hearts and your minds in Christ Jesus.
John 14:27 (NIV)
Peace I leave with you; my peace I give you. I do not give to you as the world gives. Do not let your hearts be troubled and do not be afraid.
Hebrews 13:8 (NIV)
Jesus Christ is the same yesterday and today and forever.
These Bible verses remind us about God's call to be present in the moment and to trust that our future is planned for us. With faith in God and His plan, we need not worry about tomorrow. Be sure to watch "A Thousand Tomorrows," only on Pure Flix.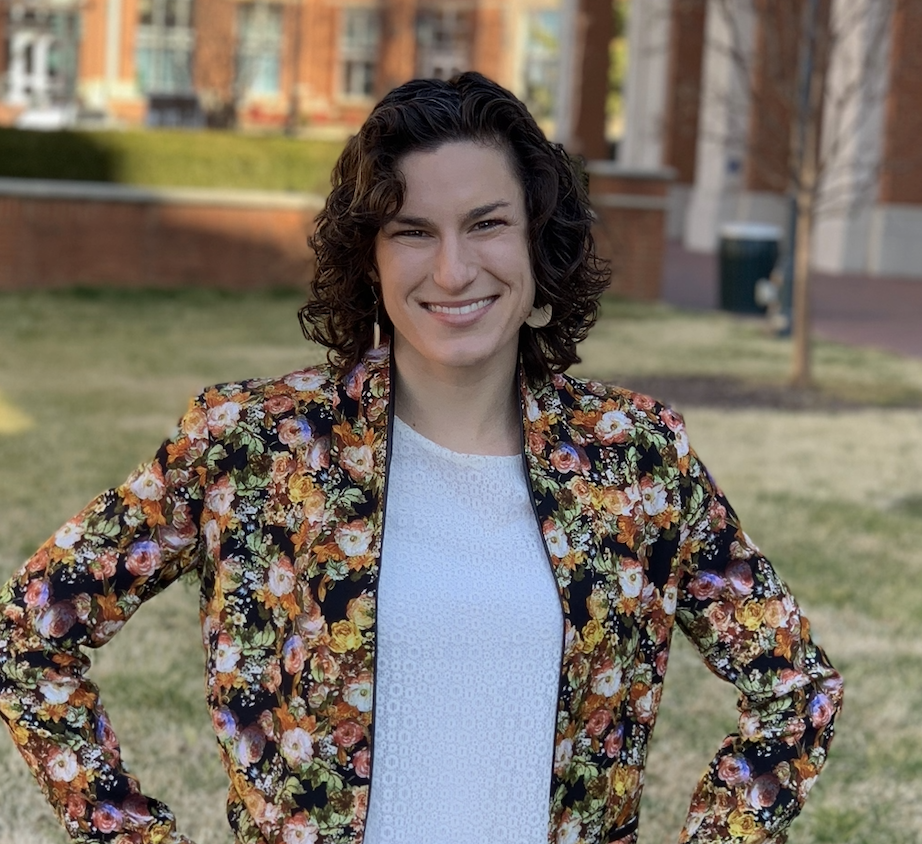 Marissa Zimmet
I was born and raised just across the bay from Tampa, Florida (Go, Lightning!) and attended college at ECU in Greenville, North Carolina. I am a devout Catholic and am active in my parish in Charlotte, North Carolina. Outside of work, I love to run, hike, watch movies and hockey, and spend time with my dog, Rose, and my cat, Toasty, who are both rescues.