The world of "Revelation Road" is full of mystery, drama, and action, and all of these elements come to life on screen thanks to well executed stunts and special effects. In an exclusive interview with David A.R. White, who stars as Josh in the "Revelation Road" saga, David shared what it took to make this world come to life on screen.
Creating movie magic takes a talented team, and "Revelation Road: Black Rider," the third in the "Revelation Road" saga, certainly had one. Stunt coordinator Monte Perlin has credits in over 80 films, including titles like "Mr. and Mrs. Smith," "Transformers: Dark of the Moon," "Indiana Jones and the Kingdom of the Crystal Skull," and the first two "Revelation Road" movies. Director Gabriel Sabloff and David himself lent their martial arts experience to the process as well.
David told Pure Flix Insider, "Gabe Sabloff is a martial artist himself, so he always had a lot to bring to a fight scene and also knew how to capture it. I really believe he's an artist in the way he's able to capture stuff."
The direction of "Revelation Road" makes the intense fight scenes look effortless, but David explained that what went on during the shoot was much more complicated.
"My boots were too heavy, and trying to kick in boots is a tough thing already, but especially when they're heavy boots. Then throw in the fact that my pants were too tight, and that it was freezing cold! The wind chill was unbelievable. So adding in the frostbite, wind, too heavy boots, too tight pants: all that together was a tough thing. I've got to hand it to Monte, the stunt team, and Gabe - they just did such a great job capturing it all."
Beyond challenges with costumes and temperature, the cast and crew faced one of the most common yet hardest problems in the filmmaking industry: running out of time. Laughing, David explained:
"Hollywood movies have a lot more rehearsal time, sometimes days to rehearse one fight scene, but we never seem to have enough time on these shoots. I'd be off doing another scene and would have to come in at the last minute. Monte would go through [a scene] with some of his stunt guys, teach other guys who weren't stunt guys all the choreography, and then I would come in and have to learn it all really fast."
The Most Challenging Scenes Were the Most Real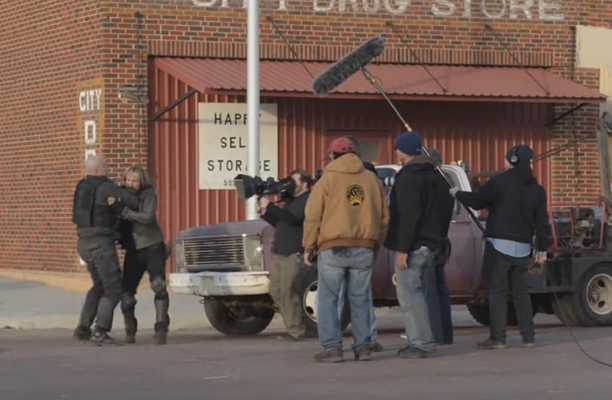 David told Pure Flix Insider that one of the most challenging scenes was also one of the most realistic. Meaning, if he looked uncomfortable in the scene, because he actually was very uncomfotable while filming it.
"None of the stunts were easy, but the hardest was my fight scene with Michael at the very end, because Michael is massive. When you're rolling around on the ground with someone as massive as that, fighting with a rifle and a machete... any time you're rolling around with big guys, they end up rolling onto you at some point in time. The heavier somebody is the more uncomfortable that is, and we we're on pavement too, so you can imagine. They make it look so real, but a lot of it is because it was very real."
David thinks "Revelation Road" will continue to be popular because of the action in the films. He also mentioned that it taps into another point of curiosity for viewers: imagining the end times.

"I think all of us are fascinated with action. A lot of people love action movies worldwide; it spans the globe. No matter the language, the action element is fascinating to watch. And the end times - all of us are fascinated with what is going to happen in our world. The book of Revelation is packed full of things that have happened and things that are going to happen."
If you haven't seen "Revelation Road: The Black Rider," you can watch it and hundreds of other family movies for free right now with your one month trial subscription to PureFlix.com. You'll also be able to enjoy more action, adventure, and end times movies, and be sure to let us know what you think on our Facebook page.
Read Also: 11 Christian Movies About the End Times
Sarah Hartland
Sarah Hartland knew she wanted to be a writer from the time she wrote her first short story in the fourth grade. By the time she was in high school, she had written two novellas and countless short stories. It was her love of storytelling that led her into marketing and media.
Sarah freelanced throughout her time at Colorado Christian University, where she graduated with a Bachelor's degree in Business Administration. At CCU, Sarah competed in speech and debate across the country, securing multiple awards and a national debate championship. She co-lead CCU's first-ever broadcast media program, CCU.TV, and served as the program's Student Producer during her senior year.
When she's not writing blog posts or editing a video, Sarah loves to swing dance, ski, travel, or visit her seven younger siblings in Montana.