There are scores of Bible verses that offer us faith, hope and encouragement. These popular Scriptures on faith hold the power to transform lives, offering timeless truths that uplift, correct poor behavior and offer guidance for how to live our lives. From encouraging Bible verses to Bible verses about faith and Bible verses about hope, there's plenty of wonderful content to help us navigate life's ups and downs.
LOOKING FOR HOPE? Watch Uplifting Movies and TV Shows Right Now on Pure Flix
If you're looking for Scriptures on faith, hope or encouragement, take a look at these 50 Bible verses (all verses are NIV):
Scriptures on Faith
Scriptures That Focus on the Power of Christ
The heart of the New Testament is the idea that Jesus died for the sins of humanity, and that a personal relationship with Him is possible and essential. There are a number of key Bible verses that showcase what this sacrifice — and relationship — encompasses:
"For God so loved the world that he gave his one and only Son, that whoever believes in him shall not perish but have eternal life." - John 3:16 (NIV)
"If we confess our sins, He is faithful and just to forgive us our sins, and to cleanse us from all unrighteousness." — 1 John 1:9
"For by grace you have been saved through faith; and this is not your own doing, it is the gift of God — not because of works, lest any man should boast." — Ephesians 2:8-9
"I write these things to you who believe in the name of the Son of God so that you may know that you have eternal life." — 1 John 5:13
"If you declare with your mouth, 'Jesus is Lord,' and believe in your heart that God raised him from the dead, you will be saved." — Romans 10:9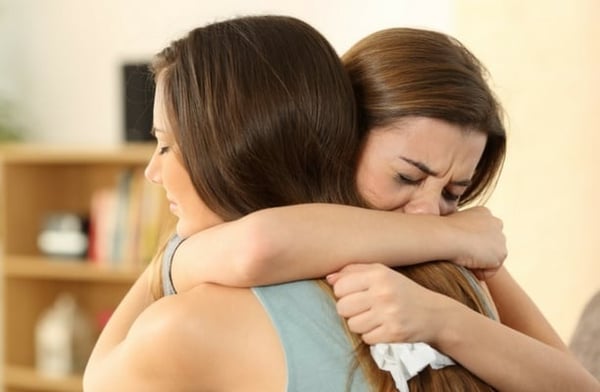 Bible Verses On God's Comfort For Humanity
There is no shortage of Bible verses about faith and spiritual growth, with a multitude of Scriptures promising that God will comfort human beings. These Scriptures on faith also encourage people to take fears and worries to God.
Here are two good Bible verses that delve into this issue:
"As one whom his mother comforts, so I will comfort you." – Isaiah 66:13
"Cast your cares on the Lord and he will sustain you; he will never let the righteous be shaken." — Psalm 55:22
WATCH: "Just Let Go," the true story of a man who loses his family following a drunk driving accident and has to learn how to forgive the person behind the wheel.
Popular Bible Verses About the Power of God
God's word never fails — and reliance upon Him holds the power to transform hearts and minds.
These Scriptures on faith show that the Lord has "overcome the world" and that faith in Him gives people victory:
"For no word from God will ever fail." — Luke 1:37
"For everyone born of God overcomes the world. This is the victory that has overcome the world, even our faith." — 1 John 5:4
"Whoever believes in me, as Scripture has said, rivers of living water will flow from within them." — John 7:38
Bible Verses About Worry
Worry can paralyze us, challenging our faith and leaving us crippled by fear and uncertainty. But the Bible tells us to look to God to overcome worry and not to be afraid of what's to come. "Trust" is a word that numerous Bible verses tell us to put into action:
"Who of you by worrying can add a single hour to your life?" —Luke 12:25
"And teaching them to obey everything I have commanded you. And surely I am with you always, to the very end of the age." — Matthew 28:20
"Surely God is my salvation; I will trust and not be afraid. The Lord, the Lord himself, is my strength and my defense; he has become my salvation." — Isaiah 12:2
"Do not be anxious about anything, but in every situation, by prayer and petition, with thanksgiving, present your requests to God." — Philippians 4:6
Read Also: 38 Powerful Bible Verses For Overcoming Life's Struggles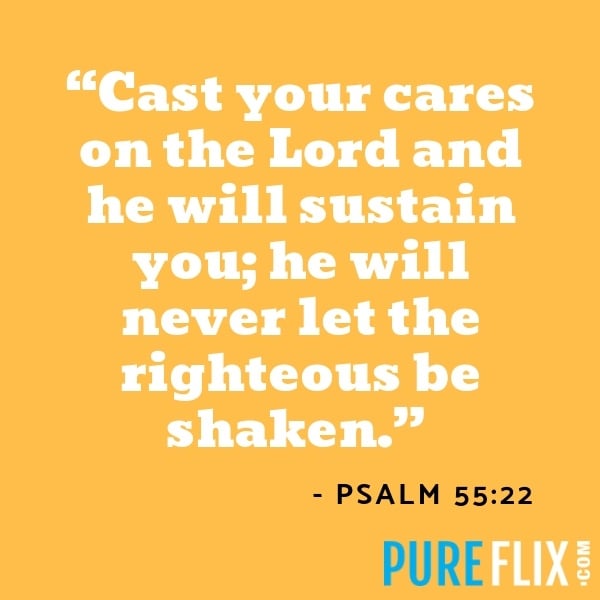 Important Bible Verses About Putting God at the Center
Among the many Scriptures on faith are calls to put God first. This, in fact, is the first step to increasing one's faith and to helping better connect with the Almighty. Here are a few Bible verses that speak to this topic:
"But he said to me, 'My grace is sufficient for you, for my power is made perfect in weakness.' Therefore I will boast all the more gladly about my weaknesses, so that Christ's power may rest on me." — 2 Corinthians 12:9
"If anyone speaks, they should do so as one who speaks the very words of God. If anyone serves, they should do so with the strength God provides, so that in all things God may be praised through Jesus Christ. To him be the glory and the power for ever and ever. Amen." — 1 Peter 4:11
"Trust in the LORD with all your heart and lean not on your own understanding; in all your ways submit to him, and he will make your paths straight." — Proverbs 3:5-6
SUBSCRIBE: Start Listening to "The Pure Flix Podcast"
Popular Bible Verses About Clinging to Faith in God
God promises us that we can find peace in Him, but that doing so requires "fighting the good fight of the faith." See two Bible verses that encourage people to seek eternal life and peace through Christ:
"Fight the good fight of the faith. Take hold of the eternal life to which you were called when you made your good confession in the presence of many witnesses." — 1 Timothy 6:12
"I have told you these things, so that in me you may have peace. In this world you will have trouble. But take heart! I have overcome the world." — John 16:33
WATCH: "John Light" tells the true story of one of the redemption of one of the most dangerous prisoners in the Arizona State Penitentiary system. Now that he's out from behind bars, will others see how his faith in God has changed him?
Bible Verses About Hope
Bible Verses About Finding Meaning in Christ
The New Testament is filled with encouraging Bible verses that tell us the importance of finding meaning in Christ — and the reality that Jesus overcame the world. These Scriptures on faith about hope help us find solace in the Almighty:
"I have been crucified with Christ and I no longer live, but Christ lives in me. The life I now live in the body, I live by faith in the Son of God, who loved me and gave himself for me." — Galatians 2:20
"Then Jesus declared, 'I am the bread of life. Whoever comes to me will never go hungry, and whoever believes in me will never be thirsty.'" — John 6:35
"Who is it that overcomes the world? Only the one who believes that Jesus is the Son of God." — 1 John 5:5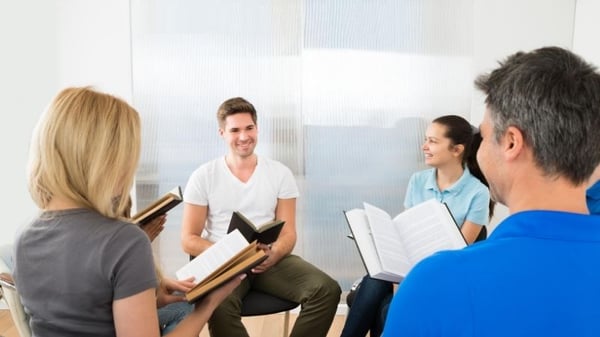 Popular Bible Verses About Clinging to Hope
When times get tough, clinging to hope can be a difficult task. But many Bible verses tell us that God will guide us through life's difficult messes. Rather than fear and worry, the Bible tells us to embrace hope. Here are some important Bible verses about hope to help us on that journey:
"For I am the LORD your God who takes hold of your right hand and says to you, Do not fear; I will help you." — Isaiah 41:13
"So do not fear, for I am with you; do not be dismayed, for I am your God. I will strengthen you and help you; I will uphold you with my righteous right hand." — Isaiah 41:10
"Cast all your anxiety on him because he cares for you." — 1 Peter 5:7
"Peace I leave with you; my peace I give you. I do not give to you as the world gives. Do not let your hearts be troubled and do not be afraid." — John 14:27
"Anxiety weighs down the heart, but a kind word cheers it up." — Proverbs 12:25
Important Bible Verses About Discovering Peace & Rest
With hope comes peace and with peace comes reliance upon God. Bible verses repeatedly call us to turn to Jesus rather than embrace doubt and uncertainty. God's light can shine in even the darkest of situations:
"But when you ask, you must believe and not doubt, because the one who doubts is like a wave of the sea, blown and tossed by the wind." — James 1:6
"The light shines in the darkness, and the darkness has not overcome it." — John 1:5
"Now may the Lord of peace himself give you peace at all times and in every way. The Lord be with all of you." — 2 Thessalonians 3:16
"God is our refuge and strength, an ever-present help in trouble. Therefore we will not fear, though the earth give way and the mountains fall into the heart of the sea, though its waters roar and foam and the mountains quake with their surging." — Psalm 46:1-3
"The Lord replied, 'My Presence will go with you, and I will give you rest.'" — Exodus 33:14
Read Also: 10 Ways to Put God First in the Modern World
Encouraging Bible Verses About Finding Power in Christ
Encouraging Bible verses about hope reveal that people can find power in Christ amid a tough and difficult-to-navigate world. Here are some good Scriptures on faith about finding power and purpose by turning to Jesus:
"I pray that out of his glorious riches he may strengthen you with power through his Spirit in your inner being." — Ephesians 3:16
"And we know that in all things God works for the good of those who love him, who have been called according to his purpose." — Romans 8:28
"I know what it is to be in need, and I know what it is to have plenty. I have learned the secret of being content in any and every situation, whether well fed or hungry, whether living in plenty or in want. I can do all this through him who gives me strength." — Philippians 4:12-13
Good Bible Verses About Finding Strength in Christ
With power comes strength — and encouraging Bible verses remind us of the importance of taking our sins to God if we wish to find spiritual prosperity. Confessing our sins and relying on God to overcome our struggles is the key to finding strength:
"Whoever conceals their sins does not prosper, but the one who confesses and renounces them finds mercy." - Proverbs 28:13
"Have I not commanded you? Be strong and courageous. Do not be afraid; do not be discouraged, for the LORD your God will be with you wherever you go." — Joshua 1:9
"The righteous person may have many troubles, but the LORD delivers him from them all." — Psalm 34:19
"But you, Lord, do not be far from me. You are my strength; come quickly to help me." — Psalm 22:19
"Be strong and courageous. Do not be afraid or terrified because of them, for the Lord your God goes with you; he will never leave you nor forsake you." — Deuteronomy 31:6
WATCH: "Palau," the true story and journey of Luis Palau who committed his life to Jesus and became one of the greatest evangelists in history.
Bible Verses About Encouragement
Bible Verses About Discovering Goodness
There are plenty of encouraging Bible verses that tell us how to live our lives — Scriptures on faith that provide an overview of what it means to be a Christian. From explaining love, peace and self-control to the importance of sacrificing self for God, these Bible verses offer solid guidance:
"But the fruit of the Spirit is love, joy, peace, forbearance, kindness, goodness, faithfulness, gentleness and self-control. Against such things there is no law." — Galatians 5:22-23
"Love is patient and kind. Love is not jealous or boastful or proud or rude. It does not demand its own way. It is not irritable, and it keeps no record of being wronged. It does not rejoice about injustice but rejoices whenever the truth wins out. Love never gives up, never loses faith, is always hopeful, and endures through every circumstance." – 1 Corinthians 13:4-7
"Therefore, I urge you, brothers and sisters, in view of God's mercy, to offer your bodies as a living sacrifice, holy and pleasing to God—this is your true and proper worship. Do not conform to the pattern of this world, but be transformed by the renewing of your mind. Then you will be able to test and approve what God's will is—his good, pleasing and perfect will." — Romans 12:1-2

Good Bible Verses About Instruction
The Bible reveals the importance of listening to parents' advice and of turning to God to navigate life issues. Discovering the importance of instruction and integrating it into people's lives is key. Here are some popular verses that speak to this issue:
"Listen, my son, to your father's instruction and do not forsake your mother's teaching. They are a garland to grace your head and a chain to adorn your neck." — Proverbs 1:8-9
"You are my hiding place; you will protect me from trouble and surround me with songs of deliverance. I will instruct you and teach you in the way you should go; I will counsel you with my loving eye on you." — Psalm 32:7-8
"…I am the one who raises the dead and gives them life again. Anyone who believes in Me, even though he dies like anyone else, shall live again. He is given eternal life for believing in Me and shall never perish." — John 11:25-26
"…God is faithful. He won't allow you to be tempted beyond your abilities. Instead, with the temptation, God will also supply a way out so that you will be able to endure it." — 1 Corinthians 10:13
WATCH: "God's Not Dead," a drama that puts God and faith on trial.
Important Scriptures About Finding Encouragement in Christ
In the end, the Bible is all about forming a relationship with Christ. These encouraging Bible verses emphasize the importance of a relationship with God — and of forming a solid faith:
"Immediately Jesus reached out his hand and caught him. 'You of little faith,' he said, 'why did you doubt?'" — Matthew 14:31
"I remain confident of this: I will see the goodness of the Lord in the land of the living. Wait for the Lord; be strong and take heart and wait for the Lord." — Psalm 27:13-14
"Be on your guard; stand firm in the faith; be courageous; be strong." — 1 Corinthians 16:13
These 50 verses offer plenty to think about when it comes to faith, hope and encouragement. No matter what issues you face, turning to God can help you navigate life and improve your spiritual health.
One final bonus Scripture on faith that encapsulates much of this is Romans 12:21, which reads, "Do not be overcome by evil, but overcome evil with good." The best way to overcome evil is to turn to the Creator and form a relationship with Him.
In need of more guidance and inspiration? Be sure to visit the Pure Flix Insider blog and sign up for Pure Flix today. You can access thousands of inspirational and faith and family-friendly TV shows and movies for free during your free trial.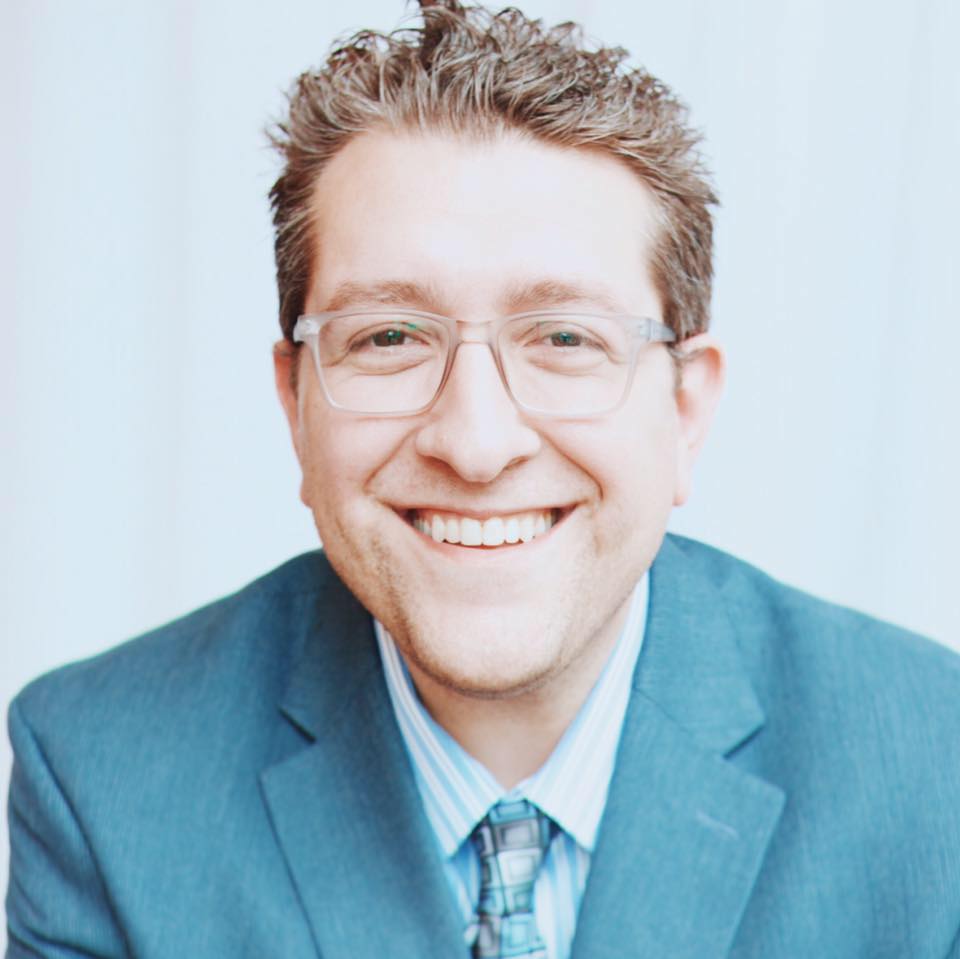 Billy Hallowell
Billy Hallowell has been working in journalism and media for more than a decade. His writings have appeared in Deseret News, TheBlaze, Human Events, Mediaite and on FoxNews.com, among other outlets. Hallowell has a B.A. in journalism and broadcasting from the College of Mount Saint Vincent in Riverdale, New York and an M.S. in social research from Hunter College in Manhattan, New York.