The Christian film "New Life" follows the love story of life-long friends, Ava and Ben. When Ava is diagnosed with cancer, Ben is understandably heartbroken. However, with Christ's strength, he works through his own pain to be a rock for Ava. Meanwhile, Ava sees Ben's sadness - brought on by her diagnosis and treatment - and she becomes a pillar of strength for him. The story is a beautiful demonstration of how to trust in God's plan and find strength through faith in Him.
Like Ben and Ava, God calls all of us to trust Him in times of adversity. He tells us, "Be strong and courageous. Do not be afraid or terrified because of them, for the Lord your God goes with you; he will never leave you nor forsake you." (Deuteronomy 31:6 NIV). Every day, Christians around the world show us real-life examples of having faith in God through catastrophe. Here are three examples of stories that you may have seen in the news from this year alone.
Married Olympic Figure Skaters Have Faith Through Adversity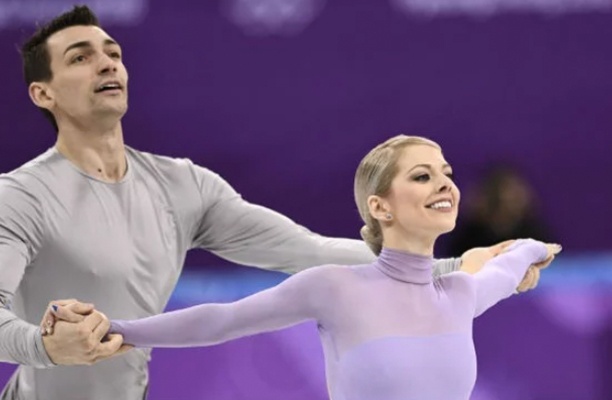 Chris and Alexa Knierim have been skating together since 2012. In 2016, they were married, but after the wedding, Alexa was diagnosed with a gastrointestinal condition. After three surgeries, Alexa feared her skating career was on the verge of ending, but never lost faith. "When my body was at my weakest, my faith was at its strongest." Alexa told NBC News. Against all odds, Alexa recovered and, with her husband, competed for Team USA on Valentine's Day this year in PyeongChang. "We are just so happy to be alive together and to skate together," Alexa said, "and to have our dream of making the Olympics come true."
Opening the Door to Jesus – Even in Dark Times
A recent report from Aid to the Church in Need states that we are living in the worst time for Christian persecution in human history. Extreme persecution--even genocide-- has risen due to groups like Boko Haram and ISIS. However, Open Doors, a non-denominational organization, is on a mission to support persecuted Christians in more than 60 countries. Open Doors aims to distribute Bibles, literature, audio recordings, and pastoral training and raise awareness of this global issue. Their CEO, David Curry, told Relevant Magazine:
"One of the reasons we call ourselves Open Doors is we fundamentally think there are no doors closed to Jesus, and we know that the Church is everywhere. The body of Christ is everywhere. So, we're going to tackle them. There are no off-limits places to us. There may be some places that Americans shouldn't go or that others may deem dangerous, but the body of Christ isn't just one 'safe' nation, it isn't a cultural overlay. It's about the person and the philosophy of Jesus that translates everywhere."
To learn more Open Door's mission and how you can help, visit OpenDoorsUsa.org.
Non Believers Pray to God in Times of Crisis
Though it can feel like we're living in a society that has totally shunned the idea of God, a recent report from the UK tells us that people still hold a candle out for God's protection, especially in times of adversity. The survey, conducted by ComRes, found that 51 percent of adults pray. Out of the non-religious participants, 55 percent admitted that personal tragedy or crisis brought them to their knees, 34 percent pray "on the off chance that something could change," and 23% do so to "gain comfort or to make them feel less lonely."
Of the participants who identified as Christians, 57 percent also said they are more likely to pray in times of tragedy, 45 percent "because they believe in God" and 38 percent "because they believe it really makes a difference." While times of adversity are never ideal, it appears they do have one silver lining: they get us talking to God.
Stream "New Life"
For more inspiration on keeping faith in God during times of catastrophe, check out "New Life," streaming on PureFlix.com. If you don't already have a PureFlix.com account, you can sign up for a free trial and watch "New Life" plus thousands of other Christian movies, documentaries, and TV series.