"VeggieTales" shows are some of the best ways to teach children that God made them special, and that He loves them very much. The "Silly Songs with Larry" segments are a hilarious addition to every "VeggieTales" episode. Here are some that will have you laughing and singing along.
"Larry's High Silk Hat"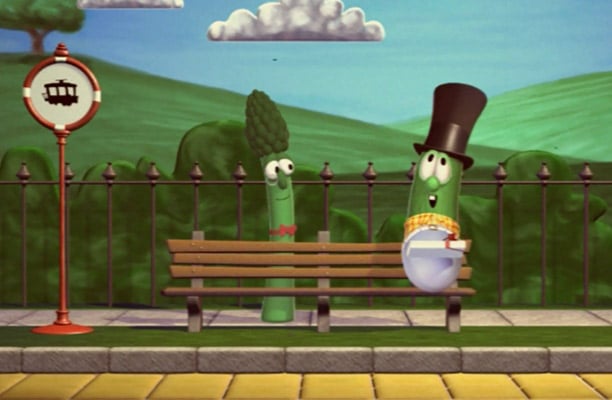 "I feel so swell and handsome in my hat
I bet that others wish they had in fact
A hat as this, a hat as that, a hat so fine, a high silk hat
Oh Mr. Art Bigotti, now what do you think of that?"
At the beginning of the song, Archibald intervenes and changes the segment to "Classy Songs with Larry" instead. He wants to give the segment more class and knows just how to do it. "Larry's High Silk Hat" was on the VeggieTales episode, "Lyle the Kindly Viking", which teaches us the importance of sharing.
"Belly Button"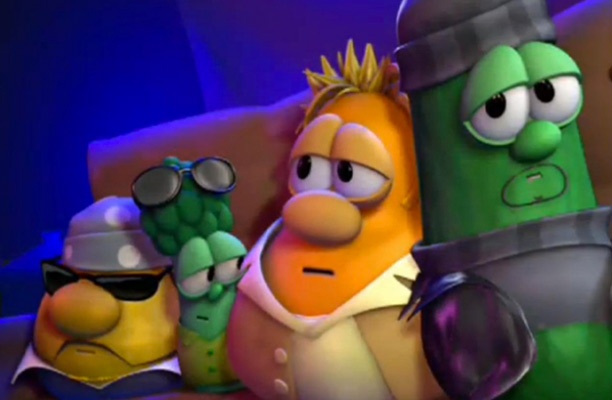 The song begins with the "Boyz in the Sink" announcing their intentions to be serious artists. When Mr. Lunt confesses that he has no navel, he must visit the doctor and nurse at the hospital in this O-Town boy band parody. "Belly Button" was on the VeggieTales episode, "The Ballad of Little Joe", which shows us the importance of working together to accomplish what you are unable to do on your own.
"The Blues with Larry"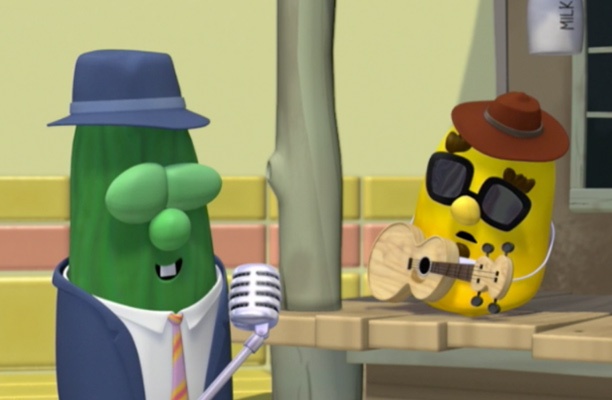 "I said, all sunshine and roses, no rain came my way. Mm-mm. My dad bought me ice cream, oh, happy, happy, happy, happy day! I ate up that ice cream, got some on my face. That's right, right on my face. I said, I ate up that ice cream, got some on my face. Got some on the table, oh happy, sticky, happy, sticky, happy, happy, sticky, happy place."
Larry takes a shot at singing the blues, but soon discovers that his constant happiness and lack of life experiences make it difficult to sing sad songs. Blind Lemon Lincoln, a blues singer, tries to help Larry by making him sad, but it doesn't last for long. "The Blues with Larry" is from the episode, "Duke and the Great Pie War", which teaches a lesson in loving your family.
"The Water Buffalo Song"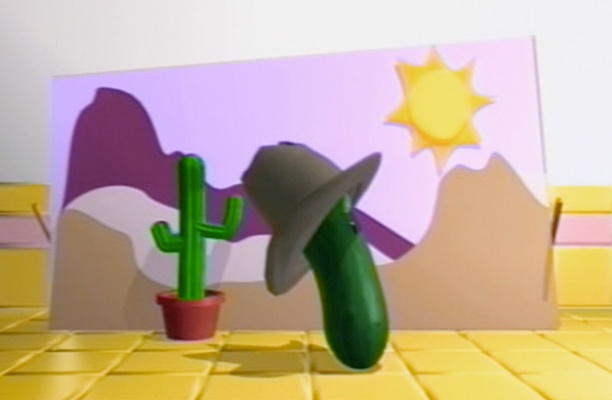 This was the first Silly Song. Larry the Cucumber claims everyone has a water buffalo. His silly lyrics annoy Archibald, who demands that he stop being so silly. Larry doesn't pause long before he sings that everyone has a baby kangaroo instead. "The Water Buffalo Song" is from the VeggieTales episode "Where's God When I'm S-Scared", where Junior Asparagus is afraid after a late-night movie. This episode teaches the lesson that God is bigger than anything we may be afraid of.
"Pants"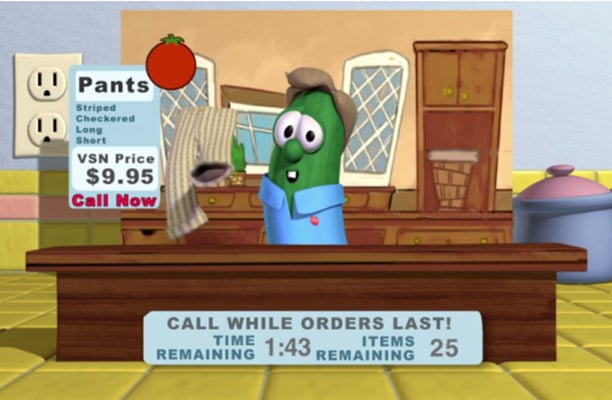 "This pair of pants will win your heart
Pa Grape: We accept most credit cards
Jimmy: A stretchy waist, elastic band
Make these your "buffet eatin' pants"!"
This Silly Song is presented as an infomercial on Veggie Shopping Network as Larry and Pa Grape hilariously attempt to sell pants to all the viewers. "Pants" comes from the episode, "Sweetpea Beauty", which teaches us important lessons of being grateful and appreciative.
"Goodnight Junior"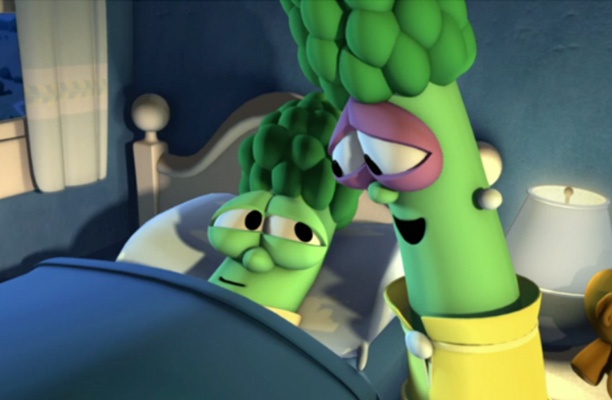 This song is presented as "Bedtime Songs with Junior" during which Junior makes Mom Asparagus get everything he "needs" for the perfect bedtime routine. This song is on the episode "It's a Meaningful Life", which shows what would have come of Stewart if he would have followed a different life path - teaching a lesson in being content.
"Macaroni and Cheese"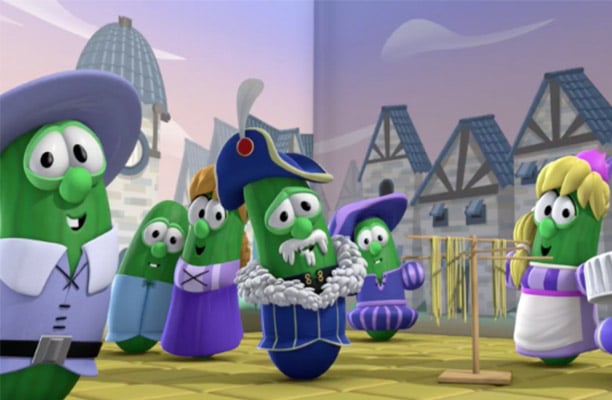 "The families were having a fit Maria and Tony were tasting
Tony: Iiiiit's... impastably delicious
Maria: It's incheddarably delightful
Tony: There's a piece on your lips
Both: We shouldn't miss this biteful"
This silly parody of Romeo and Juliet shows Larry's version of the invention of Macaroni and Cheese. It involves a macaroni cart and a cheese cart crashing into each other in Old Italy. "Macaroni and Cheese" is from the VeggieTales episode, "Beauty and the Beet", which demonstrates how a little kindness can change people.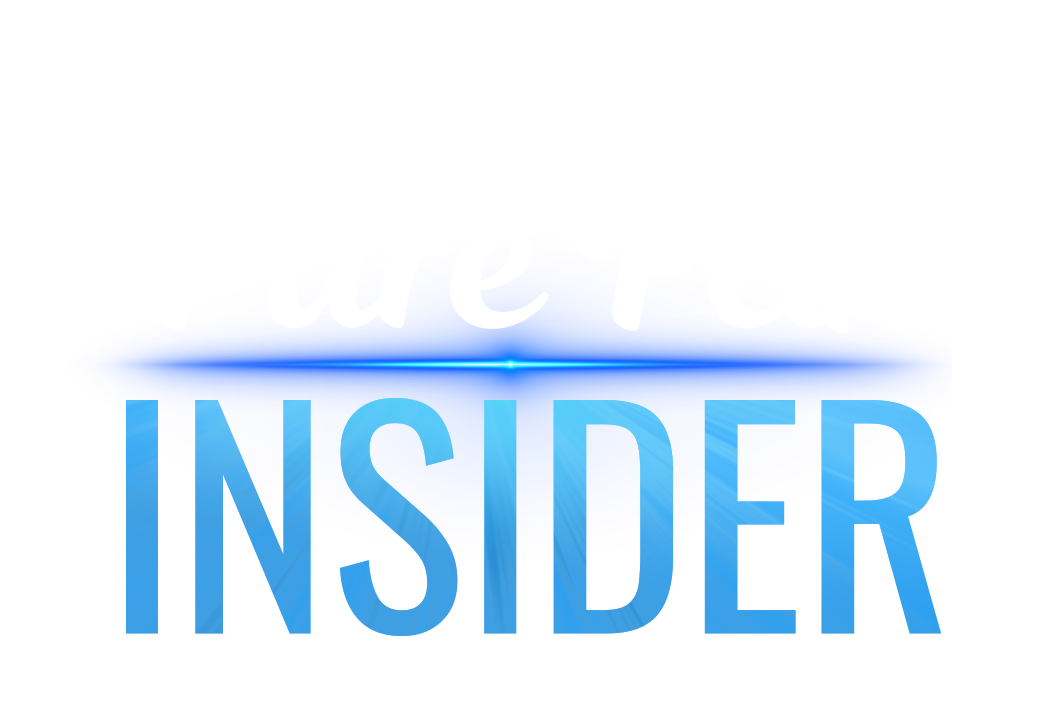 Pure Flix Editors
PureFlix.com is an online streaming service providing you and your family with clean and uplifting entertainment options. Here on Pure Flix Insider, you'll find articles on faith, parenting, and entertainment news. For more information, check out PureFlix.com and sign up for a free week trial.