Melissa Joan Hart, star of the hit Christian movie, "God's Not Dead 2" recently spoke with Pure Flix Insider about faith and filming. This exclusive interview reveals just some of what makes "God's Not Dead 2" and its characters so unique.
How did you get involved with GND2?
They called me and asked if I would do the role, and I was not aware of the first film, so I went back and watched it. I really liked the script, really liked the character, and I liked what Pure Flix was doing with the films, it just seemed like the perfect fit for me.
I knew there would be spiritual warfare, taking on a project like this, but really it's been like a little gift from Heaven that keeps on giving. The fan base is so incredible, the content, everything... it was just an incredible experience.
What are the differences between working on a faith based project rather than a secular one?
The only difference in the filmmaking process itself was the morning prayer. And some of the conversations that went on backstage, especially when we got into the courtroom scenes, when we had people like Lee Strobel and James Warner Wallace, and some of these other great apologetics professors. It was great getting these conversations started backstage...
In the beginning I thought every day was going to be like this little Bible study, but in the beginning it turned out very much not to be that way, when we were just getting started I was like, "Oh, this is movie making as usual with a morning prayer." But then once we got into the courtroom stuff it became a lot more of what I was expecting…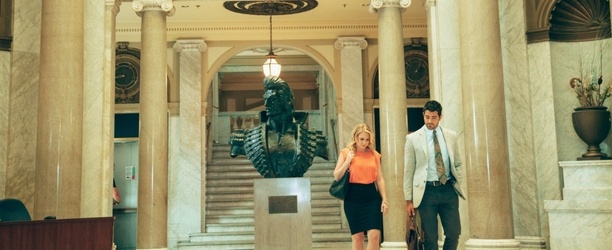 Melissa Joan Hart and co-star Jesse Metcalfe at Little Rock, Ak. State Courthouse
The interesting thing was, we're filming a Christian movie in a state capitol courthouse, in a blue city, in a red state, when gay marriage is legalized. And it was just the most interesting conversations, everything from the makeup trailer to backstage, just the differences in belief and opinions.
A lot of people in Little Rock Arkansas are Democrats, but they're in the Bible Belt, and we're doing a Christian film in a courthouse. Gay marriages are happening on the floor below where we're filming, convicts coming into court, I'll never forget that it was very interesting.
How are you and Grace the same? Different?
What was so difficult about playing this part is that it was so different from any other role I've played. [Grace] was an introvert, and she was very cautious and very convicted and all these things that I'm quite the opposite of, so to play this character was very complicated.
There was a lot less dialogue than I'm used to, I mean typically everything I do is always driven by dialogue, so to play a character that's more the bystander, everything's happening to her, her life is falling apart all around her while she stands convicted in her beliefs, it was just something I've never had to experience before.
It was extremely challenging to show all of that emotion on my face and not be able to use words to describe it.
What is your favorite moment from the film?
When we were filming I got confused with some of the continuity… there was one scene that I didn't realize until after we were done and moved on, that I had that in the wrong place. I felt like my emotion wasn't correct.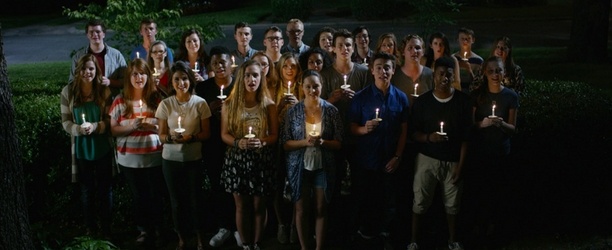 The next scene we filmed was the one when the students come to the door and sing. I decided I would step up that performance, and it was so emotional. I was upset with the fact that I had misjudged the last scene [we filmed], but I was able to make it up with that scene, which was very moving and powerful, both personally and in the film.
How has your career impacted your faith? Your faith your career?
I've taken every job opportunity, whether I've gotten it or not, as a blessing and a learning experience, something handed down from above. I think everyone's faith is more about their everyday life than about their career... But I do pray over my jobs, and believe every job I have is a blessing, even jobs I didn't get or jobs I was fired from...I use prayer a lot when it comes down to decisions I make for my career, but otherwise I don't use faith to judge whether or not to do a film.
Even in the story of Jesus, someone has to play Judas. So I don't have a problem playing the bad guy, I think our job is portray people as humanly and realistically as possible and make these characters believable. Whether that's playing Grace, who's a good Christian woman, or Catwoman in Batman, I think it's like, just being Christian doesn't mean I'm going to pick roles that are only Christian. If I believe there's a story that needs to be told, then I'll do that.
Favorite Bible verse?
James 1:26 is one of my recent discoveries, "Those who consider themselves religious and yet do not keep a tight rein on their tongues deceive themselves, and their religion is worthless."
I think it was brought up in a recent Bible study and I recently related to. There's always different verses for different purposes. I haven't held on to just one for a very long time.
What would your superpower be?
Playing a witch for so long, I was asked that question a lot. You know, I hate traveling. My family just got back from Australia, it was a 27 hour trip, it sure would be nice to just be able to blink and be somewhere.
What's your craziest bucket list item?
I always wanted to snowboard a half-pipe in New Zealand, but I've never snowboarded a half-pipe anywhere in the world. I do snowboard, but as I reach 41 this week, I don't know if half-pipes are in my future, but I think snowboarding in New Zealand still makes the list.
If you could act in a movie that's already been made, what character would you want to play and why?
Princess Buttercup in "The Princess Bride".
What do you hope people walk away with?
I just really hope people find joy in this movie. First and foremost, it's a good movie, which is why people want to watch it. One of the Newsboys said to me at the premiere, "Give me Jesus, not Cheesus." He thanked me for being part of a movie that did that, and that's the goal.
The goal is to make a good movie because people aren't going to watch it if it's not a good movie. And then, secondly you want people to take away the courage and the conviction that the character has to stand by her faith and be guided by the Holy Spirit.
You can watch "God's Not Dead 2," streaming now on Pure Flix, for free during your one-month trial.
Sarah Hartland
Sarah Hartland knew she wanted to be a writer from the time she wrote her first short story in the fourth grade. By the time she was in high school, she had written two novellas and countless short stories. It was her love of storytelling that led her into marketing and media.
Sarah freelanced throughout her time at Colorado Christian University, where she graduated with a Bachelor's degree in Business Administration. At CCU, Sarah competed in speech and debate across the country, securing multiple awards and a national debate championship. She co-lead CCU's first-ever broadcast media program, CCU.TV, and served as the program's Student Producer during her senior year.
When she's not writing blog posts or editing a video, Sarah loves to swing dance, ski, travel, or visit her seven younger siblings in Montana.