The first time I watched "The Passion of the Christ," I was an atheist. I vividly remember that during the crucifixion of Jesus when the crow pecked out the eye of the man being executed alongside Christ.
"That wasn't in the Bible," was my flippant thought. And, obviously, that meant nothing else portrayed on the screen could be true either.
Almost 20 years later, I realize how wrong I was.
WATCH NOW: "THE PASSION OF THE CHRIST" IS AVAILABLE FOR A LIMITED TIME
I recently rewatched "The Passion of the Christ," the 2004 Mel Gibson-directed epic starring Jim Caviezel as Jesus. This R-rated movie explores how did Jesus die and is a first-hand account of the crucifixion of Jesus.
This time, instead of chuckling, I cringed with every blow of the whip. That's because I now know the truth. I know that Jesus suffered through unimaginable physical, emotional and mental anguish for me ... and for all of us.
Now, the film is not without controversy. And you should be warned that the version streaming on Pure Flix this Easter is the unmodified, uncut version that broke records and left audiences in awe when it first debuted.
READ ALSO: JESUS DIED FOR US: 10 POWERFUL BIBLE VERSES ABOUT SALVATION
But we're not here to talk about the film. We're here to talk about what the film represents and the story it tells. It's a story that changed human history. It's also a story that changed my life.
Here are the three things that I learned when I rewatched "The Passion of the Christ":
Jesus Knew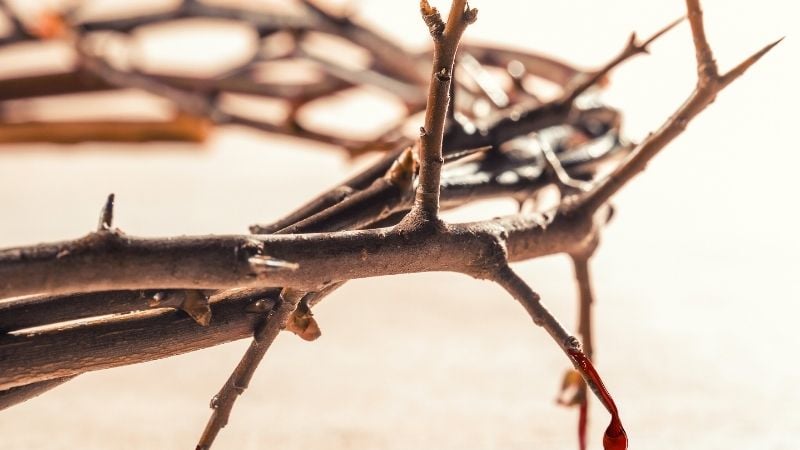 Jesus knew what was going to happen to Him and He had opportunities to delay it or stop it altogether.
Jesus could have lied when the Romans asked who He was. He could have denied being the Messiah in the temple court. He could have told Pontius Pilate a different story.
But He didn't. He trusted God's plan, even though He knew it meant unimaginable suffering.
"Father, if you are willing, take this cup from me; yet not my will, but yours be done." – Luke 22:42 (NIV)
His suffering on the cross was necessary and part of God's plan to wash our sins away. His innocent blood was shed so we could one day go to Heaven.
READ ALSO: EASTER – IS IT A PAGAN HOLIDAY?
Jesus' Suffering Was More Than Physical
The pain Jesus felt was more than physical – in His final moments on the cross, He exclaims:
"Eli, Eli, lema sabachthani?" (which means "My God, my God, why have you forsaken me?") – Matthew 27:46 (NIV)
As an atheist, I had a moment where I almost celebrated … "LOOK! He's even denying the existence of God!"
But that's not what it was at all. It was the first time in Christ's earthly existence that He was separated from God – and the pain of that separation far surpassed the beatings and crucifixion that He had endured.
And, to be honest, we've all felt that same pain too. In moments of doubt, fear or anguish when we allow ourselves to be attached to the world instead of to the hope and promise of Jesus, we feel isolated and desperate.
But we are never alone. God is always near and desires to give us comfort and strength even in our darkest moments.
READ ALSO: HOW TO FORGIVE OTHERS BY REMEMBERING THE CROSS THIS EASTER
It Is Never Too Late
I was burdened by the shame of my bad decisions and intimidated by my lack of knowledge of the Bible. I used those as excuses. I truly believed that if there were a God, He'd be proud of my skepticism and denial and for being a free thinker.
I feel sorry for my old self, but I know that my journey is how I got to where I am today. I know now that God had a plan for me from the very beginning. And I know that it's never too late to dedicate our lives to Him. Every moment of every day presents a new opportunity for us to draw closer to God.
The penitent thief, who gave his life to God on the cross moments before death is the perfect example of God's mercy, compassion and forgiveness.
Then he said, "Jesus, remember me when you come into your kingdom." Jesus answered him, "Truly I tell you, today you will be with me in paradise." – Luke 23:42-43 (NIV)
No sin is too great for Christ and our God is the God of second chances. It's never too late to repent, make a true life and heart change and begin again.
Now is the time to rewatch "The Passion of the Christ" and pray to see what lessons God has inside for you. Become a Pure Flix member today and spend this Easter streaming the most comprehensive collection of Easter movies – films for the whole family like "The Messiah: A Brickfilm," "The Chosen" and "A.D. The Bible Continues." You'll also find varying perspectives on the crucifixion of Jesus with movies like "Risen" and "The Penitent Thief."