Amber Marshall is the star of "Heartland," Canada's longest-running hour-long dramatic television series. As Amy Fleming, Marshall plays a horse whisperer who works with damaged and abused horses, along with her sister and her grandfather, Jack. The series chronicles the family's adventures, along with several friends and employees that cross their paths.
The Real Life Amber Marshall
In real life, Amber Marshall lives on a farm in Alberta close to where the show films. Marshall has dozens of animals on the farm, including four horses and many dogs, cats, pigs, chickens, and even a peacock. It's a far cry from her origins in London, Ontario, but she sees it as perfectly in line with who she is.
"When I was a kid, I was a girl who wandered through the bush looking for frogs and snakes," she told the London Free Press in 2015. "That love of nature never left me."
She enjoys both the glamour and travel of acting and the life on the farm, which she fully embraces. She gets up at 4:30 a.m. to do farm chores and then spends 14 or more hours a day on set from May to early December to produce 18 episodes of Heartland each season.
"The west just absorbed me," said Marshall. "Once I moved out there, I discovered a whole new sense of myself and I can't imagine ever leaving that." Her husband, Shawn Turner, helps her on the farm and loves it as much as she does. When the show is on hiatus, the couple has taken trips to Hawaii and other places, but, more often, spends time camping and fishing in the mountains surrounding their home.
Marshall is immensely popular, with her own magazine and jewelry line as well as tens of thousands of social media followers. The farm keeps her grounded and anchored to who she has always been. She started riding horses at age four, so her work on the show is another extension of doing what she loves. Marshall also spent time as a veterinary technician in her early teens before becoming an actress.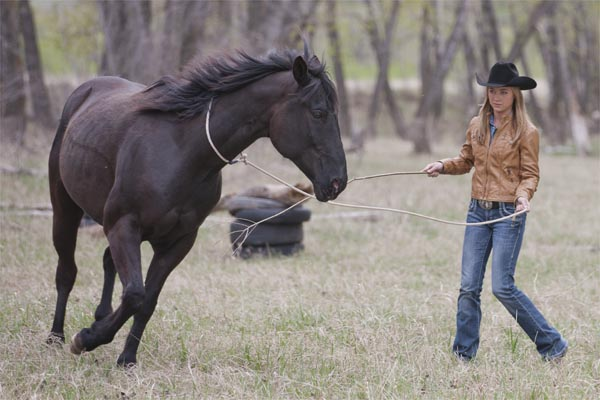 Read Also: Your Heartland Binge Watching Guide
A Growing Career
In 2013, Marshall was honored with the first-ever Canada's Screen Star Award, voted by fans, at the Canadian Screen Awards. She was previously nominated for the LA-based Young Artist Award for portraying the title character in "The Elizabeth Smart Story." She also appeared in "The Christmas Shoes" with Rob Lowe. Most recently, she appeared in the 2015 movie-of-the-week "Mutant World" on the Syfy network.
"Heartland" is an uplifting series that, nevertheless, tackles tough topics like the death of a parent, divorce, broken families, and many of life's injustices. While "Heartland" does not have an overtly Christian message, it centers around family values and doing what's right in the world.

It's a positive message in an increasingly negative world, one that is appreciated by the million-plus viewers each week who watch Heartland and its heart - Amber Marshall.