Fathers are an important and integral part of the family unit. They provide for their family, by sacrifice, leading the family, offering encouragement and so much more.
The Bible is filled with verses that provide guidance to fathers as they seek to do all they can to be the best father they can be. That's why we put together this list of Bible verses for Father's Day that shed light on God's divine plan for dads.
Want to dive deeper into Pure Flix Originals? Subscribe to the Pure Flix Insider email newsletter
Consider sharing these Father's Day Bible verses with your kids and families, and use them to encourage — and pray for — all the father figures in your life.
Bible Verses for Fathers
A Father Leads His Children
"Fathers, do not exasperate your children; instead, bring them up in the training and instruction of the Lord." - Ephesians 6:4 (NIV)

"Fathers, do not embitter your children, or they will become discouraged." - Colossians 3:21 (NIV)
The Bible makes it clear that fathers are supposed to lead their kids on the right path, while not exasperating or embittering them. The goal is to encourage them in their growth and development, while placing a special focus on spiritual enrichment.
In "Like Arrows," Charlie's fatherhood starts off a little rocky. Being a young parent, he focuses on providing for his family almost strictly financially, not spiritually or emotionally -- he leaves that up to his wife, Alice. As time goes on, Charlie realizes he needs to step up and show his children what a good, strong and dependable man of God looks like. Charlie starts to put God at the center of his family's life -- which turns out to make all the difference.
Looking for movies to watch with your father this Father's Day? Check out our list of movies that celebrate the power of fatherhood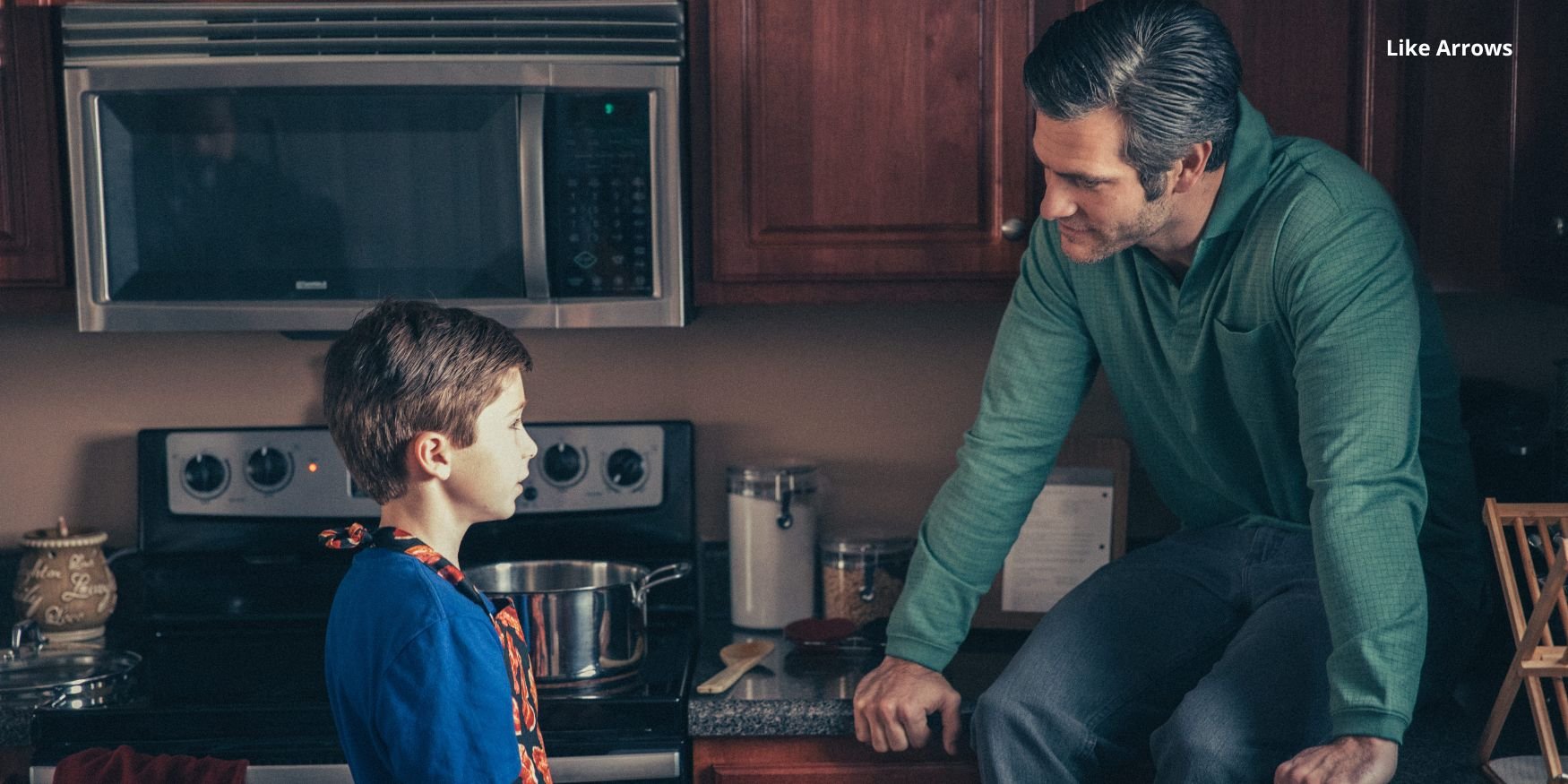 A Dad Leads by Example
"I have no greater joy than to hear that my children are walking in the truth." - 3 John 4 (NIV)

"Start children off on the way they should go, and even when they are old they will not turn from it." - Proverbs 22:6 (NIV)
The most important job of a father is to lead children to "walk in the truth." The Bible says that starting kids out with God and the gospel will have a profound impact throughout their lives.
In "Legacy Peak," Jason is on a mission to get to know his fiance's kids better. In doing so, they go on an unexpected adventure of a lifetime. When Ben and Sam start asking questions about Jason's life, he opens up and tells them about the examples of father figures he had in his life. These examples made Jason well-equipped to lead as a father for Ben and Sam.
Scripture for Fathers That Say Actions Speak Louder Than Words
"The righteous lead blameless lives; blessed are their children after them." - Proverbs 20:7 (NIV)

"Put on the full armor of God, so that you can take your stand against the devil's schemes." - Ephesians 6:11 (NIV)

"Be on your guard; stand firm in the faith; be courageous; be strong." - 1 Corinthians 16:13 (NIV)
There is truth in the old adage, "actions speak louder than words." It's important for fathers to lead their children on the right path through positive examples. Leading a "blameless life" helps show kids how they, too, can walk in God's light. If dads want their kids to be strong in their faith, they must show them the proper path forward.
In "God's Country Song," Noah Bryan is a country music star who suddenly finds out he is the biological father to 6 year old JJ. Noah doesn't know the first thing about parenting. He focuses on his career and not altering his life for JJ. Drinking heavily and abandoning his responsibilities, Noah's behavior starts to spiral. One brutal night wakes Noah up to reality that he doesn't want JJ to see him act this way. He shifts his priorities to focus on being there for JJ so that JJ can see him as a good example as a father.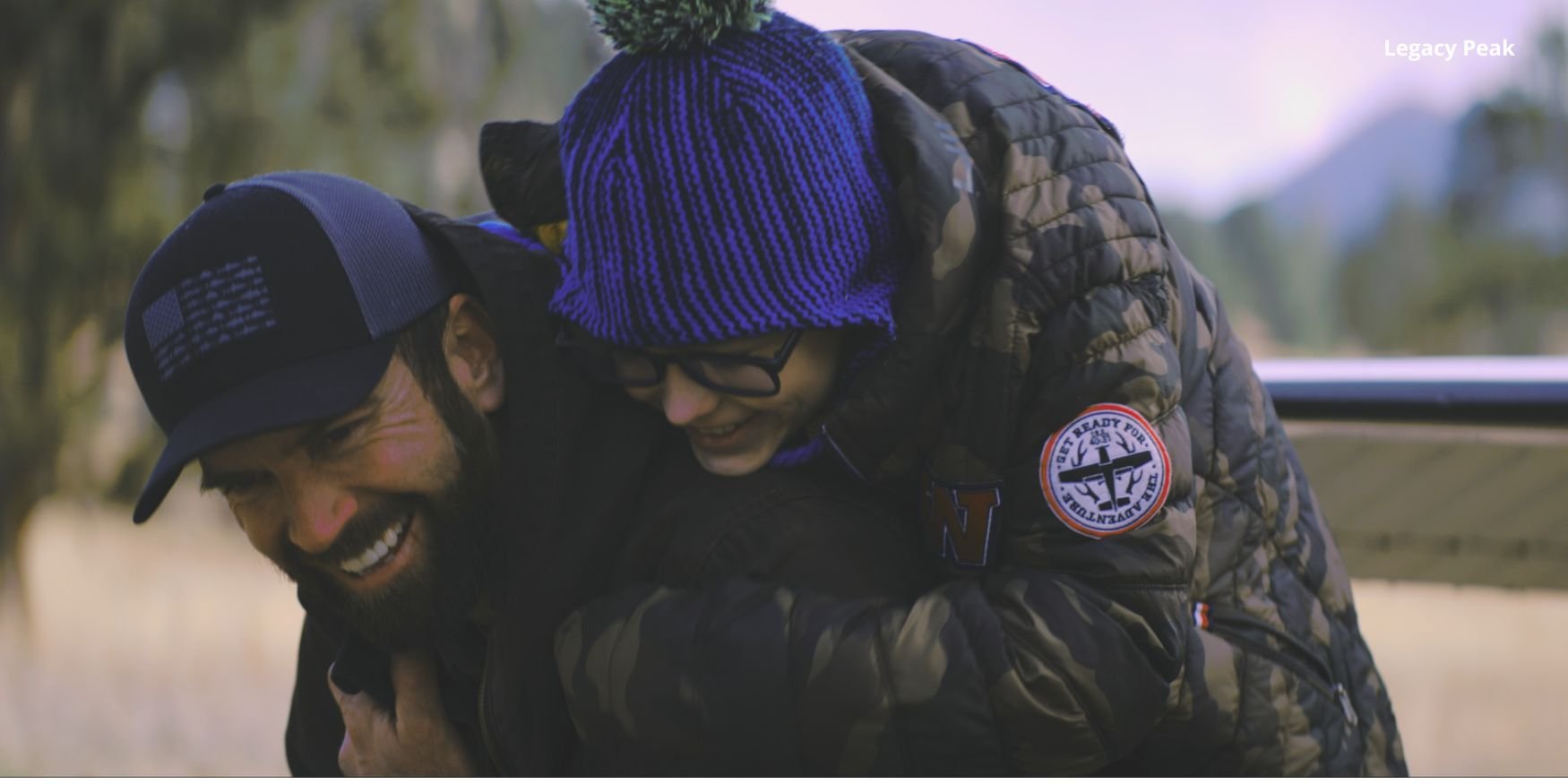 Fathers Should Always Seek Wisdom
"Yet you, Lord, are our Father. We are the clay, you are the potter; we are all the work of your hand." - Isaiah 64:8 (NIV)

"A discerning person keeps wisdom in view, but a fool's eyes wander to the ends of the earth." - Proverbs 17:24 (NIV)
It's important for fathers — and men more generally — to recognize the power God has to mold and shape individual perspectives. In turn, the essential wisdom and knowledge that dads get from God can be imparted on their children.
Read Also: 5 Famous Fathers In The Bible Who Inspire Us
In "Running the Bases," Luke knows and has witnessed the power of God's mercy and wisdom after losing his brother. As a father and baseball coach, he shares his faith with his teenage son, encouraging him to never back down from standing up for his faith. Luke doesn't stop running the bases after every game, even when the community tries to outlaw it. Luke continues to boldly rely on the wisdom given to him by God our Father as an example to his son and the rest of the baseball team. Just as the scripture verse says in Proverbs 17, Luke "keeps wisdom in view."
Inspiration for Dads: Fathers Should Embrace Truth
"For God so loved the world that he gave his one and only Son, that whoever believes in him shall not perish but have eternal life." - John 3:16 (NIV)

"Therefore go and make disciples of all nations, baptizing them in the name of the Father and of the Son and of the Holy Spirit." - Matthew 28:19 (NIV)
The key to spiritually preparing children to enter the world is embracing the power and truth of the gospel. John 3:16 explains that God sent his son to redeem mankind, with Jesus giving the disciples the instruction in Matthew 28:19 to spread the Christian message. Both of these verses are key for helping dads understand truth and then passing it on to their children.
In "Strong Fathers, Strong Daughters," Steve has a hard time relating to each of his daughters and recognizing their unique gifts. It's only after he seeks help and instruction from the Bible that he learns the true way to love his daughters individually and not according to his own agenda.
Read Also: Lessons From 'Strong Fathers, Strong Daughters' to Encourage All Parents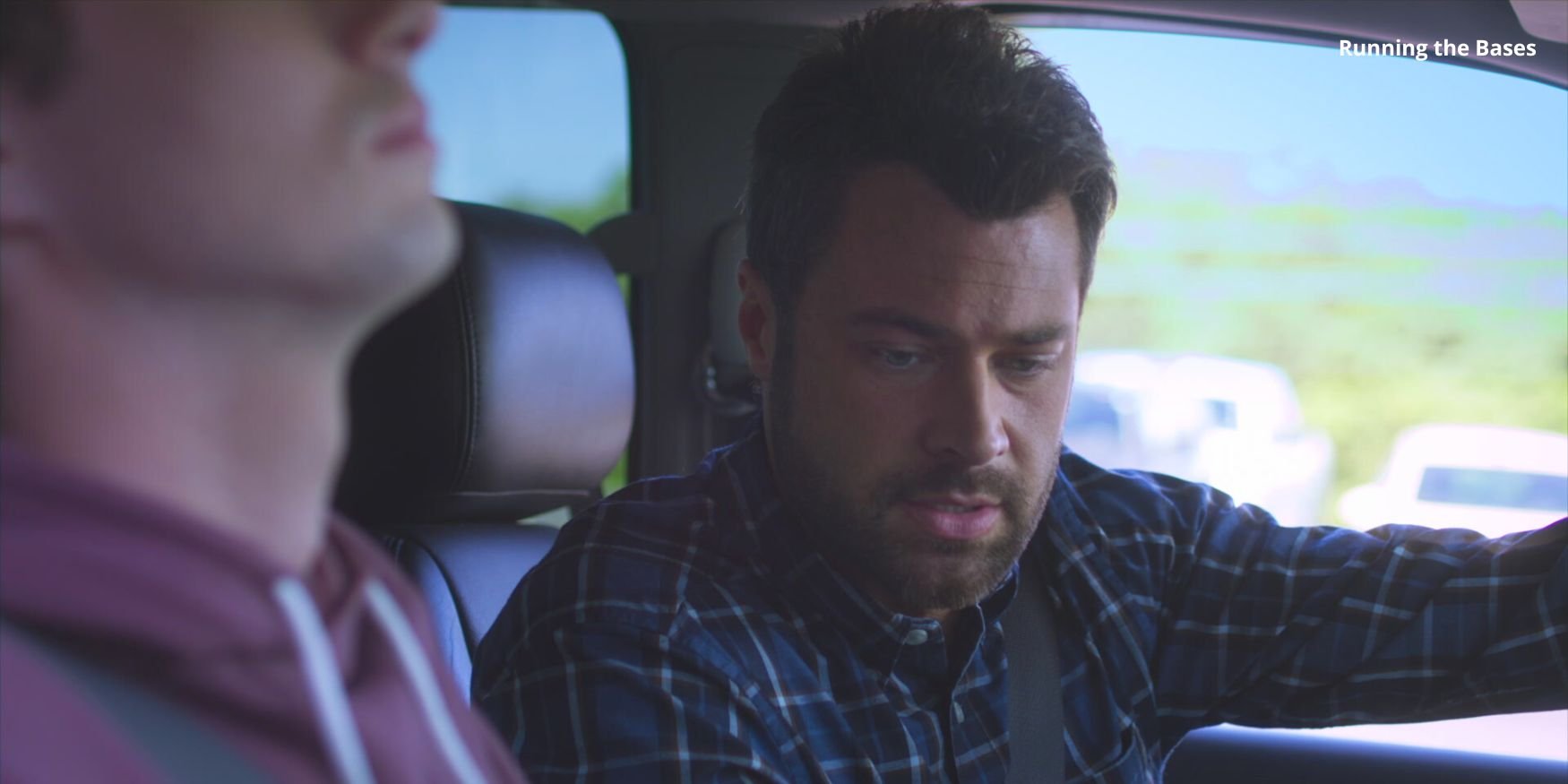 God Will Always Be There: Bible Verses Celebrating Fathers
"Have I not commanded you? Be strong and courageous. Do not be afraid; do not be discouraged, for the Lord your God will be with you wherever you go." - Joshua 1:9 (NIV)

"For the Spirit God gave us does not make us timid, but gives us power, love and self-discipline." - 2 Timothy 1:7 (NIV)
No matter what struggles or problems arise, God will never abandon humanity. This is an important lesson for all people, and one that fathers can rely on as they seek strength and courage and work to ward off fear. "Power, love and self-discipline" are all positive attributes that come from God — and that hold the power to transform lives.
Jason in "Legacy Peak" prays to God for the strength and courage to safely bring his fiance's kids to their grandparent's cabin after their travel plans stray off course. As they end up in the wilderness, Jason knows that God is watching over them, protecting them as they make their way home.
A Father Understands Discipline: Biblical Truth
"Endure hardship as discipline; God is treating you as his children. For what children are not disciplined by their father?" - Hebrews 12:7 (NIV)

"As a father has compassion on his children, so the Lord has compassion on those who fear Him." - Psalm 103:13 (NIV)
Disciplining kids can sometimes be painful, but it's essential for teaching lessons and for helping them learn the importance of good and bad choices. Since the Bible tells us that God uses discipline to shape humanity, it's no surprise that dads, too, must discipline their kids.
Charlie in "Like Arrows" learns what it means to discipline his children in a positive way after taking a parenting course with his wife at their church. While at first his children -- especially his teenage daughter -- rebels and fights it, Charlie's patience and calm demeanor opens the conversation for her to understand the reason behind their father's actions. As Charlie becomes more disciplined in what it means to be a parent and father, he learns how to effectively and lovingly discipline his children.
Love of a Father: Scripture Verse for Fathers
"Love is patient, love is kind. It does not envy, it does not boast, it is not proud. It does not dishonor others, it is not self-seeking, it is not easily angered, it keeps no record of wrongs. Love does not delight in evil but rejoices with the truth. It always protects, always trusts, always hopes, always perseveres. Love never fails. But where there are prophecies, they will cease; where there are tongues, they will be stilled; where there is knowledge, it will pass away. For we know in part and we prophesy in part, but when completeness comes, what is in part disappears. When I was a child, I talked like a child, I thought like a child, I reasoned like a child. When I became a man, I put the ways of childhood behind me. For now we see only a reflection as in a mirror; then we shall see face to face. Now I know in part; then I shall know fully, even as I am fully known. And now these three remain: faith, hope and love. But the greatest of these is love." - 1 Corinthians 13:4-13 (NIV)
The power of "faith, hope and love" cannot be overstated. The Bible explains what true love looks like — and this wisdom is essential for fathers to impart on their children. The inspiring Bible verses in 1 Corinthians shed essential light on these key elements.
Read Also: 22 Bible Verses About Husbands and Their Role In Marriage
In "Tulsa," Tommy's faith is almost nonexistent when 9 year old Tulsa enters his life. As an ex-Marine, his outlook on life is pretty bleak, spending his days working on motorcycles and drinking his problems away. Tulsa shows him what faith, hope and love look like. Tommy's perspective is changed when he sees the world as Tulsa sees it.
A Father Embraces Love: Biblical Hope
"Husbands, love your wives, just as Christ loved the church and gave himself up for her to make her holy, cleansing her by the washing with water through the word, and to present her to himself as a radiant church, without stain or wrinkle or any other blemish, but holy and blameless. In this same way, husbands ought to love their wives as their own bodies. He who loves his wife loves himself. After all, no one ever hated their own body, but they feed and care for their body, just as Christ does the church — for we are members of his body. 'For this reason a man will leave his father and mother and be united to his wife, and the two will become one flesh.' This is a profound mystery—but I am talking about Christ and the church. However, each one of you also must love his wife as he loves himself, and the wife must respect her husband." -Ephesians 5:25-33 (NIV)
The Bible makes it clear that husbands are to love their wives, comparing the power of that devotion to Jesus' love for the church. This serves not only as a model for kids, but it also serves as the basis for a healthy and fulfilling marriage.
In "Let There Be Light," Dr. Sol Harkins' atheist beliefs have caused rifts in his marriage and his relationship with his sons. He moves out and his wife refuses Sol to spend time with his sons until he stops drinking and learns to be a better person. When he is suddenly saved after a horrible accident, Sol repents and confesses his faith in God. He begs forgiveness from his wife and his sons, doing anything in his power to repair their family. Sol promises to be devoted to his family and to bring the faith and word of God into their home.
Encouraging Bible Verses for Dads
Before we close out this story, we'll leave you with a few bonus Bible verses for dads that will inspire them (and you):
"But the fruit of the Spirit is love, joy, peace, forbearance, kindness, goodness, faithfulness, gentleness and self-control. Against such things there is no law." - Galatians 5:22-23 (NIV)

"But he said to me, 'My grace is sufficient for you, for my power is made perfect in weakness.' Therefore I will boast all the more gladly about my weaknesses, so that Christ's power may rest on me." - 2 Corinthians 12:9 (NIV)

"I have told you these things, so that in me you may have peace. In this world you will have trouble. But take heart! I have overcome the world." - John 16:33 (NIV)
We hope you enjoyed this list of Father's Day Bible verses. And if your father cannot be present for this Father's Day for whichever reason, know that we are praying for your family and your father on this difficult day. Be sure to subscribe to the Pure Flix Insider email newsletter to get behind-the-scenes exclusives and positive faith and entertainment news sent to your inbox.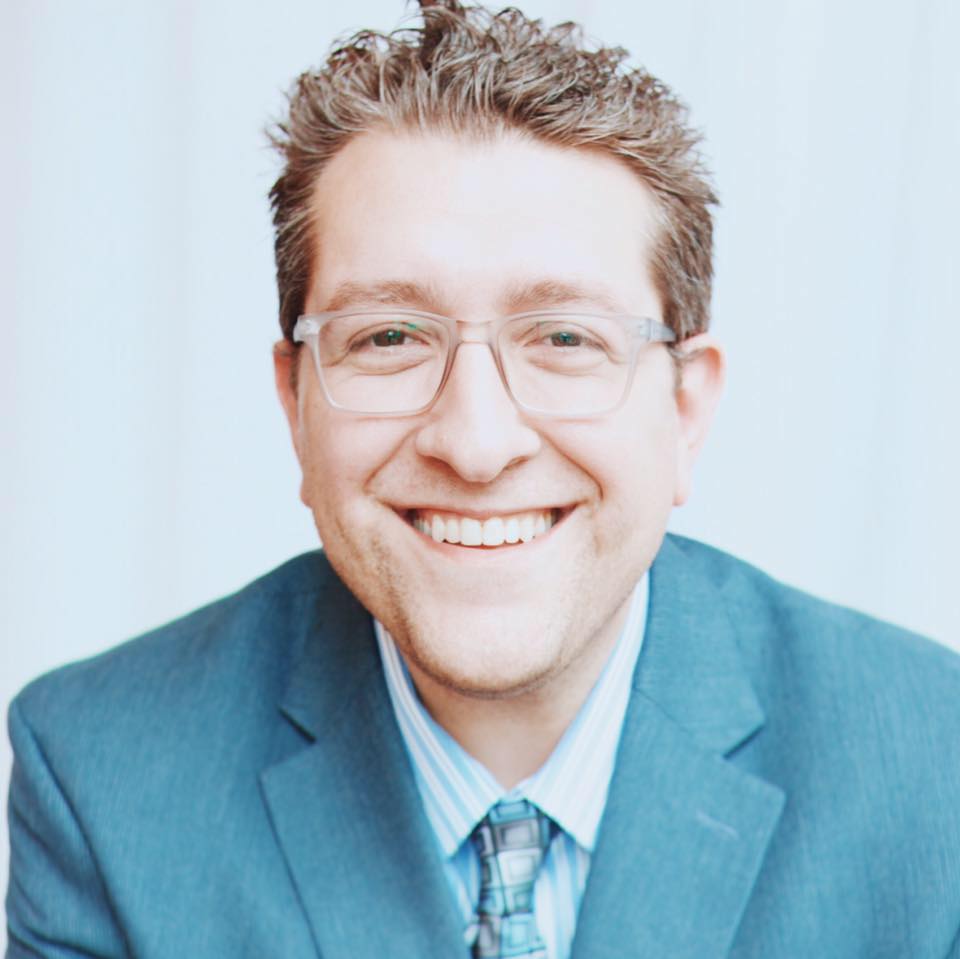 Billy Hallowell
Billy Hallowell has been working in journalism and media for more than a decade. His writings have appeared in Deseret News, TheBlaze, Human Events, Mediaite and on FoxNews.com, among other outlets. Hallowell has a B.A. in journalism and broadcasting from the College of Mount Saint Vincent in Riverdale, New York and an M.S. in social research from Hunter College in Manhattan, New York.